LeadsLeap Training Video #5: Working With The New Traffic Coop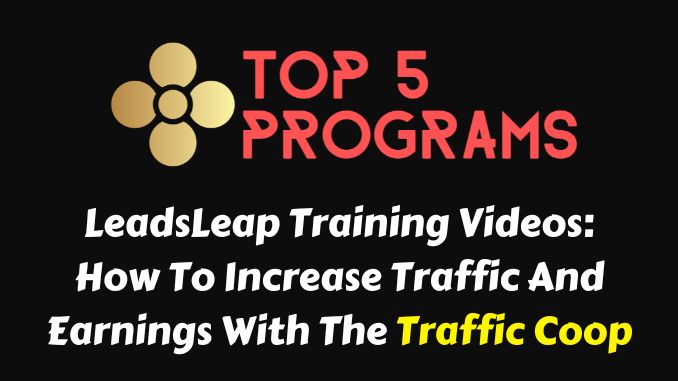 This is the fifth in my series of Leadsleap training videos that I am featuring on one of my blogs, top5programs.com.
Leadsleap is a website that offers a portfolio of online promotional tools for Internet marketers. I've been a Pro member of Leadsleap for several years now.
The purpose of this video series is to show both members and non members the real potential of the platform as I think a lot of people are missing out on all the benefits it offers.
The New Traffic Coop
In this video we look at how you can increase your web traffic and earnings by using the Traffic Coop service that Kenneth added to the Leadsleap portfolio in July 2022.
Free members as well as Pro members can benefit from using the Leadsleap traffic coop, as I explain in the video:
Video Contents
In the video I show you where to find the coop link, and how to tweak it so that it promotes YOU and YOUR landing page as well as the coop ads.
Next, I take you through the three key benefits that the Leadsleap traffic coop offers:
Get more traffic to your offers.

Get paid to promote! Always a nice bonus :)

Use traffic exchanges more efficiently.
I show you my results so far – extra traffic and earnings!
Then we look at Leadsleap program owner Kenneth Koh's report on the traffic coop after just one week in action. Here is his blog report:
https://leadsleap.com/blog/leadsleap-traffic-co-op-after-1-week/
The traffic coop is yet another added benefit to an already value-packed service.
Cheers!
David Hurley
https://top5programs.com

---
---