Leadsleap Training Video 6: How To Set Up An Autoresponder Email Series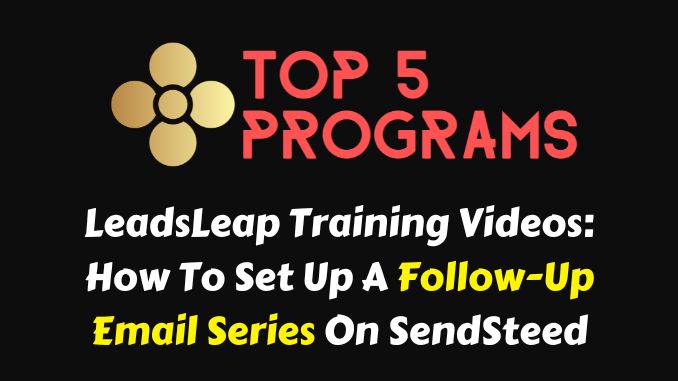 This is the big one, folks! In this video I show you how to set up a simple autoresponder email series using Leadsleap's integrated "SendSteed" autoresponder service.
An Advertising Platform & A Professional Autoresponder
Leadsleap was well worth the upgrade fee well before Kenneth Koh built the Sendsteed autoresponder and added it to the portfolio of tools for no extra cost to Pro members...
The addition of a professional autoresponder service simply on top of the proven track record of the Leadsleap advertising platform blows the opposition out of the water.
Go Pro To Use The Full Sendsteed Autoresponder Service
You will need a Pro account to set up an email follow-up series on the Sendsteed autoresponder. If you are a free member, you can still use the Sendsteed autoresponder to build a list and send out broadcasts to your subscribers, but to create an email follow-up series you will need to upgrade to Pro for just $27 a month.
How To Set Up A Basic Email Follow-Up Series
Video Contents
In the video I take you through the steps to set up a mailing list on the Sendsteed autoresponder, including:
How to complete the legally required step of adding a physical address.
How to add a signature file to every email you send out.
How to set up the Verification email.
How to set up the Welcome email.
How to create your follow up email letter series.
In the next video I will show you how to embed your autoresponder opt in form into a landing page so that you can start building your mailing list.
My Training Videos
For the complete list of my Leadsleap and other training videos go to:
https://peakd.com/ctp/@hirohurl/my-training-video-blog-posts-on-peakd
David Hurley
#InspiredFocus
https://top5programs.com
Subscribe to My YouTube Channel

---
---