On Moderate Minimalism, Mahjong, and Mad Dogs...

Today, I got on with something that I've been wanting to do for a long time - clear out my storage space and reorganize it. This is another instance of my "moderate minimalism" project.
Getting Rid of Old Japanese Games Stock
At the back of the storage space there were several boxes of old stock from the time when I ran a Japanese games business. Orders used to come in through Paypal via my website and I shipped mahjong sets, Japanese chess sets, Hanafuda playing cards and other stuff to customers all over the world.
In the heyday of the business I was regularly making between $600 and $1000 profit per month. Not a fortune, but not a bad supplement to an English teacher's income either!
For several years I was the only supplier of "genuine Japnese mahjong sets" who ran a shipping service out of Japan.
Then I made a crucial error!
How Amazon Destroyed My US Market!
I wanted to increase sales and started posting Japanese mahjong gear on Amazon.com. All that happened is that it alerted US based sellers to the products, and pretty soon they had found a way to import in bulk to the USA and undercut my prices on Amazon.
So that knocked out the American market, but for several years after that I continued to sell a lot of gear to other countries, but gradually sales began to decline and I also got tired of all the hassle involved in ordering, packing and shipping that was required for what was, in the end, a pretty modest profit.
Keywords? Never heard of 'em
Back when I began blogging about "Japanese mahjong sets" I didn't know anything about "keyword research", but because my blog posts discussed Japanese mahjong and Japanese mahjong sets they ranked well in Google and attracted customers who were willing to pay hefty shipping fees to get heavy Japanese mahjong sets shipped half way across the world in less than 7 days from order to delivery.
Anyway, today I cleared the old stock from my storage space, chucked out a bunch of loose mahjong tiles and trays, and cleared out a bunch of other stuff too.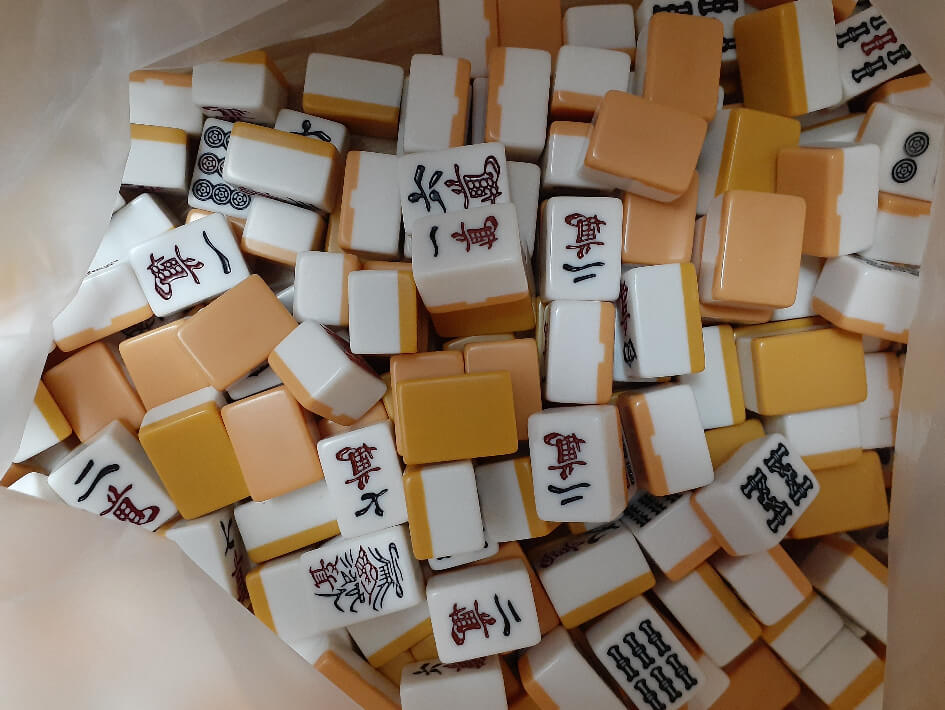 Japanese mahjong tiles
It feels good to have a storage space that actually has some space in it, and only has stuff in it that I am likely to use.
Squeezing in my daily habits...
However, clearing the storage space took up so much time that I ended up having to squeeze four of my five daily habits into the last evening.
I did my regular exercise routine in the morning, before getting on with the clearance job.
The first job I did this evening was to mail out my usual promotional email to subscribers on three safelists: ViralMailProfits, Mailsy, and InstantViralMailer, which has yielded one new subscriber so far.
Later this evening I "studied" French for 30 minutes by transcribing a dialogue into my notebook. "Language study" is my latest daily habit and this is the fifth day in a row that I have spent at least 30 minutes on the project.
On Thursday I studied Italian, on Friday I studied Latin, on Saturday I studied German.
Then, on Sunday I started working on Korean. I'm a complete beginner in Korean and started learning the hangul writing system, which was fun.
Today I studied French and so I suppose tomorrow I will do some Japanese practice, and then on Wednesday it will be back to Italian!
Of Mad Dogs and the English Defence
After that I was feeling pretty sleepy, but I did manage to study some chess: five variations of the English Defence.
In four of the variations there are no exchanges, but in the fifth, variation 144, which I call the "terrier" (T = 1, R(R) = 4, R = 4), there are some fierce exchanges for which the image of a mad dog worrying its victim seems a convenient memory trigger!
The effort of studying chess was pretty draining, so I sat blankly staring into space for a while... before getting on with the last task of today, this blog post!
And now that it's done, I'm hopping into bed!
Goodnight!
David Hurley
#InspiredFocus
P. S. Discover lots of legit ways to earn crypto for free by subscribing to my free Beginners Crypto Course (You'll get something from it, even if you're not a beginner!)
---
---