Stormgain Crypto Trading Challenge Days 9-14: Small and Steady Profits...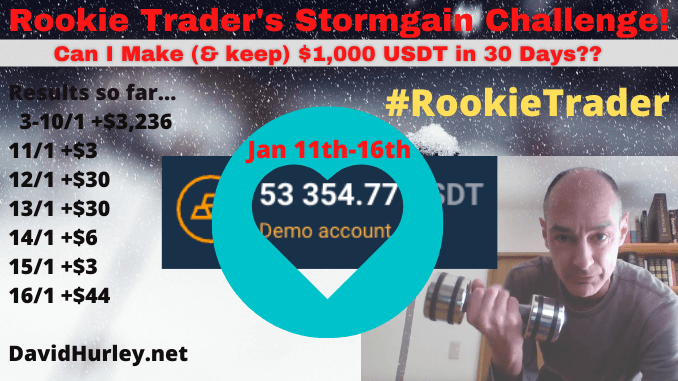 It's been a few days since my last report on my progress as a #RookieTrader using a demo-account to train myself to trade crypto futures on the Stormgain platform.
So, how has the challenge been going?
Well, for one thing, I've been away from my computer a lot, and I have no intention of putting the Stormgain trading app on my phone at this stage.
However, I've made at least one trade per day over the last five days and the results, while not spectacular, have been encouraging.
I have managed to extend my winning streak from the last couple of trades I made on 5th of January all the way to today, 16th January. That has been achieved mainly by placing $100 trades with less leverage than before, usually 10x leverage, with the Auto Invest checked and the Stop Loss left off.
Here are my results since my previous report:
11th January = +$3.1324 (1 trade)
12th January = +$30.6743 (1 trade)
13th January = +$30.0492 (1 trade)
14th January = +$6.0501 (1 trade)
15th January = +$3.6888 (1 trade)
16th January = +$44.9921 (2 trades)
As a result, my profit has grown to $3,354
Come along for the ride as I try to learn how to trade my way to a profit!
If you are an experienced trader, any advice would be welcome. Let me know where I'm going wrong, or post some tips in the comments below.
Check out Stormgain at: https://fwd.cx/WmUzkey5BqVp
Looking for a safer way to accumulate and store bitcoin? This is what I use: https://freebitco.in/?r=37315680
David Hurley
A longer version of this post was first published on my blog @ https://davidhurley.net/stormgain-crypto-trading-challenge-days-9-14-who-hath-despised-the-days-of-small-things/
Disclaimer: I am not a financial advisor and this is certainly not financial advice. Simply the musings of a rookie trader playing with pretend money…

---
---