TOKYO OLYMPICS 2021: What Do You Think Will Happen In Gold Medal Match Between Spain VS Brazil?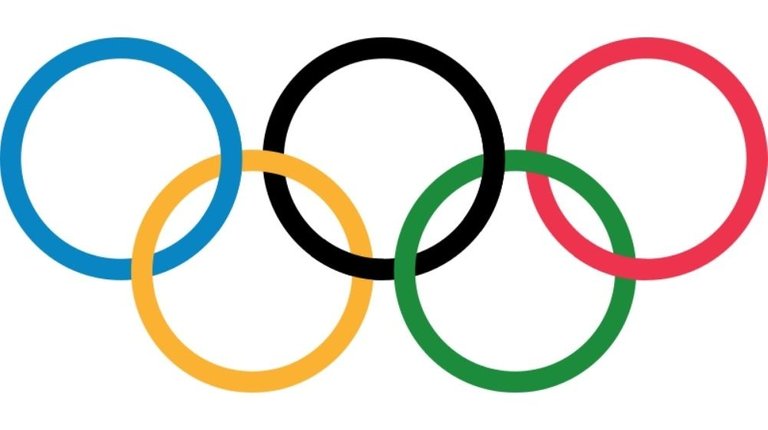 source
Hello everyone, if you have been following Tokyo's Olympic 2021 men's football matches. From the beginning of the tournament you will not like to miss the final between Spain and Brazil. Both teams are the best team in the tournament.
In Group A, it was really hard work for the host country as they top the group with 9 points. Japan defeated Mexico 2:1, South Africa 1:0, and France 4:0. Mexico was the second on the group A, defeated France 4:1 and South Africa 3:0. Therefore, Japan and Mexico qualified to quarterfinals.
In Group B, South Korea top the group with 6 points while New Zealand came second with 4 points.
Spain top the group C table with five points. Group C was a group that's all the teams have the opportunity to qualify to quarterfinal, it was as a result of closed range of points among the teams. Spain wouldn't have qualified if they lost to Argentina on the final group stage tie. At the end of 90 minutes, the match ended 1:1 in favour of Spain. Spain was the only country that was not defeated in group C but only recorded a victory against Australia. At the group stage C, only Spain and Egypt advanced to quarterfinals.
Brazil and Ivory Coast advanced to quarterfinal in group D. It was an easy journey for South America, the first match with Germany was a run-away match for Brazil as they comfortably defeated Germany 4:2. Brazil's second match with Ivory Coast was a tough one as no goal was recorded. The match ended 0:0. Brazil's third match against Saudi Arabia ended 3:1. In group D, Brazil advanced to quarterfinals with 7 points and ivory Coast came second with 5 points.
In quarterfinals, Sprain defeated Ivory Coast 5. The match between Japan and New Zealand ended with penalty after 120 minutes goaless. It was a good day for Japan as they won the match 4:2 on PKs. It was not an easy match for Brazil as they narrowly defeated Egypt 1:0. Mexico Eliminated South Korea 6:3, the match between South Korea and Mexico was the match with the highest goals so far.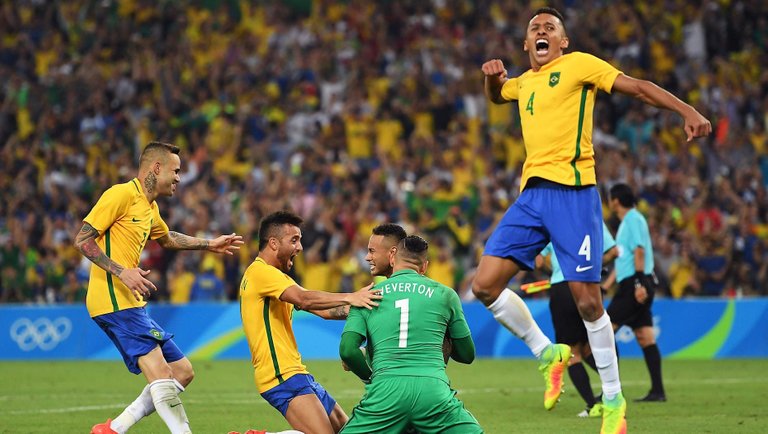 source
Both semi-final were played with extra-care. That was the reason, there was no goal after 90 minutes. I was watching the match between Brazil vs Mexico, in the first half when Douglas appeared to be brought down by Joaquin Esquivel in penalty area, I knew it was not penalty, 'thank God for VAR' the penalty would have been awarded. After thorough checking by VAR, it was confirmed that the Brazilian striker initiated it and the penalty was cancelled. After 120 minutes of no goal. Brazil defeated Mexico in penalty shootout that ended 4:1. The atmosphere was full of joy and happiness for selecao and their fans across the world.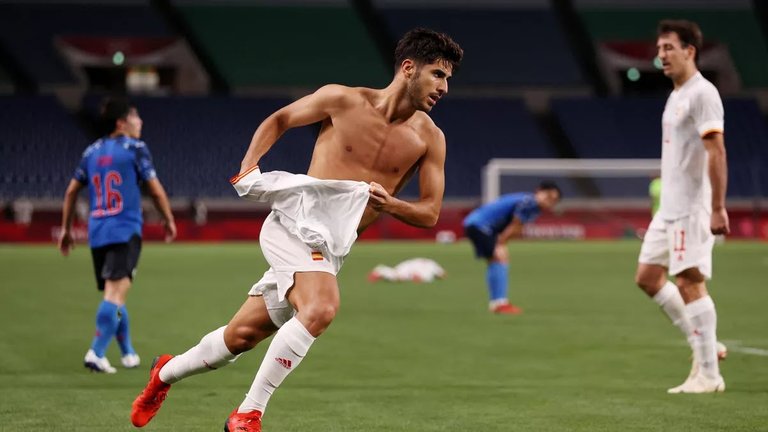 source
The match between Spain and host country Japan was very tough. One of the reasons I love spanish football is the style of playing, 39 minutes of the match, I already shouted 'goal' hence, the ball was brilliantly saved by Japan goalkeeper Tani! Spain dominated the possession while Japan were threatening on the counter; all what Japan wanted was to score but it was not a good day for the host country. Spain were denied of penalty after VAR said, "not a penalty', 116 minutes of the game Asensio scored the only goal in the match. It was a big disappointment for Japan and some of their players were sharing tears. I was also emphasized with them but nothing could be done again.
Spain will face Brazil in the final which will take place on the 6 of August, 2021. showing on the TV channels stream: NBCSN, Telemundo and fubotv.
My main concern now is, what will happen between Brazil vs Spain? I know for sure, in football, one will be a winner and the other will be a loser or runner up; either Spain or Brazil will win, that is for sure. But the team that mostly prepared will win. Both Spain and Brazil have been predicted as the most favorite winners by draftKings, BetRivers, and WilliamHill. With the prediction from bet sites, it will be difficult to predict the medal's team. In all the bet sites, Spain came first while Brazil second. Anything can happen that will change the game in favour of any team. Unexpected things can happen in that match and that is football. Just like in some matches, the clubs you will never imagine to win, will contend and win. France was predicted as the third, but France's team did not go beyonds groups stage.
In my perception, I would love Spain to win Tokyo olympic 2021 Men's football for the love of football. I love their tiki taka style of playing; I love watching team dominating in possession and playing beautiful football just like the Spain.
---
---