Why POB is worth more than Hive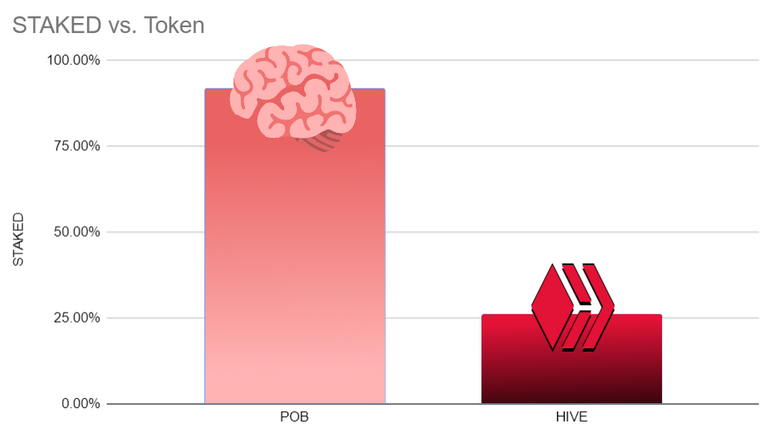 Now don't go getting upset at my title because I can assure you I am also convinced that Hive is undervalued as well, but let me show you why POB should be worth at least 4x what Hive is worth. Not only that it is the tokenized concept of a Community Reward Token as described in the Blue Paper, or that this community will be filled with the most consistently well thought out content and ideas that are worth sharing.
These reasons and more are why I know that Proof Of Brain as composed by creative content creators, curated by the entire Hive community, and supported by users dedicated to the concept of rewarding 'Human Meaningful' efforts.
Proof of Brain: Smart and Social Tokens : Token systems that reward users as they contribute to a token-based community system require mechanisms for establishing and evaluating content's social value: we call this "Proof-of-Brain."
In fact every community token will demonstrate these principles, but POB should be an example above the rest. When you vote on a POB post, you are genuinely giving your tip of the hat, in POB and in HIVE, to the human author of that post. And it is essential that we all understand this next point.
Why I believe that POB is worth MORE than Hive, is because of this one essential factor related to the distribution of the token.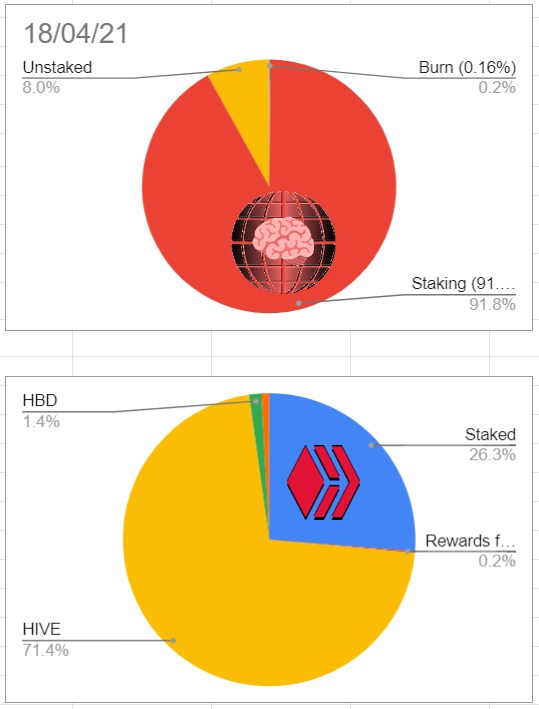 Working off the tokenomics shown on the ProofOfBrain.io front page, as well as the data from HiveBlocks, I constructed these two pie charts to show you something important. POB is 91.8% staked, and almost its entire supply is held by Hive users. There is no POB on other exchanges either, just POB held by Hivvers.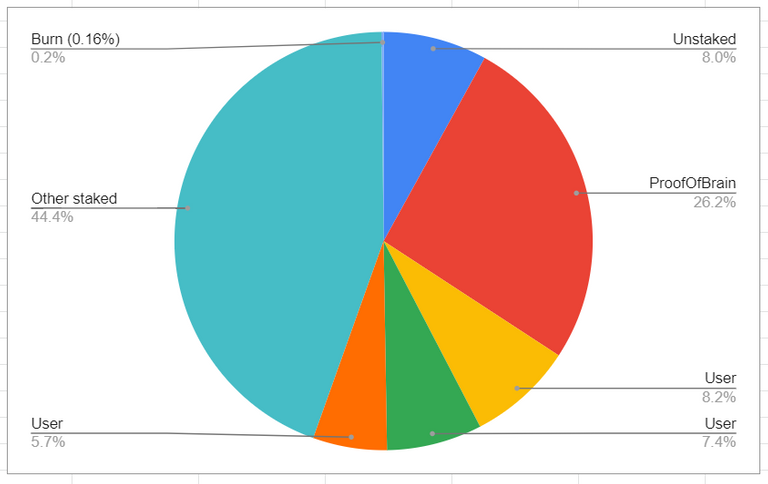 A closer look at who is in control of POB does reveal a handful of users who are staking right now. Assuming that @proofofbrain is HODLing, and other large stakers are also sticking around for a while, then we should be confident in the token.
As a community we can decide how to make this work, and by offering proposals even just in the form of posts, can offer solutions and ideas for others to consider. With the POB token we can show others how much we value their efforts. The more value we place on this token, the more value it will have in the long term.
Someone who is new to Hive might also benefit by reading and curating on the proof of brain front end because it will push them to think more. The value of the POB token reflects the value users see in this idea we all share.

Rather than falling to the petty politics of vote wars and describing all the things that already been rehashed again and again, I hope we can break new ground and compose the best content here for the future of Hive. If we hold Hive to a standard at all, lets make sure POB is the pinnacle of this concept.
When I was in high school I imagined that sometime in the future there would be a way to sort through all the best ideas, and my friends this is that time. I figured we could get a bunch of people together and sort of sift through all the ideas until we had a handful of the best. Then we could really get to learning, the best things.
So here I propose this to POB: Can ProofOfBrain be the beginning of truly cataloging the BEST ideas for the world? And can we spread the world that POB is staking for the long term? Will you in VEST in Human Meaningful work? In an increasingly automated world, creative human minds are truly more valuable than ever.
VOTE 100% On This Post
If you want to keep POB above 91% staked!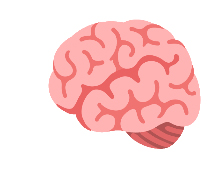 REBLOG if you want POB to be worth 4 HIVE.
You can earn POB for posting great ideas!
Honest tokens for honest efforts.
And this is how it should be.
---
Posted via proofofbrain.io
---
---