Game week 1 Round up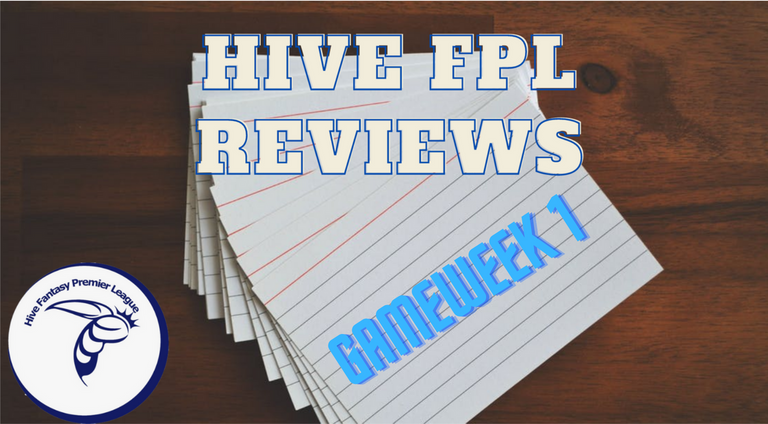 After what has felt like 800 years of waiting, we have finally completed the first set of fixtures and as always, the Premier league did not fail to deliver premium excitement. There were thrills, spills, goals galore and banter for the billions of faithful tuned in to watch the best football league on Earth.
The start of every premier league season comes with renewed hope and as each club takes the first step of their 38-step journey, you get a feel of what is to come. Alas, this is the same feeling that FPL managers have as the new season comes with renewed optimism of glory in all your mini-leagues, as well as the cup competition hosted by FPL every season.
Alas, the Hive FPL also keys into the tenable euphoria that emanates from every action that takes place in every single premier league match. Participants in this inaugural season are all vying for Blockchain supremacy and what we all crave for is a fast start to the season.
Naturally, your FPL season is determined by how great of a punter you are for every game week but also keeping in mind that the season is often long and arduous. A fast start doesn't promise overall success but a slow start to the season feels like an epic fail that you would like to avoid. You absolutely do not want to be falling behind in these early stages.
The first game week offered up some exciting fixtures with some expected and surprise results along the way. Let us take a match by match look at the events of the first game;
Crystal Palace vs Arsenal

After what I consider a stop-start preseason for Palace, an early season fixture against an Arsenal side that was scoring goals for fun was not for good reading. However, having completely dismantled the gunners in the latter stages of last season, Palace would have fancied their chances.
A quick start by Arsenal put Palace on the back foot and the gunners had the opportunity to get a goal from eventual scorer of the opener, Martinelli that was scuffed wide. The young Brazillian winger eventually got on the scoresheet after a corner routine found him in acres of space from a Zinchenko header.
Arsenal later doubled their lead against the run of play after a cross cum shot from Saka was deflected into the palace net by the helpless Guehi. However, it is important to state that the scoreline flattered the away side.
For large spells of the second half, Palace dominated the match and on the balance of play, one would say they were on equal standing. However, the difference between both teams was Aaron Ramsdale that made two very important saves to keep Arsenal in the match.
Fulham vs Liverpool

Fulham and Liverpool are two teams that are pretty much on opposite ends of the ratings spectrum in the Premier league. One is a recent champions league finalist and perennial title contender while the other just gained promotion from the championship.
On the balance of play on the day though, you wouldn't have been able to tell both teams apart though. One thing for sure is that they are both exciting teams that previously had free scoring seasons epitomised by the fact that both teams fielded top scorers of their respective leagues for last season.
For what it is worth, the scoreline was a fair reflection of the match, even though Liverpool naturally created more opportunities to score. There was an early attempt by Luis Diaz, for example that clipped the top right and numerous other attempts created by the Reds.
Interestingly, Fulham actually took the lead through two goals from Mitrovic and were on course to a huge upset until Mo Salah came up clutch as he always does. One goal for Salah and one assist for new boy Nunez was a enough to spare Liverpool's blushes.
Bournemouth vs Aston Villa

The Liverpool game showed that the newly promoted teams aren't here to mess about and Scott Parker's men proved the point by stunning Aston Villa in this opening day fixture. Two goals from Lerma and Moore were enough to dispatch Stevy Gerads men that boasted a more illustrious team on paper.
Parker's men took a more defensive/pragmatic approach to the game, as the Villans peppered Travers and the Cherries backline regularly. However, despite fielding a lineup that had Coutinho, Ings and the very exciting young prodigy, Jacob Ramsey, Aston Villa couldn't get any breakthrough.
The newly promoted side currently sit in second position behind Spurs and ahead of Arsenal. With a long season still ahead of them, you know for sure that this is nothing more than a nominal position.
Leeds vs Wolves

Leeds and Wolves are two teams that experienced somewhat differing seasons. Wolves got some level of stability with Bruno Lage at the helm of affairs while Leeds stuttered and only escaped relagation by the whisker after a managerial change saw them switch from Marcelo Bielsa to Jessie Marsch.
Last season, Wolves boasted one of the stingiest backlines in the league while Leeds were a tad bit more generous, to put it lightly. In some way, one could say it is a miracle that Leeds managed to even stay up last season, yet here they are, scoring two goals after seeing Raphinha and Kalvin Phillips walk through the exit to Barcelona and Manchester City respectively.
A goal from Rodrigo and an own goal by Ait-Nouri were enough to see out the victory for Jessie's men. A good start to the season might see them avoid the relegation scrap. Wolves, on the other hand, had quite a number of names absent, including top striker Raul Jimenez.
Newcastle vs Nottingham Forrest

Nottingham Forrest was welcomed to the big times by a resurgent Newcastle team buoyed by some Saudi money. The magpies are slowly building an impressive squad with ambitious investors looking to climb up the ranks.
In Eddie Howe the magpies have a young, and astute manager that takes charge of a fairly young and fresh squad. The project has added some stellar names including Bruno GUimarres and Sven Botman that were linked to some top teams in Europe.
Alas, their goals came from two familiar faces in Schar and Callum Wilson. Newcastle will be a thorn in the flesh of most teams and with some serious financial backing, they could be in for something special this season.
Tottenham Hotspurs vs SOuthamptopn

A slow start to the fixture saw Antonio Conte's charges invthe backseat of the game but the gulf in quality between both teams was evident as Spurs raced into a three-goal lead thanks to four goals from Sessegnon Dier, Kulusevsky and an own goal by Salisu cancelled out and obliterated the opener by James Warde-Prowse.
Harry Kane and Son have not gotten off the mark in scoring but they were hugely influential in this fixture. Son managed to grab an assist while Harry was involved in the build-up to pretty much all the goals.
Pundits have touted Antonio Conte's men as potential title contenders and with reinforcements added to an already impressive squad, it is easy to see why. There's so much to come and we will be here to enjoy it all.
Everton vs Chelsea

The Toffees were one of the teams that escaped relegtion and that was only due to a late-season charge by Lampard's men. The team suffered from defensive frailties and was particularly hopeless against setpieces.
Despite starting the season with a loss to Chelsea, Lampard could take home some positives. Iwobi looks to have found himself playing at the base of midfield where his ball carrying and distribution come into play.
For Chelsea, it was a hard-fought victory with Havertz playing up front. The German forward was somewhat profligate in front of goal but all the plaudits have to go to Chelsea's defence with new signing, Koulibally playing some beastly stuff to keep the London side in the game.
Both teams didn't have brilliant Pre-season but all that is out of the window now that serious football is back. Chelsea managed to edge out this victory thanks to a penalty that Jorginho converted. However, Chelsea generally seemed lacklustre in transitioning defence to attack and have some sorting out to do.
Leicester vs Brentford

Sunday started with two fixtures and one was a very entertaining encounter between Leicester and Brentford. In some way, we could say both teams were surprise packages as the Foxes faltered instead of hunting for European spots as many predicted and Brentford actually retaining their Premier League status with time to spare.
In what was largely an even affair, Brentford had to fight their way back from a 2-goal deficit courtesy of Castagne and K. Dewsbury-Hall. Jamie Vardy wasn't on the scoresheet but he provided an assist.
For Brentford Ivan Toney once again exposed the defensive frailties that plagued Leicester last season. Their defensive woes have been compounded by the loss of long-term goalkeeping stalwart Kasper Schmeichel who moved to Nice in Ligue 1.
For Brentford, two goals from their main striker, Toney and Silva were enough to claw back into the fixture and bring the match to a tense finish. Both teams tried to go for the jugular but eventually settled for a draw.
Manchester United vs Brighton Hove Albion

Manchester United served us the first bit of EPL banter as they lost 2-1 at Old Tradford. The Red side of Manchester was dominated by a well-drilled Brighton side that really should have scored more goals if certain decisions went in their favour and they were a bit more clinical.
Manchester United started two new signings in what is largely the same side that underwhelmed last season. There was a lack of cohesion evident in the squad as they tried to implement Erik Ten Hag's tactics of playing out of the back. This was evident in the fact that in the first ten minutes, United had already made three wrong passes in their defence that would have been punished by most top teams.
Brighton, on the other hand, played like a well-oiled and drilled machine. They seemed fitter and hungrier than their more illustrious opponents. If anything, the 2-1 scoreline flattered Manchester United in what was otherwise a chastening showing by Brighton.
West Ham vs Manchester City

The Citizens started their title defence with a 2-0 victory against West Ham. Both goals were supplied by new signing Haaland and I have to say, the Norweigian strike looked lively for most of the fixture.
On paper, the outcome of this fixture was hardly in doubt but in recent seasons, City has started the season slowly and then builtd up steam as the season go by. WIth their potential rival Liverpool already faltering at the start, getting three points against the Hammers was very important.
The Hammers were generally hopeless against this city side that honestly has their number. Results against City have been hard to come by and despite West Ham Stiker, Antonio's usual tenacity upfront, it was not enough to muster any real challenge for the Citizen's backline.
There's still a lot of football to be played this season but City havehaseady laid down their market with yet another dominant performance against the Hammers. It's still the early season but one thing we can say for sure is that it is going to take something special to stop this team.
All scoreline images are from FPL website
Join the community on Discord,Subscribe to our Youtube, help us reach more people by reblogging, follow @hivefpl and follow us on Twitter
---
---