Living Full Time On Crypto - A Few Tips and Tricks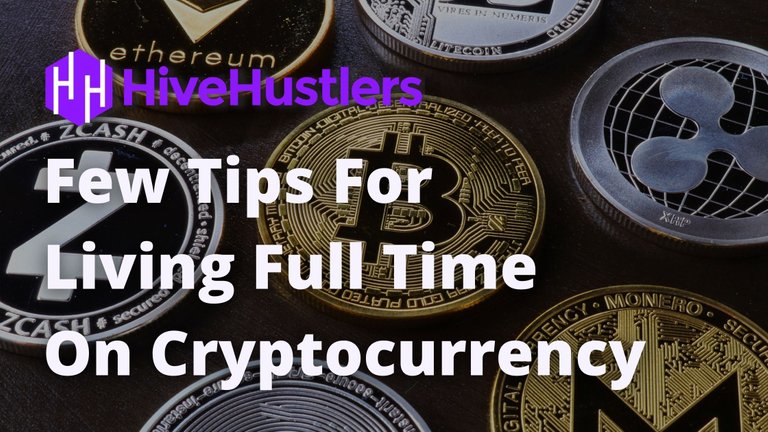 Living on cryptocurrencies full time is a goal that many of us dream of, but is not for everyone. This life is not for the faint of heart, that is certain. But the rewards you get from it are unequal to anything else I have ever done in my many different 'careers'. You can't just dive in full time and expect that you are going to go to the moon right off the bat... Nope... It's going to take time and effort, so don't quit your day job just yet...
FYI... Much of this information will be directed at US citizens, because that's just what I know... But much of it is still good for anyone, so let's crack on!
Ask Yourself, Why Are You In Crypto?
For some, and in today's society becoming more and more prevalent, are those that are just in this industry to make more dollars. They don't care about the underlying fundamentals of crypto and the freedom that it can offer. They are in it to see how much their portfolio will be worth in dollars that they miss the fact that they are building a sovereign fund for themselves.
Many, like the institutions are beginning to see it as a hedge against the coming inflation from the FED and government instability across the globe. But they are really flocking to assets like Bitcoin and Ethereum. That pretty much leaves the rest of the space to the average joes!
But for people like me, crypto has become a way of life, aside from just a financial tool. We find ways to earn crypto doing all kind of things, such as what I am doing right now...Posting on Hive has been an amazing way for me to be able to find new ways to create. I never thought I would just want to sit down and write and article, but yet here I am, loving every minute of my time doing it.
The freedom from the traditional systems and the freedom to be and do what I want is something that is pretty new, at least only a few years old to me at this point. After losing everything to a hurricane, and then the government screwing me out of any help I needed, I learned for certain, that the government DOES NOT care about you! So I wanted out! That's when I found Bitcoin and it was game over at that point... It was just a matter of time...
Finding Ways To Earn Crypto
There are many different ways that someone can earn crypto. But to make a full time living, it will take either a decent amount of capital to get started like with mining, or you can buy proof of stake tokens, stake them and earn some passive income.
There is also going the way of DEFI. This is another great way to earn some crypto. Providing liquidity to these decentralized markets can really earn you a nice return.
But you are saying... These all take investments... What about those of us that can't afford to put any money in? What are we to do?
Well... That is where content creation and education comes into play among other things.
Content Creation on The Blockchain
Now if you are reading this on Hive, most likely you already know where I am going with this... Hive is an amazing way to earn crypto for just being you! Using you brain, your knowledge, your skills, and more can earn you a decent living. BUT, and yes, I mean the big BUT... It takes dedication and hard work!
You can't expect to come and sign up and start making a full time living right away... Nah... Not gonna happen... It is going to take allot of time and effort to create solid content that the community is going to find valuable.
It also takes going out from your own posts and actually engaging with the community... You know, go be social! People like it when you go and comment on their posts. Go out and start conversations on other people's content. Guess what, you get paid for that too!
Building Your Business While Building Your Stacks
To succeed, you will need to have multiple hustles. For a while, you will probably need to work a regular job to pay bills while you stack your stacks. Think of it as building your side business while you work your main gig. This takes EFFORT! And it will take time, so be patient with yourself.
You may see others excelling while you are hardly getting crumbs, but don't let that discourage you. Instead turn that into motivation to find out what they are doing better than you, and figure out how to do it yourself! But again, just be patient, take the time to produce good content and build solid relationships.
If you do all this, while stacking the earnings you are making, it will really start to add up fast! With HBD now paying 20%, you can create yourself a nice savings account.
Just remember, we are all still early to the game... That means great earning potential, as well as very high risk! So you need to learn some capital protection.
Don't Be Afraid To Try New Things - Go Learn New Skills
Getting out of comfort zone will be a great way to challenge yourself on finding ways to earn. Maybe taking some of those stacks and risking them for some higher yields in a DEFI pool, then taking those rewards and going back into your HBD savings. This is a good way to stick your head into the DEFI world. Learning how those systems work will put you far ahead of many people out there. Learning to find good returns while also learning to balance and protect your capital is key!
Learn charting and the basics of trading, but don't try to be a day trader... You will lose your BUTT! Yep, your big BUTT, lol. But learning the basics of charting will help you when you need to cash out, get the best returns for your assets. You can also use this information to figure out trends and make some solid longer term trades that can really help you grow your stacks long term. The key is building and compounding, not losing, do never bet more than you can afford to lose!
Be careful aping in to NFTs and new shiny projects. This can be an easy way to lose your newly earned capital real quick... The key is to keep what you earn...
Learn the DEFI Lending Game
So debt is non taxable income. One major issue with living on crypto is the fact that if you sell it on a centralized exchange like Coinbase or Binance, you are going to have to report capital gains, most likely. Taxes suck and I don't want to pay them, so I don't for the most part. Most of my expenses are used with money that I LOAN against my crypto, instead of selling my crypto!
How I do this is using Venus.io on Binance Smart Chain. There is also Compound on Ethereum, you know if you want to waste money on network gas fees... But Venus gives you a way to wrap your assets like BTC, ETH, LTC, stablecoins, and more and actually lend them out to earn interest to the smart contracts. This is also building you a credit line for yourself that you can load against.
My game is that I stack up BTC, BUSD, BNB, and LTC, and then I loan against those assets using BUSD stablecoin and send that out to Binance to cash out for dollars. No capital gains taxes... PLUS... You are using debt, which if you are smart and using decentralized DEFI protocols, then you can just use those rewards to pay off your debt, then rinse and repeat! You are never using taxable income if all you are doing is spending what you are borrowing.
It's a hell of allot cheaper than using credit cards...I also use Hive rewards to pay down that debt as well. It's easy to transfer BUSD out of Tribaldex to my metamask wallet...
Be Careful Using Crypto Debit/Credit Cards
These are still ran by centralized exchanges and banks... So that means if you are trying to live outside the system, those cards will be a link between you and your crypto that can be tracked. If you are using my lending and stablecoin method from above, it's not as big of a deal, but still, it's a link because it requires your KYC, or know your customer, private information.
If I use one, I use my BitPay card. It's a prepaid card, and so far, I have never gotten a 1099 to report exchanges. But I really only use it for small purchases anyway and to get cash, thus keeping things on the down low as much as possible.
Gift Cards Are Key!
BitPay also offers gift card services where you can purchase gift cards for most major brands in the US. You can also look at companies like BitRefill which has more options as well. Gift cards are a great way to skirt the system by which you can buy credit at the stores and business you shop at anyway! You can even travel on crypto using gift cards.
Both companies offer airlines, AirBNB, Hotels.com and more. You can also get gift cards for Uber and Lyft to get yourself around as you travel... Groceries, clothing, rentals, pretty much anything you would need to purchase, you can get a gift card for using crypto and not having it attached to you because no KYC information is needed. With BitPay, if you get their card, yes, you will need to give up the info. But, you can select to not attach your gift cards to your account, thus keeping you somewhat anonymous.
In Short... Living Full Time On Crypto Is A Challenge, But So Worth It!
I am eternally grateful for Satoshi and what he built with Bitcoin. If I would have been smarter when I first learned about it, I would be set for sure, lol, but when you are a young dad with kids to feed, investing in magical internet money wasn't on the table at the time. But that all in the past, and is just stepping stones to where I am today.
Now this isn't to say that I have some million dollar portfolio, FAR from it! In fact to be honest, it's only in the 5 figures, but started from 0! So that's huge for someone that had to start learning in his spare time while getting his soul sucked out of his ears working for Apple on a daily basis.
It's been nearly a 2 year journey to get from leaving Apple, working as a delivery driver and building my crypto businesses, to now, I am living full time on crypto! Now I have had to learn to cut some costs, and live a very modest, and minimalistic lifestyle, but I am free to do what I want, when I want, and where I want! I am excited to see what the future hold and excited to be apart of this space!
Freedom of work, freedom of money, brings free time, which is more important than anything!
NOT FINANCIAL ADVISE KIDS!!! JUST EDUCATIONAL AND ENTERTAINMENT PURPOSES ONLY... Blah blah blah... LOL...
Keep calm and Hustle on!
Main info site: https://hivehustlers.com
Hive Blockchain community: https://hivehustlers.io
HiveHustlers Community on Peakd: https://peakd.com/c/hive-183630/created
Check out our multi-token DEFI ecomomy: https://hivehustlers.com/token-economy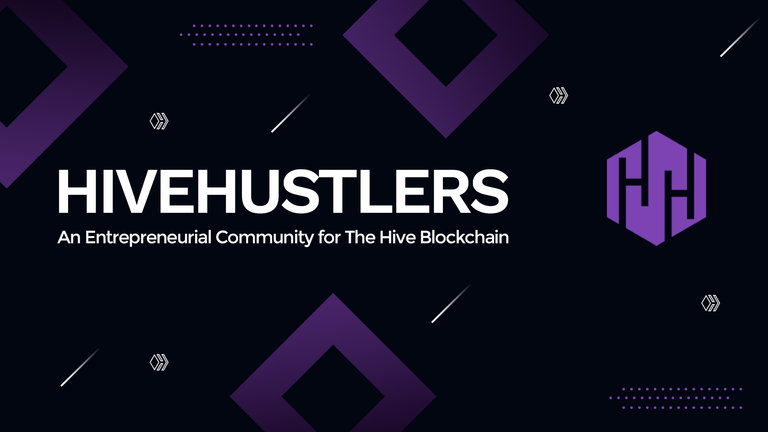 ---
---