Proposal #257 Update- We Need Your Support!

More than 40 Days have already passed since we launched our original development proposal for this year!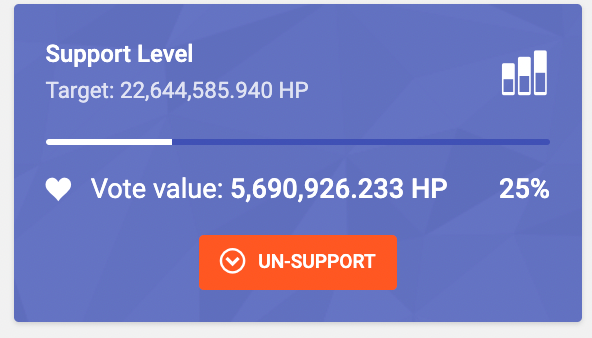 And we're already at 25% of the upvotes necessary for the funding
Sadly the market has been going down considerably since then and we understand that the original funding we were asking for the different goals was a higher considering the context of the economy.
So we've updated the daily funding request to 250 HBD per day and just for the next 310 days
---
This also changes the focus of our proposal a bit, we understand that's better to put all our workforce and creative power mainly in two points of the proposal that we are convinced will bring a huge value to the entire HIVE blockchain.
It's important to remember that we're gonna share the code of these projects and update them with all the development we're doing as open source if the proposal is accepted.
This is a key piece that's lacking in the HIVE ecosystem right now, WAX has atomic hub that brings a complete and professional experience to the WAX blockchain.
Is something we need for HIVE urgently so we can condense all the amazing NFT projects that are around in a single place but not only that!
The market needs to offer a wide range of tools to leverage the NFT experience on HIVE and attract new users from other blockchains and make easier for these games to get new players!
Our HK market that's live already is being build with that vision.
Features we're working on
Basic market functions including buy/sell, inventory, transfer, etc.
Listing every single game for free
Creating an unique filtering system for each game
Showing the Volume in different time frames for each collection/game
Showing a price graph with the evolution of the price of each nft through different time frames
Showing trends and percentual changes in different time frames
Notification system to alert the user when different events are triggered in the market like sells, raffles, etc.
NFT raffles that can be created by players
NFT lootboxes that can be created by players
NFT sells in bundles
Instant cashback
NFT swapping service between players
NFT Random Generator. Create collections of NFTs without tech knowledge at the very style of bored apes
---
At the moment the market is live! it has 3 games listed including @hashkings @terracoregame @cryptoshots.nft
Each of them with a personalised filters
We're testing the raffles with a private raffle and within the next days it will be opened to every player of these games to start publishing their own raffles with their favorite NFTs!
Early Strategy For Promotion
Is important to highlight that our biggest aim will be to make this project profitable asap and that all our initial hard work will be in adding all the hive games and all the features listed above.
Then we will dive into promotion and marketing.
The plan is divided in two stages:
While we're on bear market, investment will be mostly in building all the features previously listed, local promotion and organic promotion through youtube.

When the bull run starts promotion will be aggresive through paid promotions, partnerships with youtubers and onboarding new projects to HIVE. (this also works with our other project in the proposal HK-DEVS)
So in this early stage, promotion will be direct through all the different channels that we have contacts on that includes instagram, tiktok, twitter, facebook, rumble, youtube, publish0x, substack and a websites that are hive related
Local promotion on HIVE through different methods including communities research, memo marketing, direct approach, partnerships with the different games devs.

Next stage will be started as soon as we see an increasing volume of transacctions and up-trending flow of new users, we will deploy accounts on all the social media specifically for the HK MARKET (in english) and at the same time pushing it organically with the help of HIVE content creators.

At this same stage, we will be talking with major NFT youtubers in different communities for promotions looking for real numbers and not inflated subs/views.
---
Resources
---
---