Consumer Electronic And More Now On The Hivelist Store!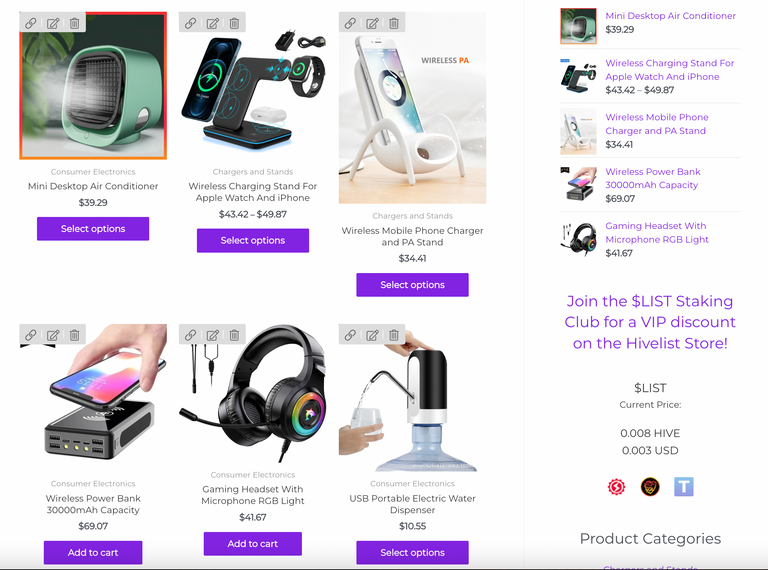 Hello everyone! We are really excited to be bringing back some consumer electronics to the Hivelist Store! Now if you have never heard of @hivelist before, it is an e-commerce platform for the Hive community. We have a full on classified community built on Hive-Engine with our own LIST token that we use for various purposes. We also have a full on NFT marketplace that uses the LIST token, as well as a diesel pool. We really coined the idea of Hivecommerce, actually we also run the @hivecommerce token through the @hivehustlers community.
But today we are putting focus on our multi-vendor retail marketplace where we sell physical and digital products for crypto! We want to talk about some updates and new products that we have going!
No More Fiat Payments!
We no longer accept fiat payments as we got flagged as a 'Restricted Business' because we have an NFT portion of our business, and being based in the good ole USSA, which is supposed to be the land of the free, but it's more the land of the over taxed and regulated. So, being that we are building a crypto based economy anyway, then we are putting our money where our mouth is and shutting out all fiat payments!
New Products!
We have been on the search for some solid suppliers and have found a good company to partner up with to bring a new fresh line up of products! I am starting off with building up the Consumer Electronics category and will expand from there. We are trying to find useful products as well. Things that people will need and use in their daily lives. At least that is the focus to start then will expand!
Our consumer electronics line will also blend into other categories like Home and Living, Accessories, and others. We will be looking to add new products daily!
Free Shipping on All New Products
With these new product suppliers, we are able to offer free shipping on all of these items! Unlike the print on demand products which have such varying shipping costs for different geographical locations, we know the shipping costs with each product and are able to just build it into the price. We are also trying to keep prices comparable to places like Amazon.com.
The shipping times are pretty solid at 10-15 days shipping after a 1-3 day processing time to most places in the world. There are some products that will have longer times, but those will be noted.
New Product Returns for Issues and Shipping Damage
If you order one of our new Consumer Electronic products or any of the new consumer goods that we will be releasing in the future, if there is anything damaged in shipping, we will need photos of the damaged product and our suppliers will be happy to replace the item! Our suppliers ask for photographic proof so they can properly process the return.
The Hivelist evolution continues! I am really excited to see it start to finally grow a bit and get some new fresh products on the store that I don't have to design, lol.
Don't forget, if you want to start your own store, it is easy to do and we can help you along the way!
Until next time...
Do you have designs or products you want to put up for sale and earn crypto?

Come and take a look at becoming a vendor on our store! We pay in HBD for all of your sales and commission! We handle all payments and exchanges so you don't have to worry about all of that! Sell your own products or submit your designs to our print on demand service!
If you are interested in starting your own ecommerce business in the crypto world, then click here to learn more about becoming a Hivelist Store vendor!
Don't forget, we have Hivelist Store gift cards!!!

Need to get a special gift for someone, but don't know what to get them? Have you tried introducing someone to the crypto currency world, but want to make it an easy introduction, then try out one of our in store gift cards! You can purchase them with any number of our accepted cryptocurrencies!
https://hivelist.store/product-category/gift-cards/
Want to make some extra HBD? Become and Affiliate!

Come and sign up to be an affiliate and get paid monthly for any sales you refer to the store! Affiliate commissions are 5% of the profit from any sale! Get started as a Hivelist Store Affiliate Partner today!
Keep calm and Hive on!
https://hivelist.io - main info site
https://hivelist.org - blockchain classifieds/NFTs/DEFI Pool
https://hivelist.store - multi-vendor e-commerce retail store and professional services marketplace
Vote for @hivelist.witness on Tribaldex

Posted using HiveLIST
---
---