Encouraging Young Artists and Entrepreneurs on Hivelist!
Here at Hivelist, we stive to help people create their own businesses and side hustles from all walks of life! So why should kids be any different!
I want to introduce everyone to @wkm here on Hive! She is a young artist who wanted to know how she could make some extra money with her art! Well, luckily her parent is smart and on Hive already, so she was encouraged to mint her first NFTs on the Hivelist NFT marketplace!
Here is the link for the Three Beautiful Alicorns that is available for LIST tokens!
https://www.hivelist.org/nfts/wkm_willow-art_three-beautiful-alicorns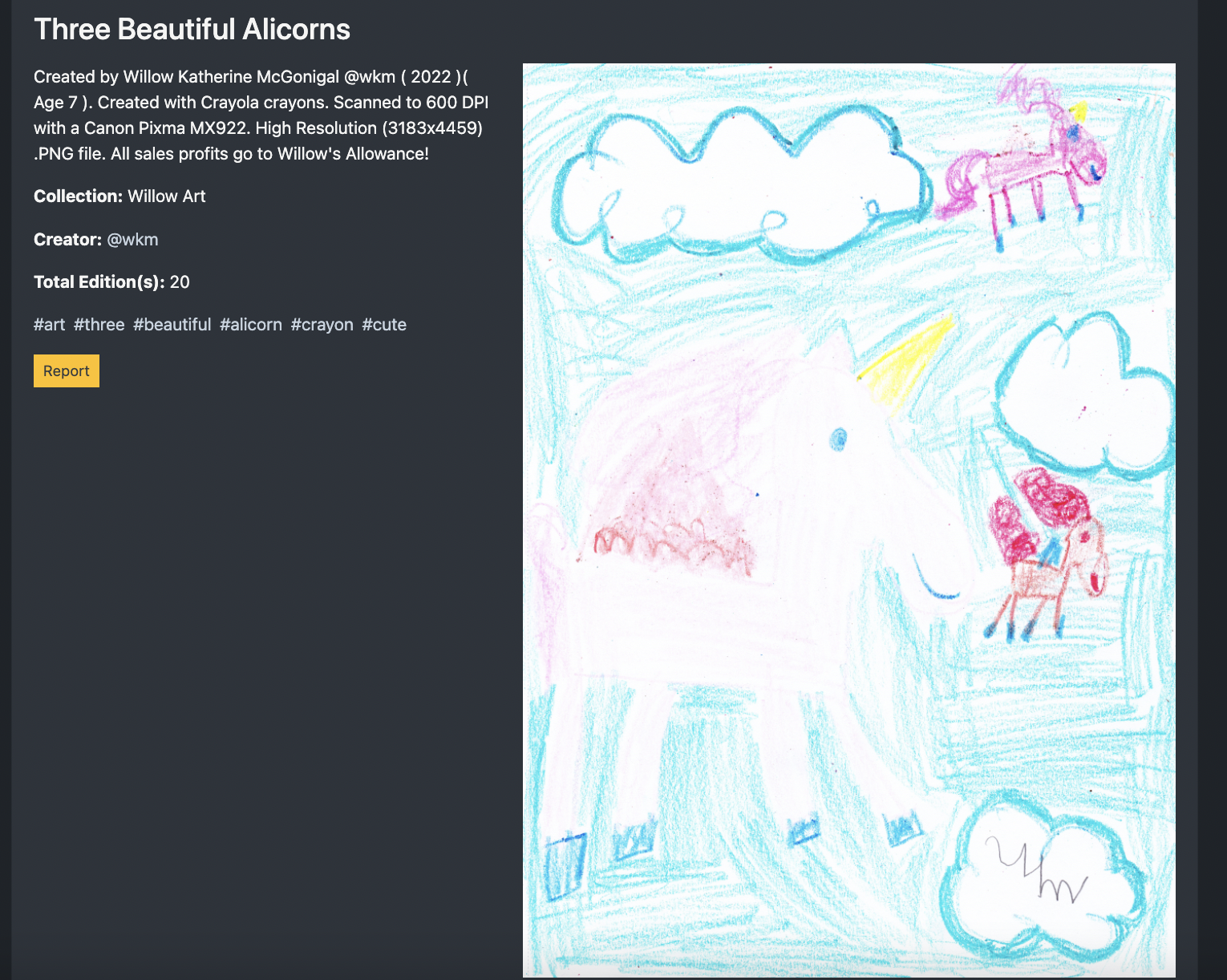 This right here is why Hivelist was created in the first place and does nothing but give us the big ole warm and fuzzies! I love seeing kids wanting to learn to be self sufficent and using their talents! You know we had to purchase a copy!
A conversation on Twitter was sparked with @cryptowendyo and we think that between what we have built on Hivelist and what is being built with Polylist, then we could put allot of focus on using these platforms for more fundraising, which has always been a goal! Kids can get out there and learn how to create the best art they can to sell as NFTs to earn money for things they need, especially in times when most average parents are struggling just to keep food on the table, much less pay for all the stuff that the schools are wanting us to pay for on top of being taxed... But I digress...
PolyList will be a more stablecoin centered platform as far as payments so this could be a great avenue in the future to use for fundraising and such to help with things like educational programs, sports programs, art programs, etc. But not just that, it teaches kids about a new way to earn from the traditional methods and encourages them to learn and educate themselves to find out more! Thinking that this could be a great thing to create a DAO around, which is very easy to spin up and get started...
Anyway... Brainstoring is ensuthing....
In the meantime, let's welcome @wkm to the Hivelist family and let's keep encouraging the young ones to keep creating and using their imaginations!
Do you have designs or products you want to put up for sale and earn crypto?

Come and take a look at becoming a vendor on our store! We pay in HBD for all of your sales and commission! We handle all payments and exchanges so you don't have to worry about all of that! Sell your own products or submit your designs to our print on demand service!
If you are interested in starting your own ecommerce business in the crypto world, then click here to learn more about becoming a Hivelist Store vendor!
Don't forget, we have Hivelist Store gift cards!!!

Need to get a special gift for someone, but don't know what to get them? Have you tried introducing someone to the crypto currency world, but want to make it an easy introduction, then try out one of our in store gift cards! You can purchase them with any number of our accepted cryptocurrencies!
https://hivelist.store/product-category/gift-cards/
Want to make some extra HBD? Become and Affiliate!

Come and sign up to be an affiliate and get paid monthly for any sales you refer to the store! Affiliate commissions are 5% of the profit from any sale! Get started as a Hivelist Store Affiliate Partner today!
Keep calm and Hive on!
https://hivelist.io - main info site
https://hivelist.org - blockchain classifieds/NFTs/DEFI Pool
https://hivelist.store - multi-vendor e-commerce retail store and professional services marketplace
Vote for @hivelist.witness on Tribaldex

Posted using HiveLIST
---
---