Fly High Out Of This Bear Market With A Drone From The Hivelist Store!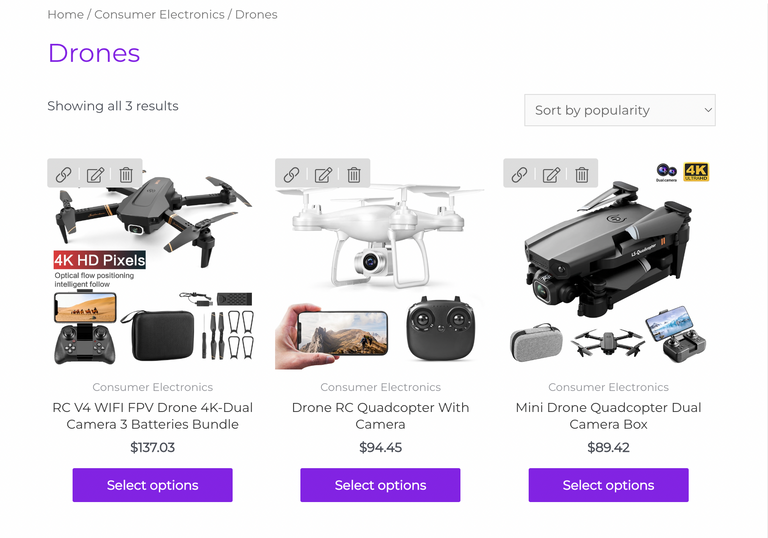 We have all been having a rough time lately, so why not try and have a little fun in life! We now have a really great way to not only have a good time, but even can help you with your content creation, or even get you started on your own flying journey!
That's right folks! The Hivelist Store now has a drone section! We are really excited to be able to stock the store with some really fun products! Our new supplier has a good selection of lower priced drones that anyone can afford!
Now they aren't DJI by any means, but they can be a great way to get started in the drone game!
We aim to bring new products daily, whether it be new physical products or new ebooks! It actually takes a while to get these products set up properly so we can't add as many per day as we had hoped. So we only have 3 options at time of writing, but more will be added, along with other categories!
We are trying to step up our game in this bear market by showing the world that we aren't going anywhere! We are only finding ways to strengthen the Hivelist network and community!
Store Payment Reminder
First off, we are no longer accepting fiat payments. We got tired of getting shut out of payment processors for one stupid reason or another, so we are all crypto.
Second reminder is that we currently have the Hive and HBD payments disabled due to the payment plugins being out of date and not working properly with WooCommerce, which is the e-commerce platform that the Hivelist Store is built on.
We do currently accept BTC, ETH, LTC, BCH, DOGE, USDC, and DAI through Coinbase. We will are also looking to add other crypto payment processors to accept other coins as well.
We have someone looking into the original Hive payments plugin to see what can be done to fix and update it. We are also looking at some round about ways to be able to use the Hivepay system without an updated plugin for WooCommerce. The current one doesn't work on the new updates and I have been informed that they need a PHP dev to get the updates done and that the costs associated haven't been available, which we totally understand!
Hopefully the community can come together and help us out with this. Times are tough, but we can work something out in the long run.
Do you have designs or products you want to put up for sale and earn crypto?

Come and take a look at becoming a vendor on our store! We pay in HBD for all of your sales and commission! We handle all payments and exchanges so you don't have to worry about all of that! Sell your own products or submit your designs to our print on demand service!
If you are interested in starting your own ecommerce business in the crypto world, then click here to learn more about becoming a Hivelist Store vendor!
Don't forget, we have Hivelist Store gift cards!!!

Need to get a special gift for someone, but don't know what to get them? Have you tried introducing someone to the crypto currency world, but want to make it an easy introduction, then try out one of our in store gift cards! You can purchase them with any number of our accepted cryptocurrencies!
https://hivelist.store/product-category/gift-cards/
Want to make some extra HBD? Become and Affiliate!

Come and sign up to be an affiliate and get paid monthly for any sales you refer to the store! Affiliate commissions are 5% of the profit from any sale! Get started as a Hivelist Store Affiliate Partner today!
Keep calm and Hive on!
https://hivelist.io - main info site
https://hivelist.org - blockchain classifieds/NFTs/DEFI Pool
https://hivelist.store - multi-vendor e-commerce retail store and professional services marketplace
Vote for @hivelist.witness on Tribaldex

---
---