HiveLIST 3.0 - The Evolution Continues! -Big Post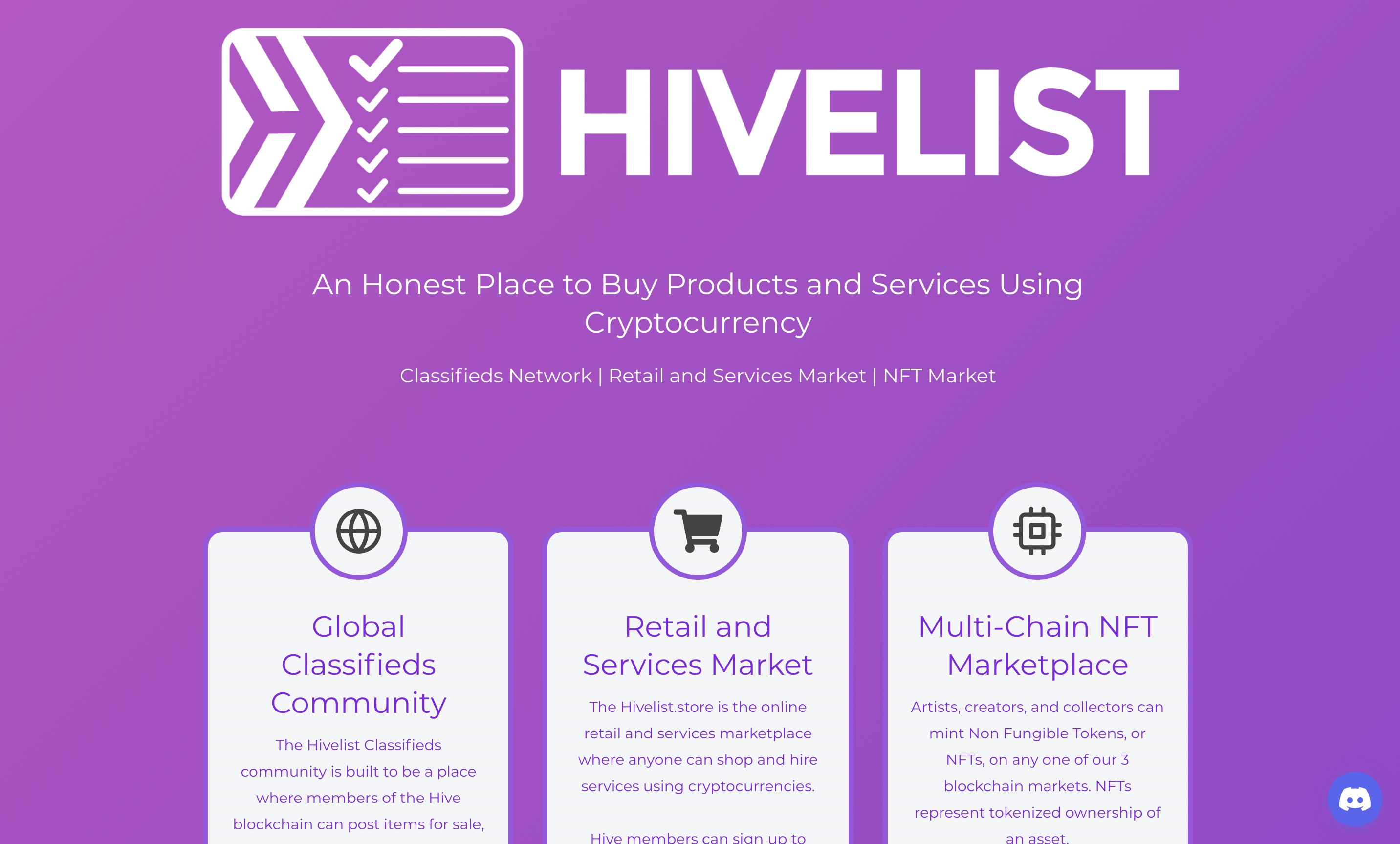 Hello everyone! We are excited to bring you the latest evolution of HiveLIST!
We have classifieds updates, Multi-chain NFT markets, HiveLIST Store updates with Print on Demand service, and HiveLIST DEFI!
It's a big one, so strap in.
We wrote another post about 'What HiveLIST is and What HiveLIST is NOT' that describes what we are trying to do. This gets into great detail about the why and the how in this article.
But in short before we get to the main updates...
What is HiveLIST?
Hivelist is an All-In-One ecommerce platform for the greater Hive and crypto community where people can be free to do business using crypto. Our vision is to be the e-commerce platform for a future economy based on doing business in cryptocurrencies.
Our Mission is to offer a safe and transparent solution for people to do business using crypto in a documented way, no more scamming! As a member of the Hive community, your username is not only your social name and wallet address, but it also carries reputation! So you can know and check to see if the person you are trying to do business with is a reputable member of the community.
Built on values. This is a community and e-commerce platform that was built with integrety and transparency! We aim to be a more honest and reputable solution than Craigslist and Amazon!
HiveLIST Outpost
With the release of the Hive Engine Outposts, which is the evolution of the tribe function, we knew we had to update HiveLIST to this new platform.
This platform gave us a much more updated UI for our overall classifieds community as well as for our native LIST NFT marketplace as well as our DEFI Diesel Pool(s).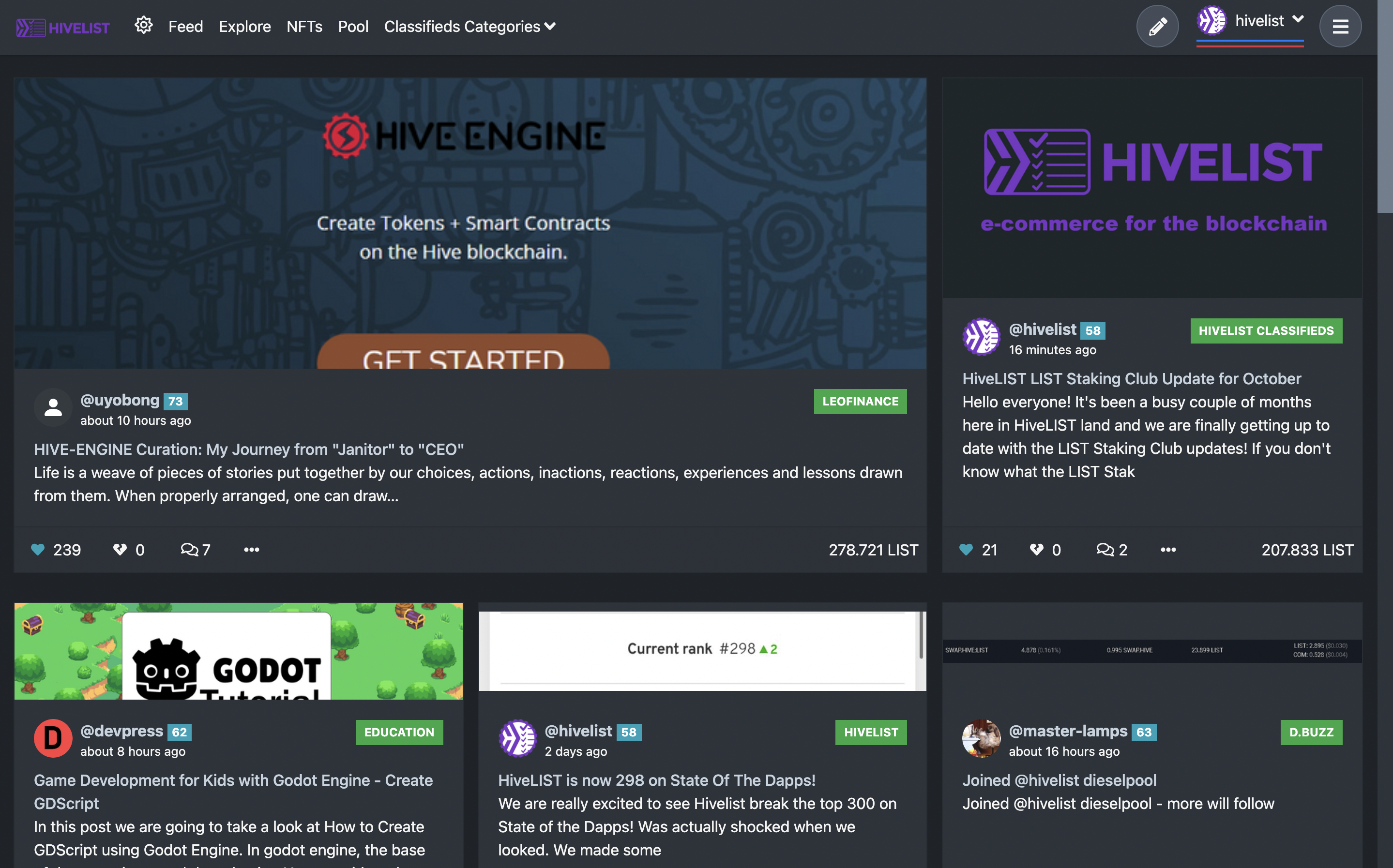 This new platform is amazing! We also have more control so we can update menues and such based on our needs and we don't have to wait on the HE team to make changes.
This also gives that more 'Peakd' kind of look that is more modern from the older compressor site. It functions beautifully on both computer and mobile! You do however need to have Hive Keychain to use the new platform! If you aren't using it yet... why not? If you didn't know Hive Keychain on mobile is the best Hive experience on the mobile device!
Can't wait to see these outposts upgrade over time!
HiveLIST NFTs!
With the Outpost, we now have a native LIST token NFT Market where you pay your whitelisting and minting fees in LIST as well as your NFTs are priced and purchased with LIST! This gives the token another amazing use case!
Here is a screenshot from the HiveLIST NFT Market... which we will be adding stuff soon, lol, it's a bit bare at the moment...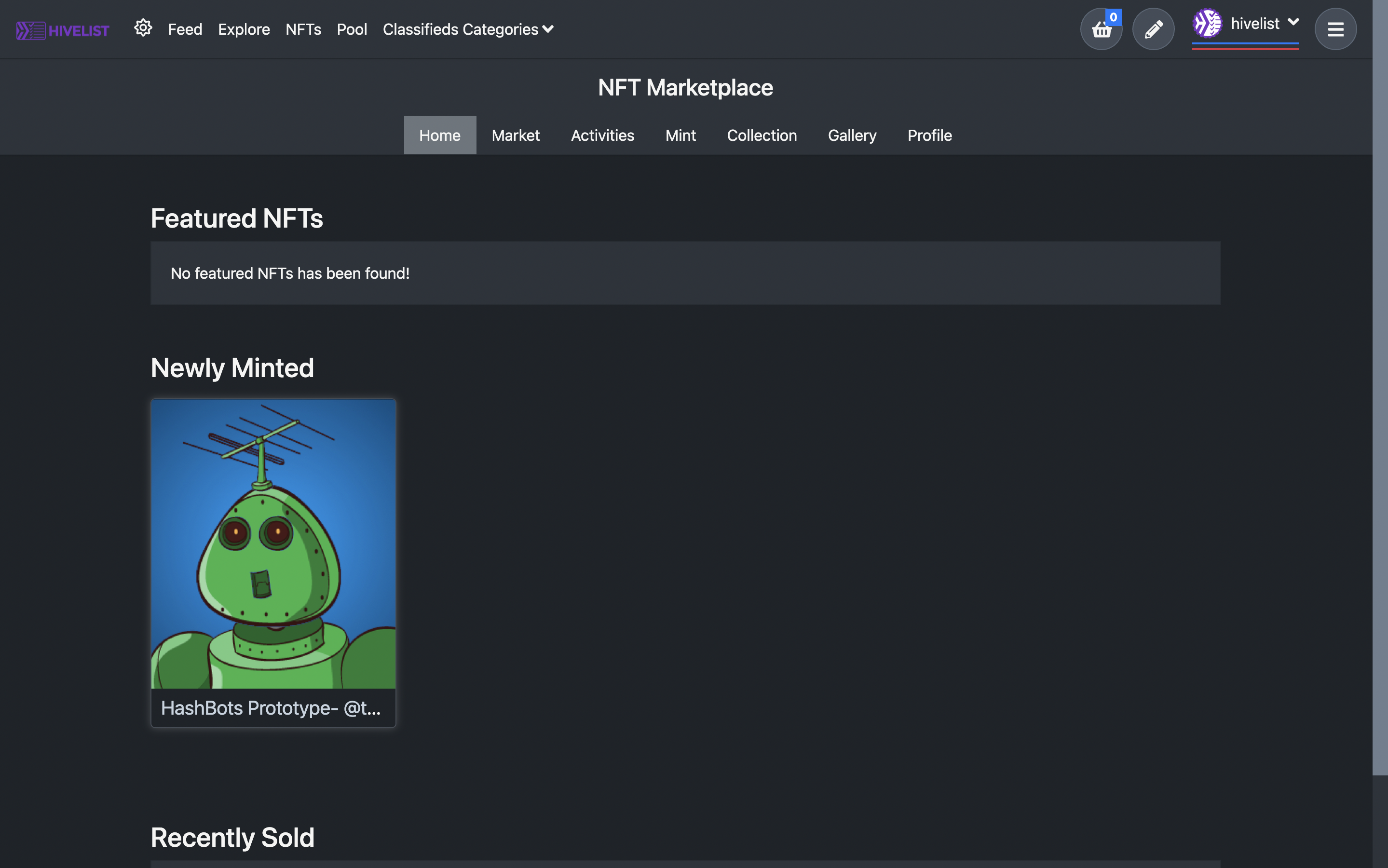 But... That wasn't good enough because we also learned how to create NFT markets with Binance Smart Chain, BSC, and Polygon so we had to include that functionality into HiveLIST!
Multi-Chain NFT Market Hub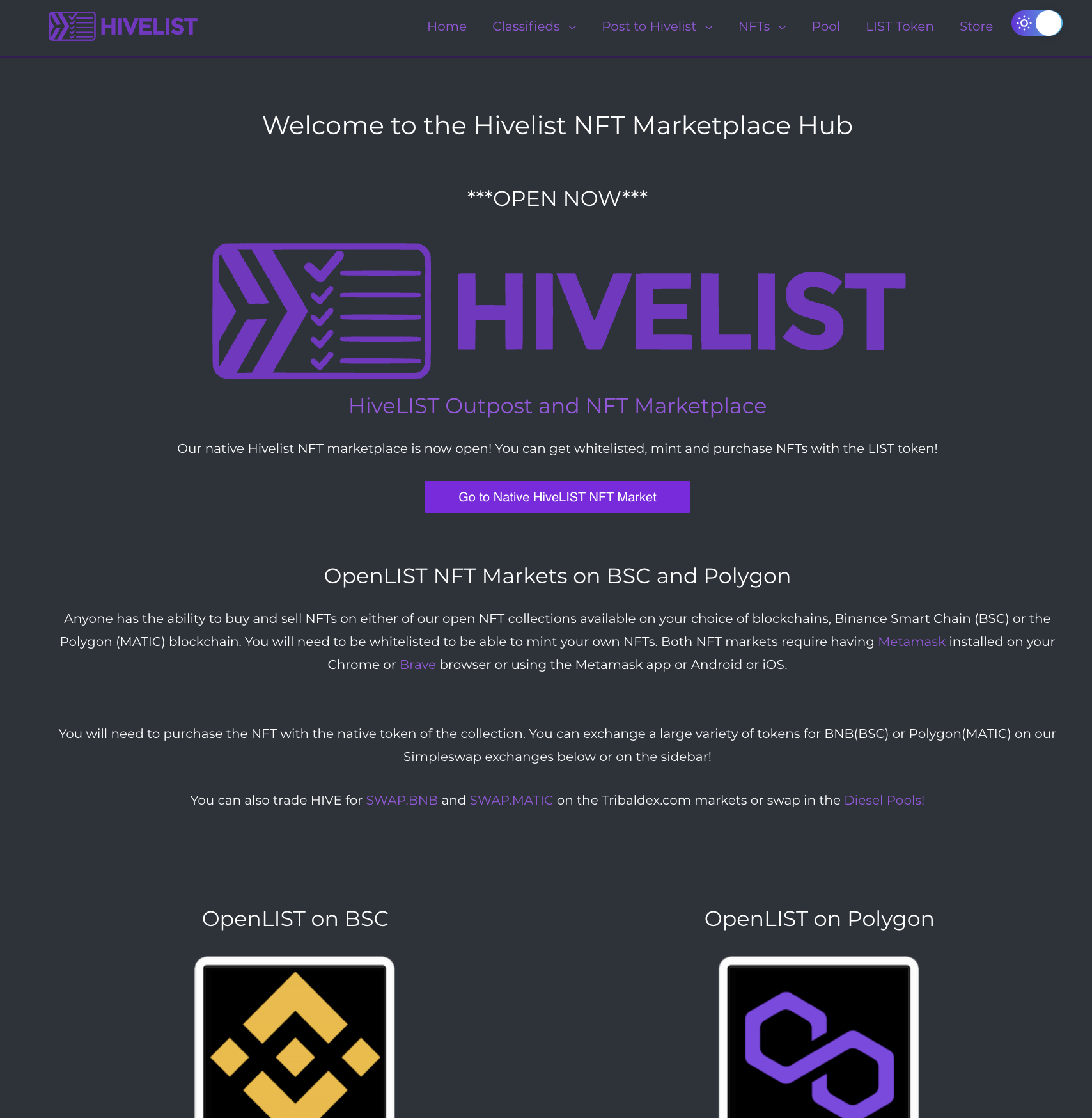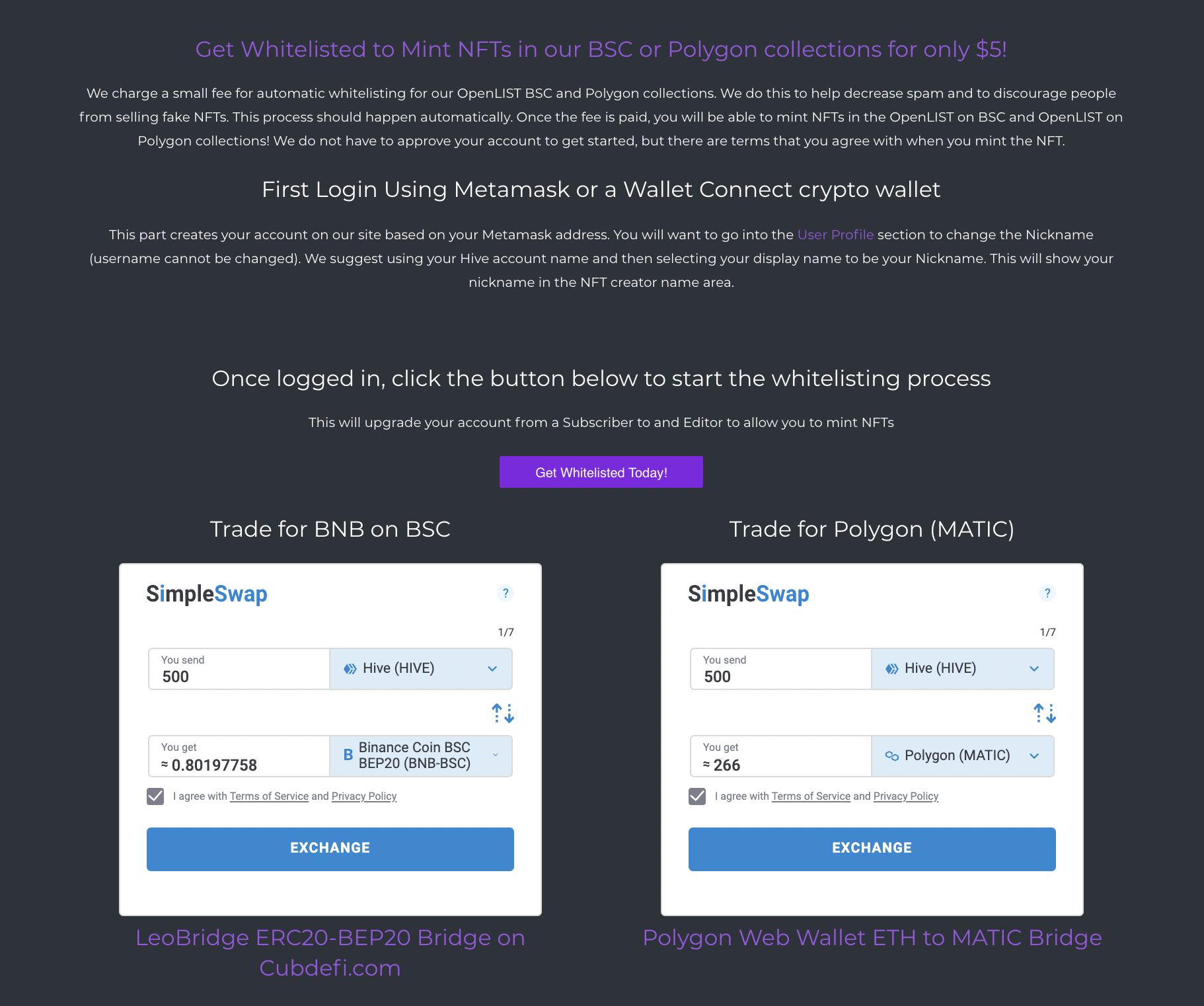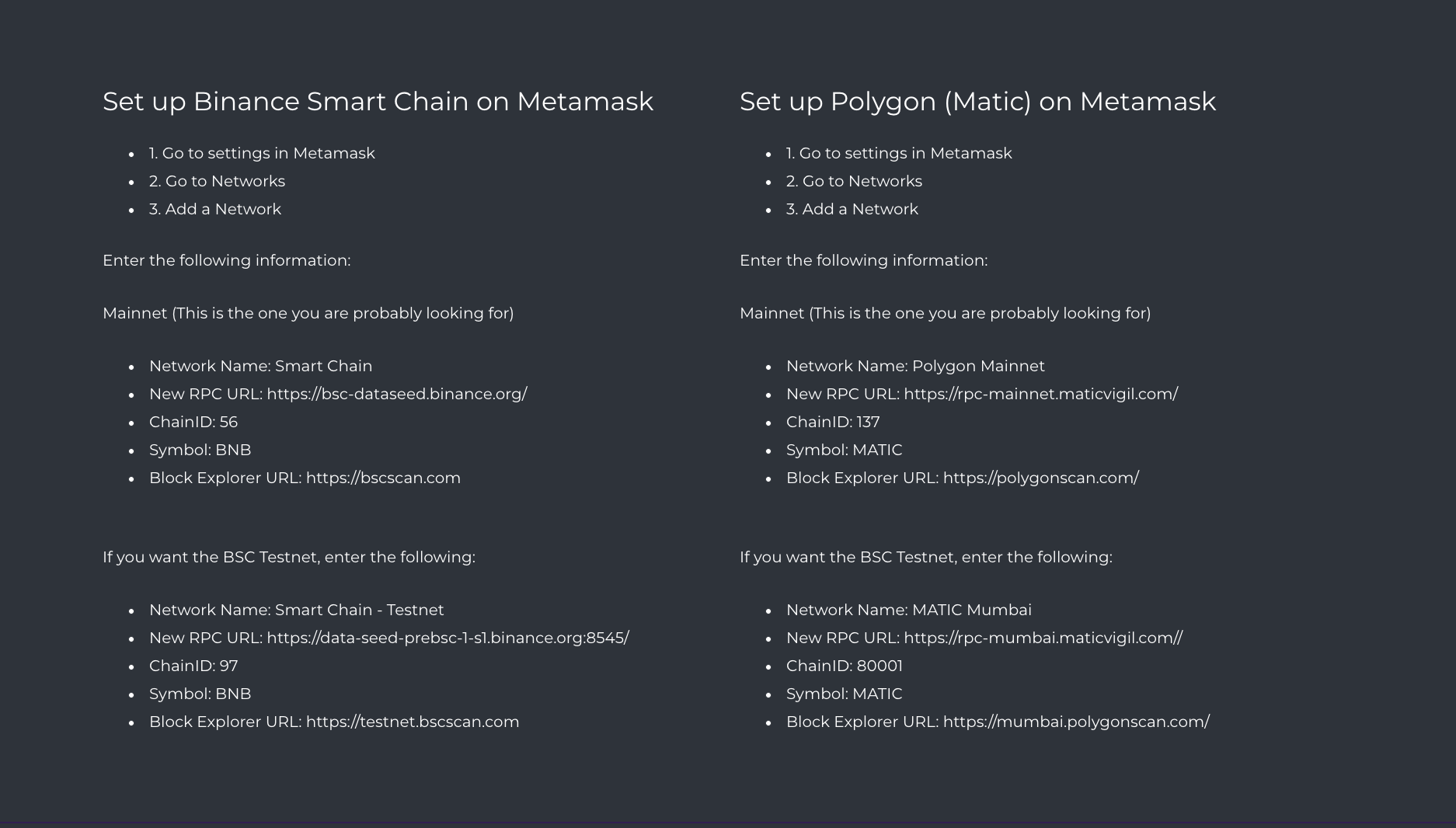 You will see a link to go to the native HiveLIST NFT market where you can use the native LIST market on the Hive blockchain, or you can also go and check out our OpenLIST collections on BSC and Polygon. We give you a way to exchange to either native token, or you can use the SWAP tokens on Tribaldex and withdraw to your Metamask wallet to use for these markets.
We plan on adding a LIST/SWAP.BNB and LIST/SWAP.Polygon defi Diesel pools in the future to give the ability to swap between assets to use for the different markets.
The OpenLIST Polygon collection will also show up on Opensea.io as well!
We want to use these to be able to introduce outsiders to the Hive ecosystem, so think of these as a gateway drug, haha.
Classifieds Upgrade on Hivelist.io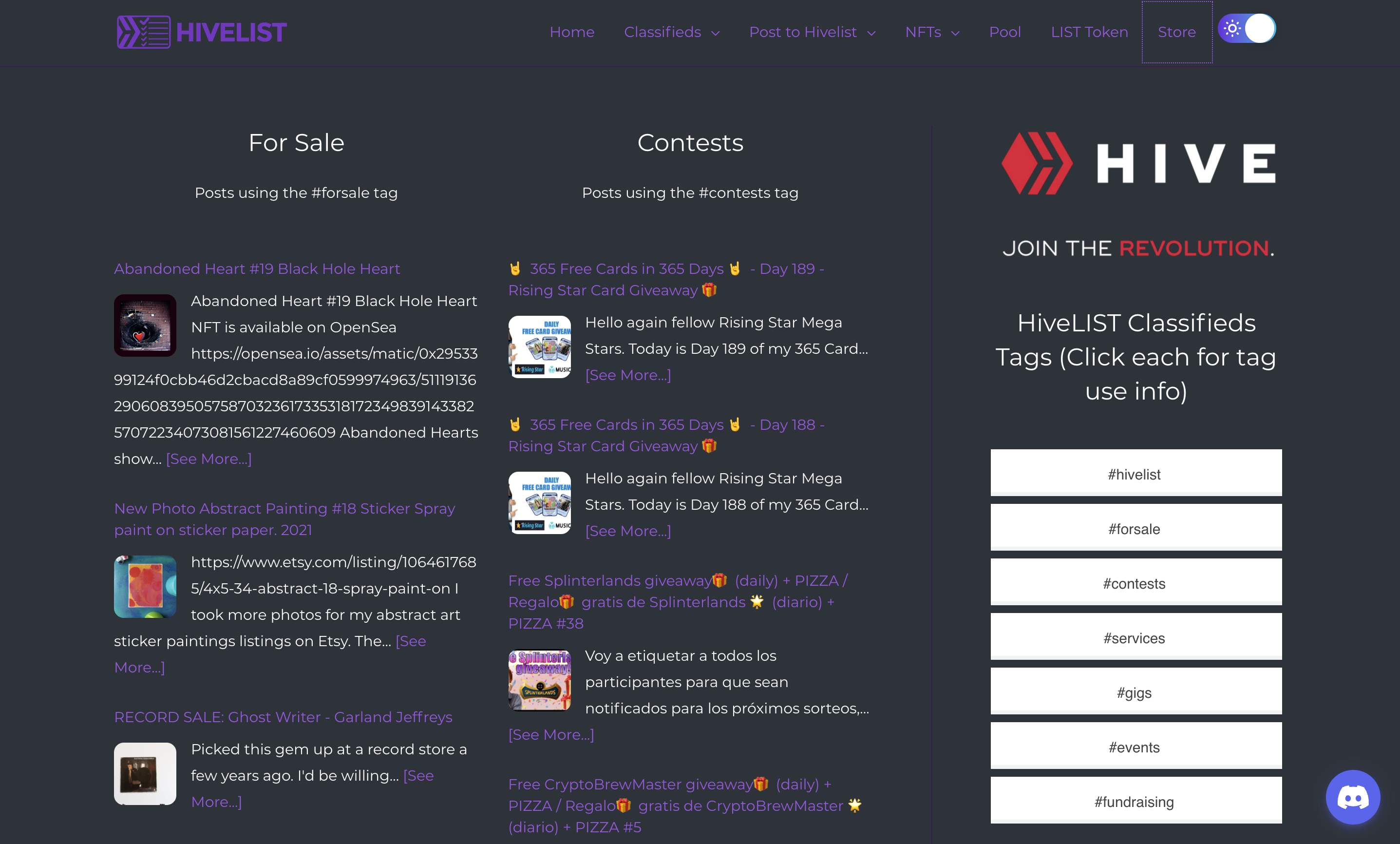 On the main info site, https://hivelist.io, we have updated the UI to include darkmode. This is separate from the dark mode on the outpost which you will have to set separately. They are on different domain, but the hivelist.io was the original site and allows us to be able to expand beyond the capabilities of the blockchain.
We use the Hiverss.com feed by @hivetrending to connect this page with the blockchain side of things, so when you click on the link, it will open in a new tab on the outpost side of things.
This page just allows us to put focus on the subjects we want to put focus on, where we don't have as much control over what shows on the front page of the outpost, which sometimes will show spam posts.
This way, it also gives more of a classifieds feel similar to Craigslist where you can see the intention of the platform.
You will also see explanations of the tags and when you click on it!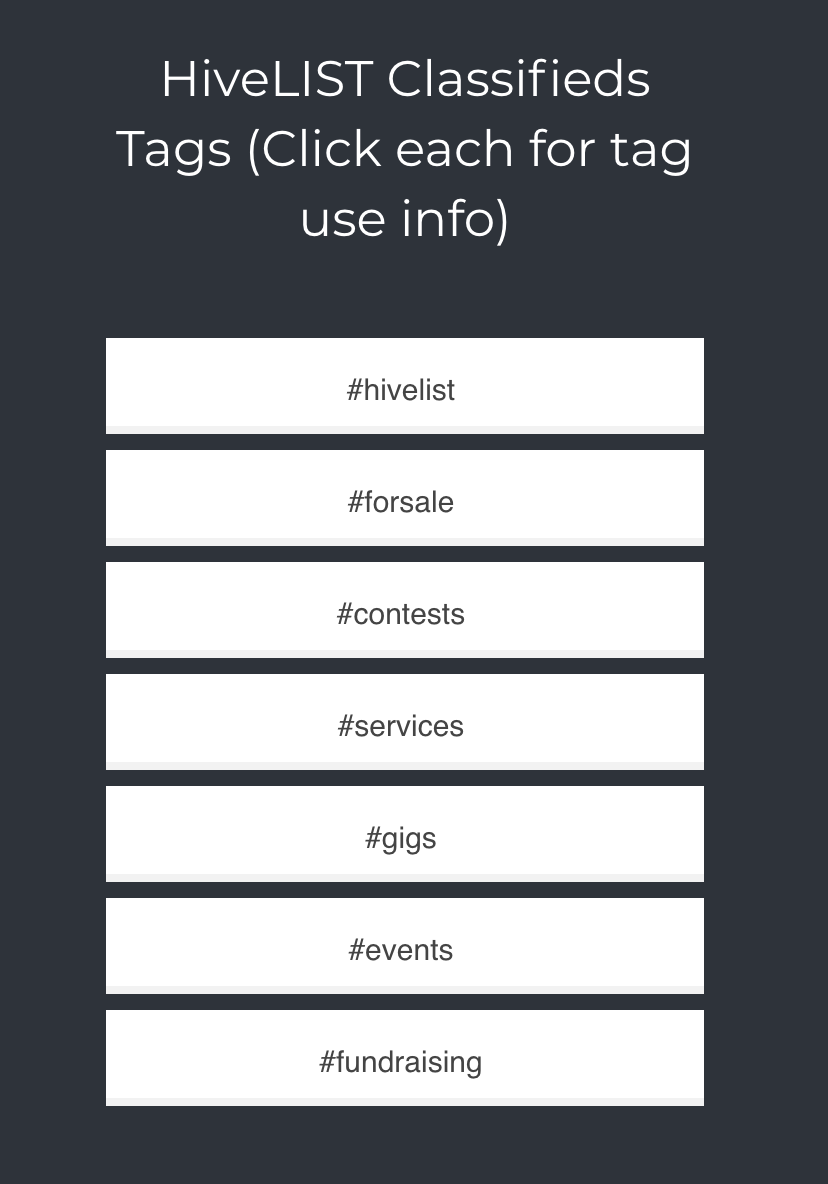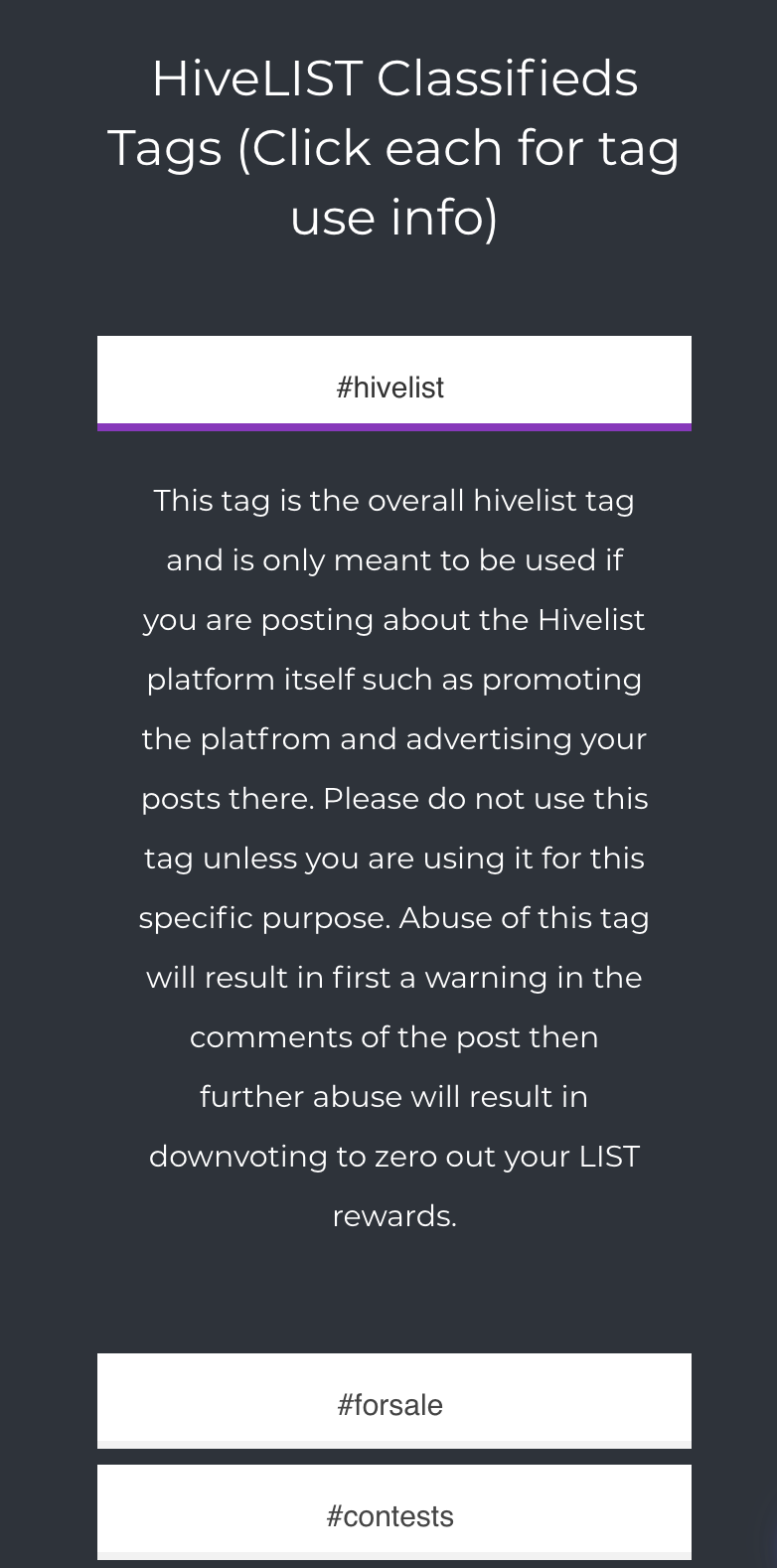 We are also out and moderating the community to try and keep it pure to its intention as an ecommerce platform.
Hivelist Store Updates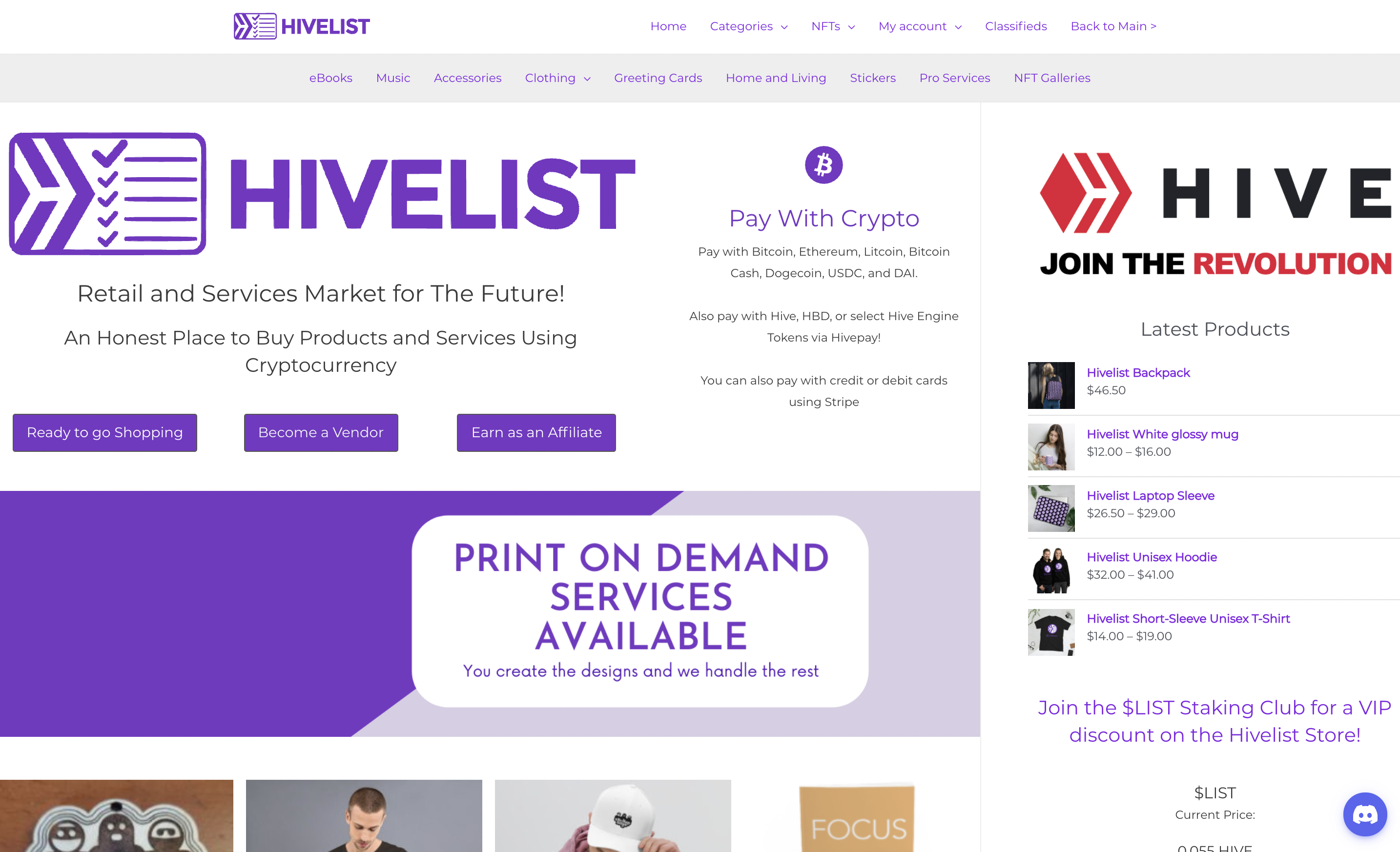 The Hivelist Store saw just as many upgrades as the rest of the platform!
We are seeing growth in the vendors and seeing a bit more activity in products being listed.
HiveLIST Print on Demand Service!
This is in part to the Print on Demand service that we are now offering that makes it simple for vendors to submit designs and earn passive income. We take the design and create merchandise to sell on your vendor store, do all the work and pay the production costs, and you earn a portion of the profits! You pay us in crypto, and you earn crypto!
Digital products
We have added an ebook and video course library that is going to start growing weekly!
As well as ebooks and video courses, we are inviting musicians on Hive to come and post your music for sale as a traditional download except using crypto as payment and you get paid for your music in crypto!
NFT Galleries - Showcase ALL of your NFTs in one place!
Hivelist Store vendors can now also create a NFT Gallery with their store. This is a great option for artists who have NFTs on multiple marketplaces and blockchains be able to showcase all of your NFTs on in one place! You can list your NFTs as 'Affiliate Products' which you will create your product and link it to the market and blockchain you have it listed. That way the purchase happens directly through that marketplace.
For example: you have NFTs minted or purchased on WAX, NFTShowroom, Opensea with ETH and Polygon, Solana, or any other NFT marketplace on any blockchain, including any of the HiveLIST NFT markets... You can list them on the Hivelist.store and send your customers there to see everything in one place. When they click the link, they will then be taken to that market to make the purchase.
We will have categories setup for the major NFT markets and blockchains so you can categorize them correctly so your users know what they are looking at.
So we welcome you to become a store vendor on HiveLIST and begin your future ecommerce journey!
HiveLIST DEFI with Diesel Pools
The last big upgrade to note is now, we have a LIST/SWAP.HIVE diesel pool that you can access through https://hivelist.org/pool or you can go to tribaldex.com/pools and trade there!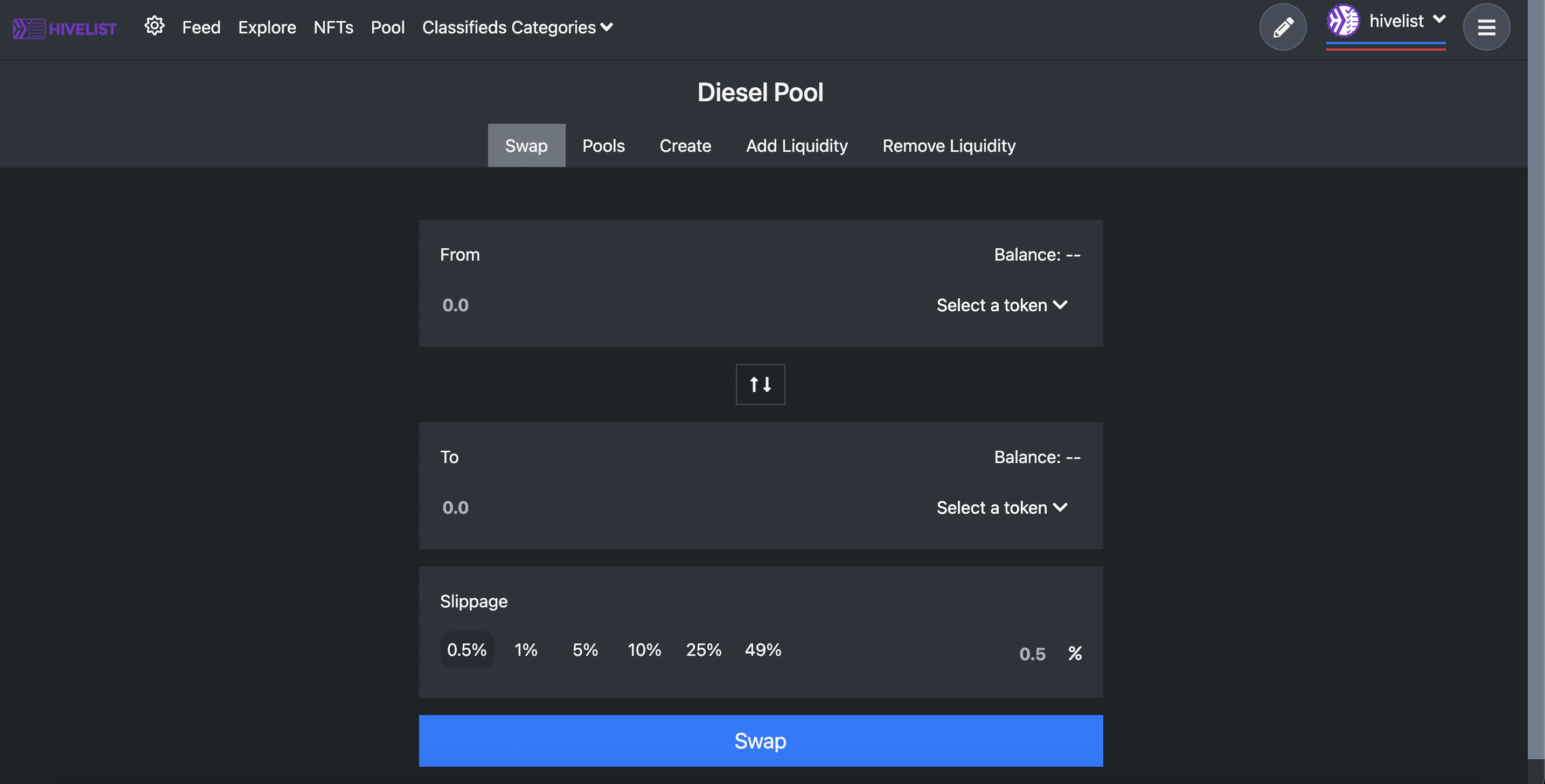 Those who provide liquidity to the LIST diesel pool gets rewarded daily in both LIST and COM tokens!
The LIST pool equates to be 1096 LIST and the Hivecommerce token or COM ends up being 200 COM tokens that get paid out daily to liquidity providers. NOT INCLUDING THE HIVELIST OR THELOGICALDUDE ACCOUNTS!!! The rewards are for you guys!
Our little pool is growing and right now the providers should be seeing some really good APR, although there really isn't a way to track that.

We plan on adding more pools in the future. Looking at a LIST/SWAP.BNB and LIST/SWAP.Polygon to accomidate the multichain NFT markets. But we have to earn up a bit of BEE tokens before we can think about that. But where we are is a great start!
Wrapping it up!
I, @thelogicaldude, just want to thank everyone who has supported in different ways during the development of this platform! I really don't see anything else like it out there and feel that it can be a great usecase for crypto and help people create their own businesses and earn some crypto!
This has been a journey that has opened more doors than I can count and has allowed me to make many connections that I otherwise would have never made. I have learned more in the last year and half of building this platform than I did in the 8 years I spent at Apple. Needless to say branching out on my own and starting this project has been one of the best decisions of my life!
So now we just need to get it marketed and make it grow! It's going to take a collective effort as well so any word of mouth marketing is always loved and appreciated!
We will be starting a marketing campaign in the very near future to try and drive traffic to the Hivelist Store and NFT marketplaces. Hopefully this can get Hive a bit more attention as well as we are coming at marketing it in more of an ecommerce way that we may be able to spread around the mainstream social platforms a bit more than just marketing 'blockchain' social media.
Don't forget you can delegate HP to the @hivelist account and earn LIST tokens staked directly to your account daily!
Keep calm and Hive on!

Special thanks to the LIST Staking Club!
These are the VIPs staking and earning LIST, supporting the network, and getting store discounts! To get on this list, you have to stake at least 1000 LIST tokens! See https://hivelist.io/list-token for more details!
@richardcrill
@d00k13
@uyobong
@toni.photo
@jeffjagoe
@charityball
@recording-box
@thatsweeneyguy
@crusin
@jonyoudyer
@holovision
@ganjafarmer
@djsl82
@tomlee
@badmusgreene
@lifeskills-tv
@metzli
@jongolson
@idkpdx
@invest4free
@deuceman
@forykw
@hivehustlers
@pixiepost
@bucipuci
@aiovo
@blainjones
@hivetrending
@valchiz
@adhammer
@saachi
@chubb149
@roger.remix
@jzn
@chireerocks
@bellaian
@sirdemian
@monsterbuster
@apostlevincent
@bitandi
@steem-key
@jacuzzi
@riverflows
@jersteemit
@hykyss
@dera123
@thatcryptodave
@eonwarped
@writeandearn
@russia-btc
@espandor
@joemark
@adikhen
@ahmadmanga
@imfarhad
@billybohner
@alokkumar121
@ph1102
@phusionphil
@abbey877
@nobutsd1974
@glorakoth
@unorgmilitia
@unicorn-tamer
@dagger212
@hunter-yogi
@mawit07
@matheusggr
@junkfeathers
@juanmiguelsalas
@allcapsonezero
@brutalmonkey
@zellypearl
@badbitch
@sipahikara
@reeta0119
@zottone444
@ackza
@oswvin01
@gank
@igel2017
@saachi.list
@bahagia-arbi
@yameen
@road2nowhere
@zelensky
@elianaicgomes
@bengy
@itharagaian
@sandymeyer
@photosnap
@dibblers.dabs
@stickupboys
@scooter77
@edystringz
@velourex
@sciencevienna
@gamer00
@bryan-imhoff
@guurry123
@ddrfr33k
@ctpsb
@master-lamps
@chobro
@pablodare
@zeruxanime
@lebah
@digital.tinkerer
@mk992039
@small1axe
---
---