HiveLIST Highlights: New Products- Better Security- Updated Payments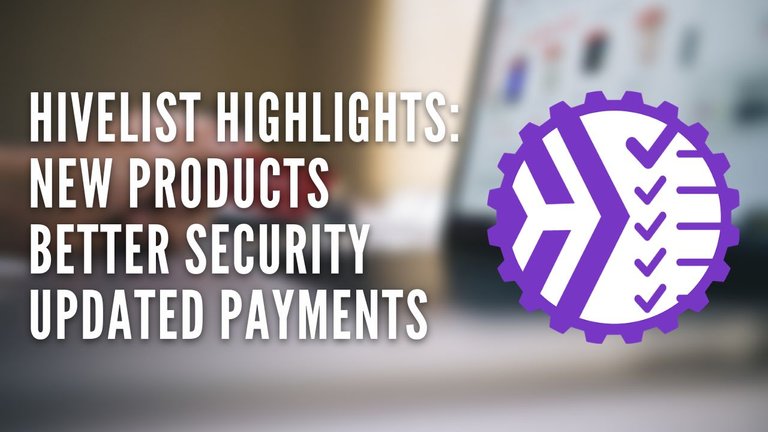 The development continues over on Hivelist! In the last week we have added some new products to the store, as well as really beefed up security of the Hivelist Store overall. On top of that, we semi fixed the original Hive payment plugin which now works great, but only with stablecoins...Let's start there...
Updated Payments
As you all know, or may not know, we have been dealing with allot of payment processing issues on the store in recent months. We got dropped by our fiat payment processor, Stripe, who is second after PayPal dropped us. PayPal didn't give a reason of why, they just dropped us. We begged and pleaded, but nope. At least Stripe told me it is because of NFTs... WTF...Oh well, this makes us done with fiat. Why keep bouncing from company to company just to keep getting shut down because they consider us a restricted business in the United States, LOL.
Anyway, so now we are focused on stablecoin payments. We were having issues with both Hive payment options we had to work with as our retail store front uses WooCommerce on Wordpress. The original plugin we were using stopped doing the proper conversions, but still works fine with dollar based payment, just not for Hive, but there was also a call back issue where the payments were not properly processing. Hivepay just stopped working with the latest updates and so far there isn't an update planned anytime soon.
So we went to work trying to find the best solutions. We came up with a manual way to pay with HBD, but that wasn't good enough and too manual on both ends.
So we ended up finding a solution to one of the issues with the original Hive payment plugin from @roomservice, and now have it back working for stablecoin payments, but the converter doesn't work. But we fixed the call back issue so that at least our system can process orders. Virtual products happen instantly, but for physical products, as always, we have to process those on our end.
So now, with all that said... We are again accepting HBD, and now, SWAP.HBD, SWAP.BUSD, and SWAP.USDT! We also accept USDC and DAI through our Coinbase payment option.
In the eyes of Hivelist 1 HBD is the same as 1 USD!
Better Security
Next we want to discuss the new security updates on the Hivelist Store! We done some updating in the back end and now have a way more secure site.
One of the biggest additions is the ability for store vendors to enable 2FA or Two Factor Authentication! This gives your account an extra layer of security! Currently, we do not have this option for customers, but should be coming in a later update. The 2FA allows store vendors to lock up their stores and know that if someone tries to break in, they can't without the owner's key!
We do get malicious people trying to search for usernames and such by scraping data to try and guess logins, but we have blocked allot of the ability to scrape the data which will help. We have also locked some known malicious IP addresses and will be keeping a watch out in the future. But we have pretty much created a fortress for our Hivelist Store vendors!
New Products
We have put out a few new products, and are working on trying to grow our product line. We have added some more consumer electronics products, but really trying to focus on finding items that we think of as being useful products.
This week we have added some good power banks and charging stations for all of your devices, most having wireless charging functionality. We are also looking at other electronic products that can be used by creators. We are currently a bit limited in our selection, but are working to find other sources as well.
We have also started to add some art products to the store! We have some nice specialty markers and paints and will be looking for other items in the artistic genres.
Come check out some of the new items we have offered up on the Hivelist Store!
Let us know what kind of products you are looking for and we will see if we can find a good reputable source!
Do you have designs or products you want to put up for sale and earn crypto?

Come and take a look at becoming a vendor on our store! We pay in HBD for all of your sales and commission! We handle all payments and exchanges so you don't have to worry about all of that! Sell your own products or submit your designs to our print on demand service!
If you are interested in starting your own ecommerce business in the crypto world, then click here to learn more about becoming a Hivelist Store vendor!
Don't forget, we have Hivelist Store gift cards!!!

Need to get a special gift for someone, but don't know what to get them? Have you tried introducing someone to the crypto currency world, but want to make it an easy introduction, then try out one of our in store gift cards! You can purchase them with any number of our accepted cryptocurrencies!
https://hivelist.store/product-category/gift-cards/
Want to make some extra HBD? Become and Affiliate!

Come and sign up to be an affiliate and get paid monthly for any sales you refer to the store! Affiliate commissions are 5% of the profit from any sale! Get started as a Hivelist Store Affiliate Partner today!
Keep calm and Hive on!
https://hivelist.io - main info site
https://hivelist.org - blockchain classifieds/NFTs/DEFI Pool
https://hivelist.store - multi-vendor e-commerce retail store and professional services marketplace
Vote for @hivelist.witness on Tribaldex

---
---