Live A Life Of Contentment - eBook And Video Course On The Hivelist Store!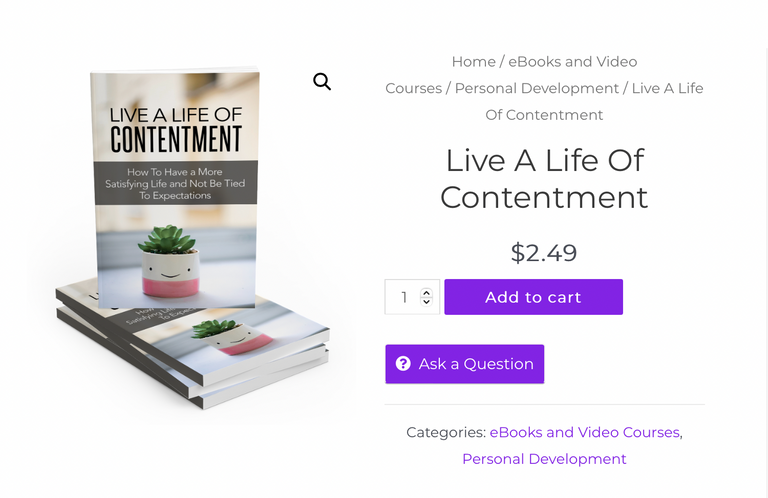 With social media and society bombarding you with constant messages, you might be having a hard time finding contentment in your everyday life. You see people living the way you want to live and you just can't seem to get there.
This has become a common problem in today's society because people are always wanting more and more without stopping and being grateful for what they have.
Learning to be content and satisfied can be difficult, but it's possible!
We've found a detailed and informative guide called 'Live a Life of Contentment' that will give you guidance on how YOU CAN make a life that is content regardless of outside factors that might be going on around you.
You can grab your copy of the eBook here:
https://hivelist.store/product/live-a-life-of-contentment/
Here's what you'll discover inside this guide:
• How satisfaction is a mindset that can be controlled to help you feel more content;
• How you can benefit from adopting new behaviors changing your mindset;
• Why you need to get rid of toxic social media;
• How to refocus your mind to stay content;
• How to practice satisfaction in every area of life;
• How to create a self-care routine that will help you stay grounded in the present moment;
• How to be satisfied without staying stagnant in your current situation and relationships;
• Important ways to tame your inner voice and change the negative thoughts into positive ones;
• Important habits that might be a sign that your relationship with social media is toxic;
• Ways and suggestions to help you try new things and form new habits;
• Successful techniques to focus on what really matters to be more content;
• How you can practice resting when you need to even if the world around you is chaos;
• Customized activities that will help you become content right away and start improving your relationship with social media and with your inner voice;
• Practical ways to be more content in your daily activities;
• Techniques to be more comfortable in your current situation;
And much more!
Get your copy here:
https://hivelist.store/product/live-a-life-of-contentment/
Make sure you claim your copy right now while it's hot!
But that's not all, you can expand your learning experience with this eBook and video course bundle!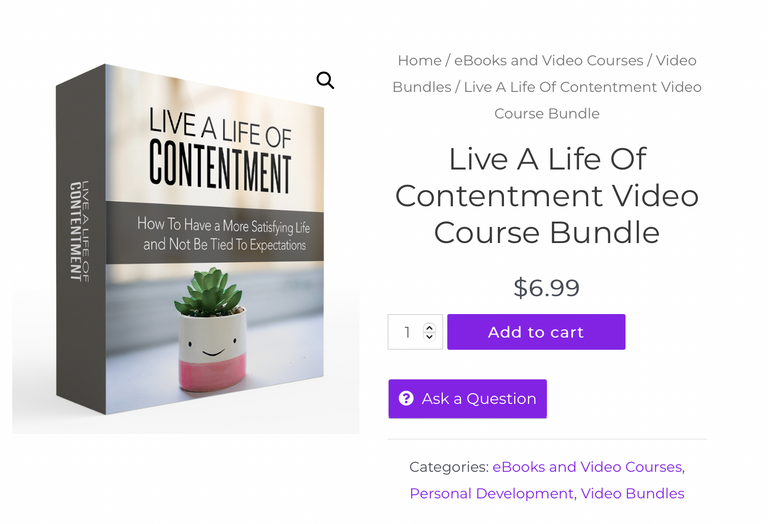 This video course expands on the lessons in the eBook and will help you learn how to have a more satisfying life and not be tied to expectations.
Topics covered:
5 Consequences of Unrealistic Expectations
5 Signs You're Living For Someone Other Than Yourself
5 Tips to Figure Out What Makes You Happy
5 Ways to Increase Contentment by Managing Stress
5 Yoga Poses to Aid Contentment
6 Questions to Ask Yourself to See if Your Expectations Are Realistic
6 Simple Ways to Increase Contentment in Your Life
Why Should You Give to Others
How to Manage the Expectations of Others
Managing Your Work-Life Balance: a Key Determiner to Your Satisfaction in Life
Here's To You And Your Success!
Note - Copy in this post is taken directly from the descriptions of the products on the Hivelist Store, with a few edits along the way.
Do you have designs or products you want to put up for sale and earn crypto?

Come and take a look at becoming a vendor on our store! We pay in HBD for all of your sales and commission! We handle all payments and exchanges so you don't have to worry about all of that! Sell your own products or submit your designs to our print on demand service!
If you are interested in starting your own ecommerce business in the crypto world, then click here to learn more about becoming a Hivelist Store vendor!
Don't forget, we have Hivelist Store gift cards!!!

Need to get a special gift for someone, but don't know what to get them? Have you tried introducing someone to the crypto currency world, but want to make it an easy introduction, then try out one of our in store gift cards! You can purchase them with any number of our accepted cryptocurrencies!
https://hivelist.store/product-category/gift-cards/
Want to make some extra HBD? Become and Affiliate!

Come and sign up to be an affiliate and get paid monthly for any sales you refer to the store! Affiliate commissions are 5% of the profit from any sale! Get started as a Hivelist Store Affiliate Partner today!
Keep calm and Hive on!
https://hivelist.io - main info site
https://hivelist.org - blockchain classifieds/NFTs/DEFI Pool
https://hivelist.store - multi-vendor e-commerce retail store and professional services marketplace
Vote for @hivelist.witness on Tribaldex

---
---