New Products and Vendors on The Hivelist Store! We Now Accept Some BSC Based Tokens!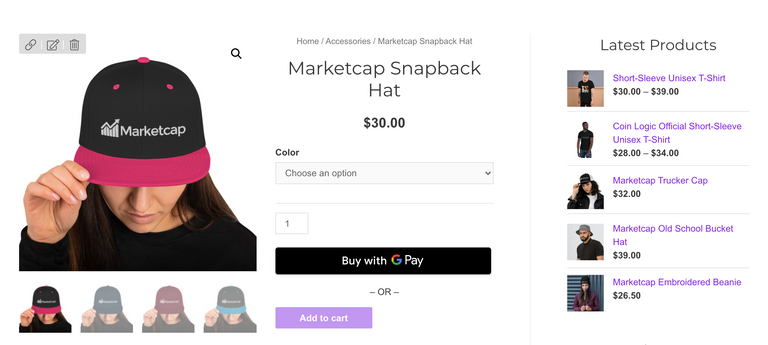 The https://hivelist.store is growing on a daily basis! We have had some new vendors register and started posting some products to the store!
We have @coinlogic.online posting the latest products with their Marketcap hat line, and starting on some crypto centered clothing.
@unicorn-tamer has come to the table with a large line of greeting cards which look to be hand made!
We also have @junkfeathers posting stickers for sale!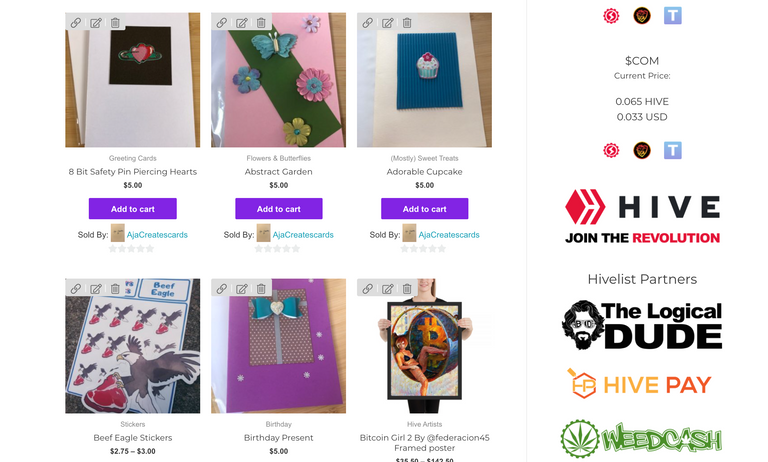 Looks like there are new stores popping up weekly! I would love to now actually see some more revenue traffic! That is where you can come in!

Even if you don't have a product for sale, you can sign up to become an affiliate to the store and earn 3% on each sale that you drive! We also encourage our vendors to also sign up to the affiliate service, it doesn't happen automatically.
We want to drive some traffic through other avenues such as Twitter, Facebook, and Instagram, which can be a great way to also bring traffic to #Hive overall!
Being that we are marketing a store and products that can be purchased with crypto and you have to have a Hive account to be a vendor, this can open allot of doors to on-boarding where otherwise we are having issues with marketing due to shadow banning and such.
We are going to start marketing allot on the Facebook Marketplace to help get products out there in the eyes of the main stream!
So if you are interested in joining as an affiliate, just click this link to sign up, making sure to use your Hive username as the username:
https://hivelist.store/affiliate-area/
Now Accepting Select BSC Tokens!
We have now integrated a new payment portal so we can offer more options for payments!
We have added the ability to pay in Binance Smart Chain tokens as well as other main chain tokens that we were not previously able to accept due to the Coinbase limitation.
We are still using Coinbase for our BTC, ETH, LTC, BCH, USDC, and DAI payment options, but we have integrated CoinPayments plugin as well!
Just for newbie explanation...
With Binance Chain you have 2 different chains, you have the main Binance Chain, which are the BEP-2 protocol tokens, and then you have the Binance Smart Chain, which are the BEP-20 tokens. Traditional Ethereum based tokens are ERC-20 tokens.
We have also added some new main chain coin options as well!
These are the new tokens and coins we now also accept:
BTCB- BEP-2 and BEP-20, For main chain use Coinbase option
ETH- BEP-2 and BEP-20, For main chain use Coinbase option
BCH- BEP-2 and BEP-20, For main chain use Coinbase option
LTC- BEP-2 and BEP-20, For main chain use Coinbase option
DAI- BEP-20 only, For main chain use Coinbase option
USDC- BEP-20, For main chain use Coinbase option
ADA- BEP-2 only
BNB- BEP-2, BEP-20, and ERC-20
BUSD- BEP-2, BEP-20, and ERC-20
DOGE- Main Chain and BEP-20
DASH- Main Chain only
DGB- Main Chain only
DOT- BEP-20 only
TRX- Main Chain only
XMR - Main Chain only
ZCash - Main Chain only
USDT- BEP-2, BEP-20, and ERC-20
We have also expanded the options for the Hive Engine tokens using the @hivepay-io payment portal. Below is the complete list of Hive and Hive Engine tokens we accept:
Hive
HBD
SWAP.HIVE
SWAP.HBD
SWAP.BTC
SWAP.LTC
SWAP.BCH
SWAP.DOGE- new addition
SWAP.EOS
SWAP.ETH- new addition
SWAP.USDT- new addition
LEO- new addition
DEC- new addition
So as you can see we give you allot of different options including fiat options using credit/debit card or GooglePay or ApplePay!
Happy shopping!
-The Hivelist Team

---
---