The Daily LIST - InnerSphere Collection and More
Hello Hivers! Hope the day has treated everyone well. Today's post is bringing you a few new items to the Hivelist Store and some great promoted posts from the community.
Today's new products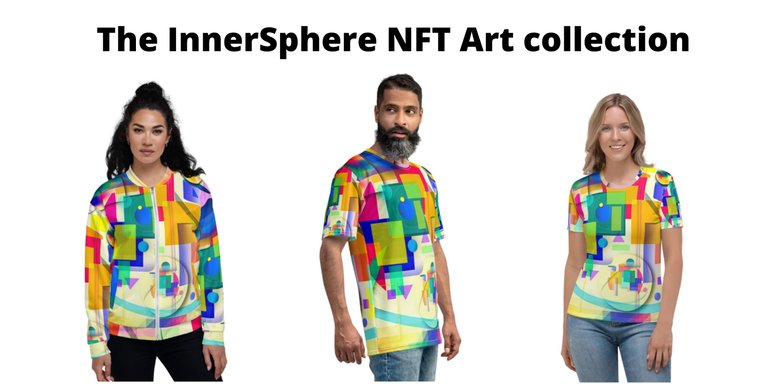 Yesterday we introduced the BitKicks InnerSphere shoes made with an awesome piece of NFT art from the @nftshowroom created by Hive artist, @fatehavtarsingh. Well today's new products are expanding on the collection of items we are creating using that piece of art! This was one of my favorite pieces that we picked up because it is so versatile.
We have now added it to other items!
We have the all over print Unisex Bomber Jacket
https://hivelist.store/product/innersphere-nft-art-unisex-bomber-jacket/
The Men's all over print shirt
https://hivelist.store/product/innersphere-nft-art-mens-t-shirt/
And the Women's all over print shirt
https://hivelist.store/product/innersphere-nft-art-womens-t-shirt/
We think these are some really cool pieces and hope you do as well! They are available now in the store! Complete your funky artistic look with a shirt, jacket, and shoes!
Superior Brain Health eBook and Video Bundle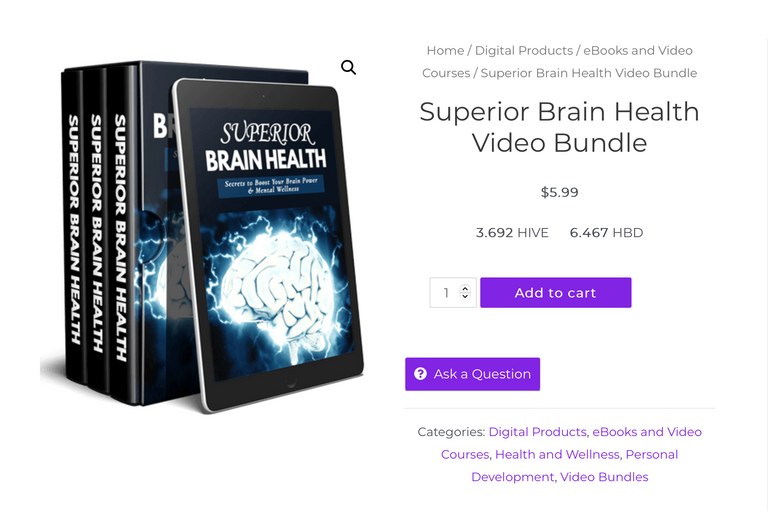 Today's digital addition to the store is the 'Superior Brain Health' eBook and Video Bundle!
The human brain might be one of the smallest organs in the body, but it is the most powerful and the most important.It's like the CPU of a computer. It controls all the activities of the body.
Once something goes wrong with it, it will affect every other body part. Therefore, it's vital that you do your best to protect your brain and boost its functions.
If you are interested in learning more about how to have superior brain health, you should check out this ebook, or go ahead and pick up the video bundle which comes with the ebook and a full video course!
Video Bundle:
https://hivelist.store/product/superior-brain-health-video-bundle/
eBook only:
https://hivelist.store/product/superior-brain-health/
Promoted Posts from the Hivelist Classifieds
Now admittedly we didn't get to spend a ton of time going through new posts of the day on the classifieds community prior to getting this post, but the ones that caught the eye were promoted by burning 100 LIST tokens for each post.
Promoted Post 1
Daily Curation & Contest - Skybuds Curation Report - 7 - Win a CannaCurate NFT Contest Ticket and Splinterlands Card
by: @skylinebuds-weed
@skylinebuds-weed is hosting a curation contest and the prize is Splinterlands card and a NFT ticket to win some seeds! Good to see some Weedcash contests going on as they are one of the first partners of Hivelist!
https://www.hivelist.org/@skylinebuds-weed/daily-curation-and-contest-skybuds-curation-report-7-win-a-cannacurate-nft-contest-ticket-and-splinterlands-card
Promoted Post 2
YARD SALE: NES GAME: Blaster Master
https://www.hivelist.org/@swearngin/yard-sale-nes-game-blaster-master
@swearngin is at it again with some obscure old school NES games on the #forsale category! Love the way he uses it as an online yard sale!
If you are a video game collector, this may be something you need to look at!
Until tomorrow...
Keep calm and Hive on!
https://hivelist.io - main info site
https://hivelist.org - blockchain classifieds/NFTs/DEFI Pool
https://hivelist.store - multi-vendor e-commerce retail store and professional services marketplace
Vote for @hivelist.witness on Tribaldex

---
---