A glimpse into HiveToday newsletter audience stats
I gather interesting posts about projects, communities, and proposals each week and broadcast them via the @HiveToday blog. The blog is cross-posted to Medium and Substack content platforms. I want to share some audience growth stats for the various platforms.
TLDR: Hive >> Substack > Medium.
HiveToday Mission Statement
HiveToday is a newsletter for the decentralized hive network that aims to keep its readers informed about the latest developments and happenings within the network. Through our informative and engaging content, we strive to promote the benefits of the hive network and its community and to provide a platform for discussion and collaboration among its members.
Hive Blog
The Hive blog (@HiveToday) has gained around 13 subscribers since the start of November, with a current total follower count of 556. According to PeakD, each post is viewed 20+ times. I'm unaware of other front ends providing view counts, but please let me know if you have good tools for this.
Unsurprisingly, the Hive blog is HiveToday's most robust platform. It is where we have been publishing the longest and where most fans like to hang out.
HiveToday is cross-posted to Medium in hopes that the content recommendation engine shows the content to folks outside the Hive bubble that are also interested in decentralization and related topics. Unfortunately, not many Medium authors talk about the Hive ecosystem.
Since Medium is a centralized publishing platform, measuring more detailed audience data is possible. Growth on Medium is slow and steady. Each weekly post reaches single-digit numbers.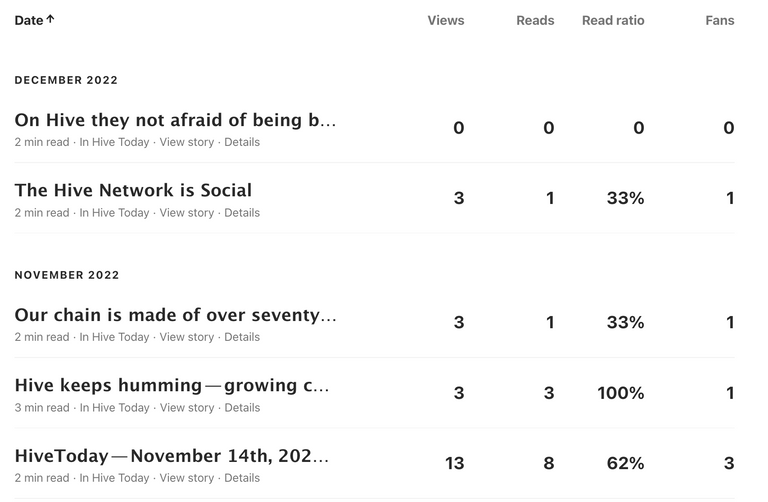 But, the Medium blog slowly gains new followers. The follower count has doubled since October! We are just getting started.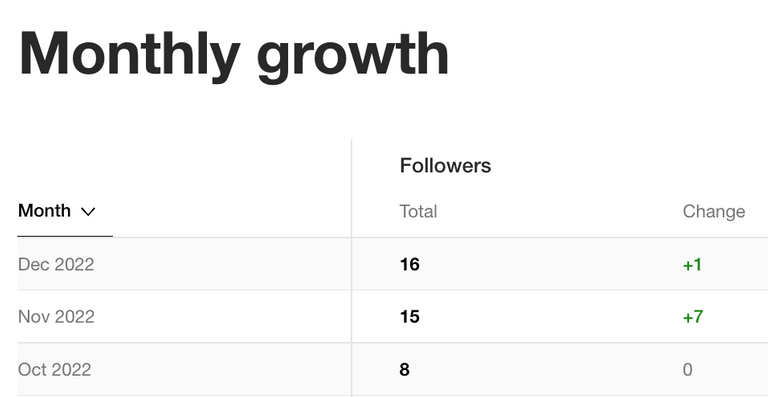 HiveToday is also cross-posted to Substack to reach folks outside the Hive bubble. Substack is more focused on email newsletters, so it has some advantages. For example, let's say a reader is only casually interested in Hive and prefers a weekly email digest over visiting a Hive front-end throughout the week. Substack excels at this.
Like Medium, Substack is centralized and provides more detailed audience measurements. We can see that HiveToday is performing better on Substack compared to Medium. While the Medium posts have single-digit views, Substack regularly sees 10X the traffic.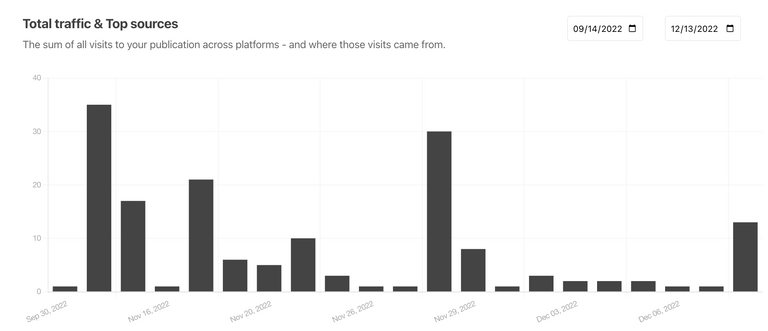 The Substack newsletter subscriber count tripled since October, growing from 6 to 18 subscribers.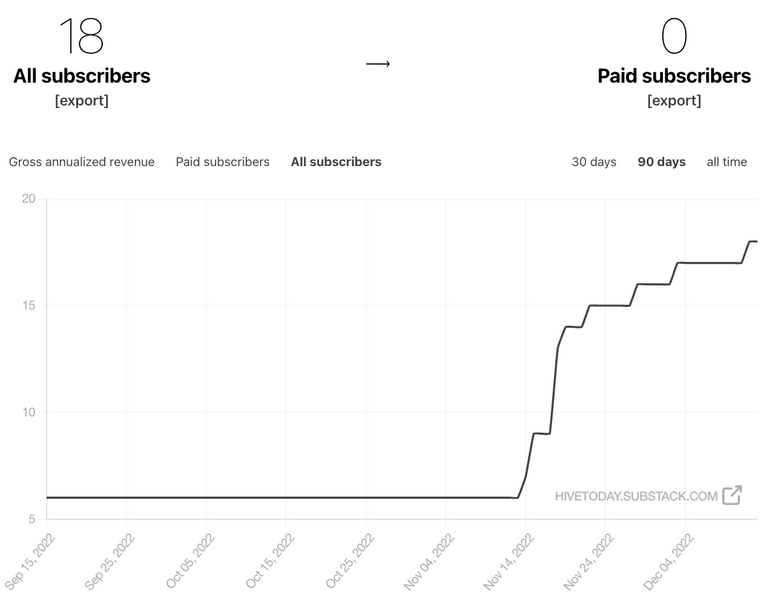 ---
What else could be done to promote HiveToday content?
HiveToday could probably use Twitter more effectively. Using relevant hashtags could help drive traffic to the blog on various platforms. This is not something I have focused on.
What else?
---
Thank you for subscribing to and supporting HiveToday on your preferred platform(s).
---
---