Updates from HiveTrending
Hey guys, I just wanted to take some time to reflect on recent months, and share a few things that have been on my mind related to the upcoming months.
Looking back on community-building efforts
Over the past 1 year, the Hive Pizza community has grown tremendously. A ton of my time has been invested in this project, and many tools have been built by the community. A lot of these bells and whistles are only visible if you are active in the Hive Pizza Discord, and active in the game-specific groups within the guild.
Some of the by-products of building the community have been leveraged by other communities. The @pizzabot tip bot code has been replicated and modified more times than we can keep track of. And the Pizzabot discord bot is serving in nearly 50 different Discord servers.
We also spend time and resources supporting other communities and projects. For example, we stood up a SpkNetwork claim chain node (pizza.spk) and developed the SPKCC Monitor tool which is a tool that helps monitor the network.
Recently the most interesting project we launched is called Burning Za. It's a dapp where the Pizza Guild can collaborate and create art, one pixel at a time. We plan to periodically mint NFTs using snapshots of the pixel art.
Here's an example of what it looks like: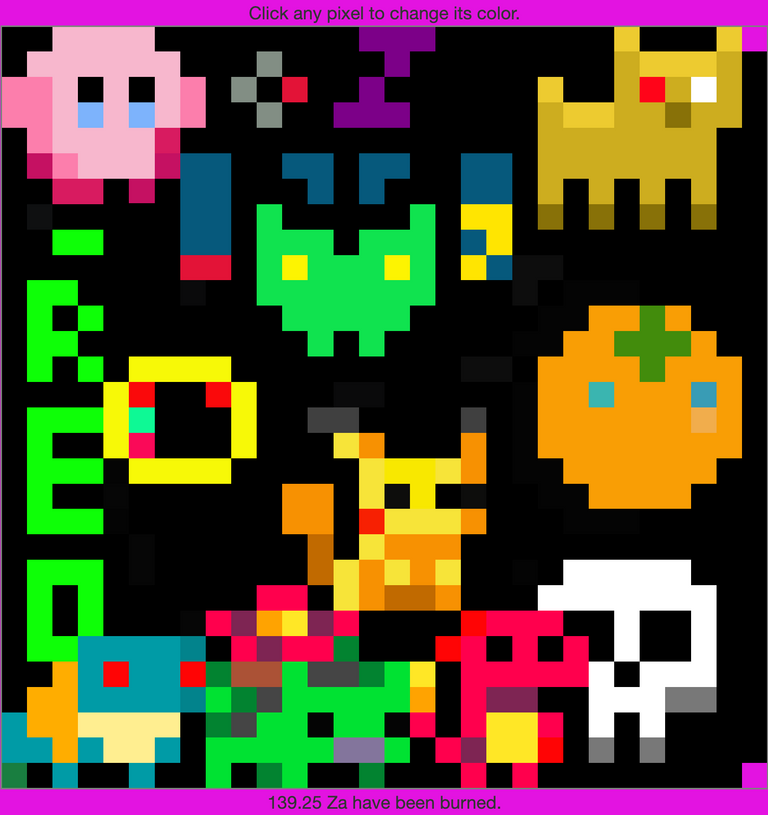 9 different Hive accounts participated in this painting.
What's next - content creation and building
Content creation is extremely rewarding. My goal is always to create long-lived, valuable content. I often feel like more time needs to be spent here. A balance needs to be struck between building and story-telling. After all, useful tools aren't very useful if no one knows about them!
Writing Projects
These content creation projects need some attention, and I need to rebuild my writing muscle. The two projects worth mentioning are:
@HiveToday - started as a weekly newsletter consolidating announcements from many Hive projects and sub-communities. As other distractions and life happened I was unable to maintain the weekly pace and put it aside. However, I firmly believe this kind of service needs to exist.

There is always a lot happening on Hive, and more than most people can keep track of. This kind of content can be very useful for new people who come into the Hive universe and have no idea who/what else is out there. HiveToday content also has a marketing/communications element, as it shows the outside world all the things the Hive builders are building. Showing people what is built is one of the most effective ways to spread the word and attract new minds.
@LearnCode - is a series of blog posts that teaches about using the Python programming language to read and write data from Hive (Layer 1) and Hive-Engine (Layer 2). The goal of this blog is to help developers and non-develops learn how to build on Hive. I've been impressed by the longevity of this content, as new people continue finding and learning from the code examples. I want to expand this series soon, as I think it is time very well spent. Imagine what could be accomplished if there were 100 more active hive developers.
Coding and Infrastructure Projects
It's worth mentioning that maintenance of code and infrastructure always takes some time. Code breaks and services go down. This is often a thankless job, and I'll keep on doing it!
Pizza.witness (Hive witness node) has steadily continued receiving community votes, which is awesome. I keep an eye on it, standing by to jump in in case of emergency. Similar support and attention is paid for pizza-engine (Hive-engine witness node), Duat (Ragarnok) node, and other Pizza-hosted infrastructure.
After launching Burning Za, the community raised a lot of ideas and new directions to take it. We already implemented some tweaks, such as an easter egg where the background color of the page changes based on the colors of the 4 corner pixels. I see this continuing to evolve as we iterate on it.
We are gamers at heart! Expect more games to show up in the Hive Pizza arcade.
---
---