How much can you make with Gods Unchained Events?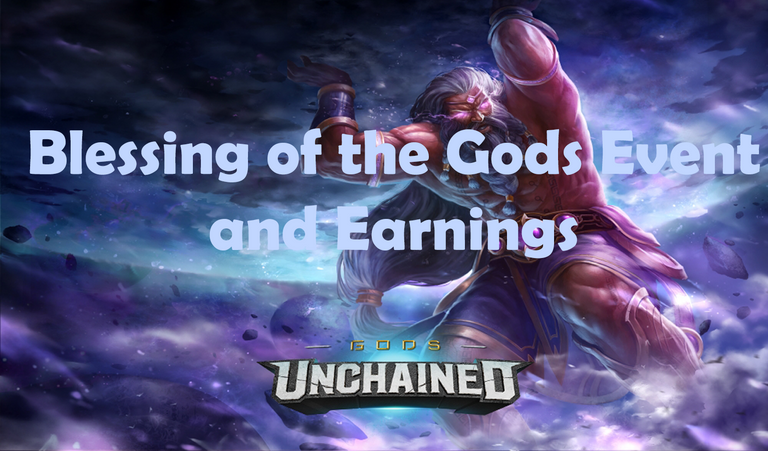 The third week of the Blessing of the Gods event has ended, and I wanted to share my earnings to incentive you guys to start playing especially the remaining 5 weeks that we still have of the event.
I have spent very little in Gods Unchained and to be honest just recently I bought some Divine Order packs, and that is all. Overall 99.99% of my cards came from Free to Play gameplay, and if you keep at it you can build very decent decks from the Core packs that you earn by Leveling up in the game.
Without further ado, let's see how it went.

Weekly Performance
In the Blessing of the Gods event, you can gather a total of 4 points per week by completing a set of tasks. (Source)
Play 20 or more ranked games
Win 7 or more ranked games
Pass four rounds of each ranked game
Be at least Rank 4 (Purified Iron) on Gods Unchained by the end of the campaign to qualify
Play versus games with at least 17 unique opponents out of the 20 ranked games played
By completing those you'll be given points accordingly with your rank.
Rank 4 (Purified Iron) – Rank 7 (Twilight Shadow) = 1 point
Rank 8 (Midnight Shadow) – Rank 10 (Solar Gold) = 1.5 points
Rank 11 (Ethereal Diamond) – Rank 12 (Mythic) = 2 points
And bonus points are given by playing more matches.
Bonus point = Play 40 ranked games + win 14 ranked games + play against 34 unique opponents
Bonus point = Play 60 ranked games + win 21 ranked games + play against 51 unique opponents
In the end, Blessing of the Gods is all about activity and playing a lot of matches, and most of the other rules are just in place to avoid any type of abuse from players. So if you have the time and enjoy the game, is it really worth to play that many games?

First Week
My first week I ended at Solar Gold rank, which gives me 1.5 points, plus I played the 60+ games which gives me a +2 points.
With 3.5 points I earned 10.68 $GODS tokens which are worth $54.04 by todays $5.06 dollar valuation of GODS.
Second Week
The servers on the second week were kind of bad, and I couldn't play as many games because of it. I actually don't know how many games I played, or the amount of points I got because things were too unstable and it was hard to tell.
But I earned 8.40 $GODS which are worth $42.50.
Third Week
The third week has just ended and it was the first time I got the whole 4 points of the event. I ranked up to Mystic, and did the whole 60+ matches so I'm pretty happy about this one.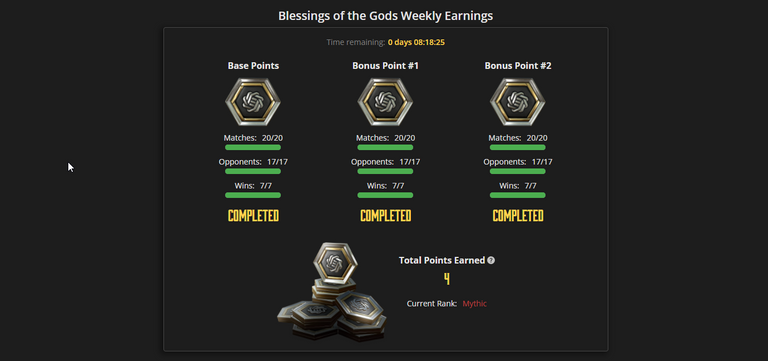 Unfortunately by the time of this writing, GODS earned for this week was not released.
If you guys want to know all about the deck I use, here is a link to my GEDECKS stats and below is the Magic Deck I use.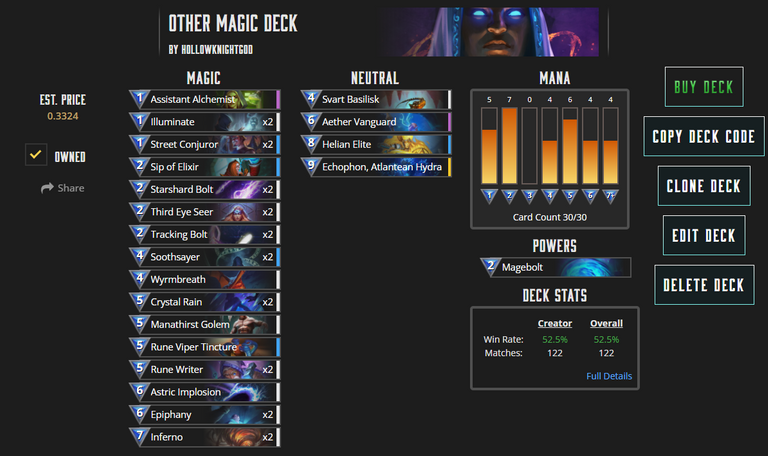 Earnings and GODS price
If we take into account the numbers above, we can see that it is not hard to make around $200/month if you have the time to play all those matches every week, and although $GODS is an Ethereum token, which will make you lose a good chunk of that in the gas fee if you don't wanna hold it, it is still good money for playing a very enjoyable game.
Gods Unchained is one the very few games that are actually playable and enjoyable. It is a real game with real value attached to it, and I believe that once the Forge 2.0 is released we can see GODS price increasing a lot.

Weekend Ranked Event
If you're going down to the path of playing Gods Unchained, you can also enjoy playing the Weekend Ranked Event, where you play 25 matches and depending on your starting rank and the number of victories you gather you'll be awarded a certain amount of packs. Those you can use to further expand your collection and increase your chances of winning more in the future, or just hold and mint tradable cards when Forge is back in the end of the year.


We can see that my weekend was not that impressive, but every week we have another shot to do better!
Here is a link of all the possible prizes of the event.
Thanks for Reading!
---
Start your Splinterlands Journey today!

---
---