Skyweaver - A Week's Journal Progress - Day 7 (Gameplay Video)

---
Hi guys, today is the last day of a whole week of Skyweaver, and I'm not completely happy with the results, but it was still great considering how much time I had to play it.
Overall, Skyweaver is a much more complex game than most TCG's I played in the past, and because of that there are a multitude of specific interactions that I must memorize and understand in order to get a better feel of the flow of the game itself. I feel like I'm lost right now inside the game, and most of my decisions are more instinctive than conviction based. The solution to this is pure and simple: Play More.
That's what I am gonna be doing in the next months. I decided to play Discovery with the Random option so I could learn more about every possible Hero in the game. Hopefully I can build a good body of knowledge and apply that in my future games in Constructed and Conquest.

Day 7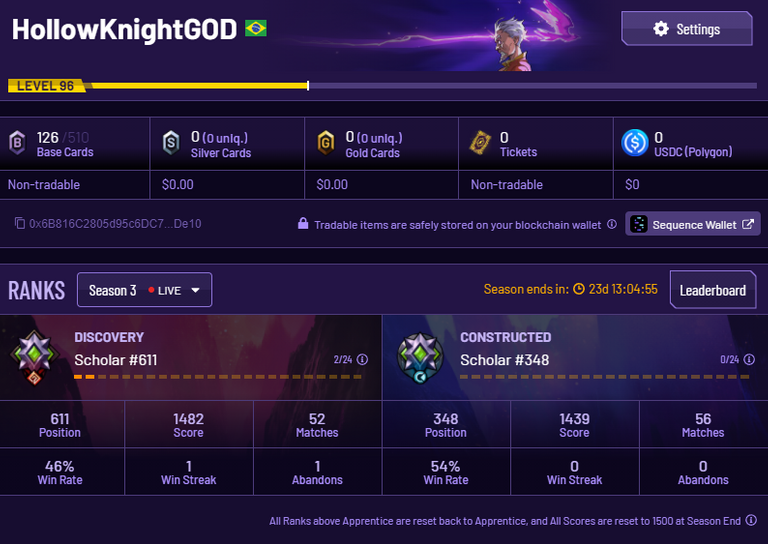 Let's go to the numbers for today: LVL 96, **Scholar on both Constructed and Discovery Ranked **, 126/510 Base Cards, representing a total of 24.7% of the total base cards unlocked.
At the end of one week I have achieved nearly one forth of the goal, which is unlocking all the base cards, but from here on forward every card get's a little harder to unlock. My estimate is that I will take between a month and two months to finish unlocking them all if I can keep my pace.
In the next months I wanna be posting more concentrated posts about my learnings and understandings of Skyweaver. You can expect Meta discussions, strategies, some tips of details I learn along the way and everything that can possibly be of value for you guys. I hope this series haven't bored you to death, I wanted to try something new and add some videos, which I realize are not with the best quality, but arrangements will be done to remedy that in the future.


Thanks for Reading!

Start your Splinterlands Journey today!

If you enjoyed the content and wanna follow along I'd be very honored to have you, and you can always check my latest posts here:
---
▶️ 3Speak
---
---