Not only write, but you must also RESPOND!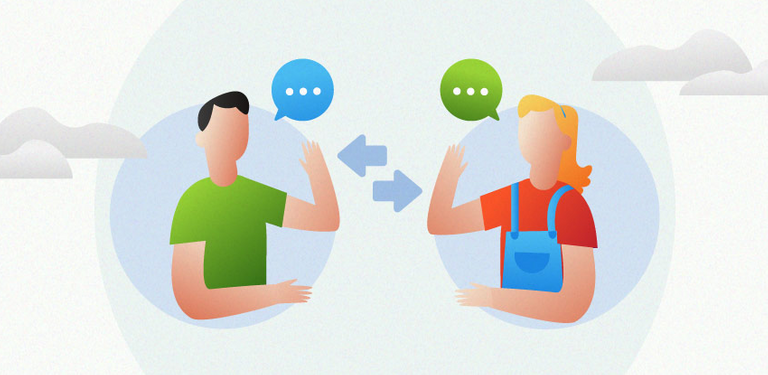 Hello my dears!
I've said a few times how I compared my work here at HIVE to real work (which it really is) and for that we need to take examples of what we do in the work of "others" and apply it to our own work.
I also always say that it's funny for people to wake up early every day, face rain, sun, cold to work every day 8 hours a day and put up with a boss screaming in their ears in exchange for a value in money that will always be the same at the end of the month. But when it comes to working for yourself it doesn't use the same performance.
Here I say that you need to write and write every day if possible. Only then will you really grow if you don't have outside money being put in here to increase your voting power or no delegation really big enough for that. The only way for you to be seen is to write. But also interact.
The people who are commenting on your posts are people who have somehow identified with your content and are commenting on it because they like it and also to be seen. That's what it's for. Think of it as people walking into your store, or into your chat on a sales page wanting to know more about your products... And what do you do? You should answer everyone, you should help and mainly answer with new words, created from your opinions about the comments of each one and not use robotic and standardized answers for everyone.
Think, that would be bad service and places where I at least avoid going back to using or attending. Your followers and the people who are commenting are helping you to grow and gain an audience and the least we should do is respond to them with the same attention. Not to mention the fact that I can always vote, and comment whenever possible. In this case, the question of time each one has to use here comes into play.
I myself, for example, have days when I can't answer everyone. So I leave for a day with more time to answer everyone who commented. Read other posts and make my comments too. But the important thing is to be done and not leave that gap in your posts.
Then it's no use complaining that it doesn't grow in here if you don't give the necessary attention to your own audience.
THINK ABOUT IT!
Português
Não apenas escrever, mas você deve também RESPONDER!
Olá meus queridos!
Já falei algumas vezes como comparado o meu trabalho aqui na HIVE como um trabalho real (o que realmente é) e para isso precisamos pegar exemplos do que fazemos nos trabalhos dos "outros" e aplicar em nosso próprio trabalho.
Sempre falo também que é engraçado a pessoa acordar todo dia cedo, enfrentar chuva, sol, frio para trabalhar todos os dias 8 horas por dia e aguentar um chefe berrando em seus ouvidos a troco de um valor em dinheiro que será sempre igual no final do mês. Mas, quando se trata de trabalhar para si mesmo não usa o mesmo desempenho.
Aqui eu falo que precisa escrever e escrever todos os dias se possível. Só assim você irá crescer de verdade caso você não tenha dinheiro de fora sendo colocado aqui para aumentar seu poder de voto ou sem nenhuma delegação realmente grande suficiente para isso. O único caminho para você ser visto é escrever. Mas também interagir.
As pessoas que estão comentando em seus posts são pessoas que de alguma maneira se identificaram com seu conteúdo e estão comentando nele por gostar e também para serem visto. É para isso que isso serve. Pense que isso seria como pessoas entrando em sua loja, ou no seu chat de uma página de vendas querendo saber mais sobre seus produtos... E o que você faz? Deverá responder todos, deverá ajudar e principalmente responder com palavras novas, criadas de opiniões suas sobre o comentário de cada um e não usar respostas robotizadas e padronizadas para todos.
Pense, isso seria um péssimo atendimento e lugares onde eu pelo menos evito voltar a usar ou frequentar. Seus seguidores e as pessoas que estão comentando estão lhe ajudando a crescer e lhe dar audiência e o mínimo que devemos fazer é responder eles com a mesma devida atenção. Isso sem contar o fato de sempre poder votar, e comentar sempre que possível. Pois nesse caso entra a questão do tempo que cada um tem para usar aqui.
Eu mesmo por exemplo tenho dias que não consigo responder todo mundo. Então eu deixo para um dia com mais tempo ir respondendo todos que comentaram. Ler outras postagens e fazer meus comentários também. Mas o importante é ser feito e não deixar aquele vazio nas suas postagens.
Depois não adianta reclamar que não cresce aqui dentro se você não da a devida atenção necessária para sua própria audiência.
PENSE SOBRE ISSO!

---
Posted via proofofbrain.io
---
---