5 Reasons Why You Should Join Leo Power UP on July 15th!

Leo Power Up Day (LPUD) is a special day for LeoFinance community on which Lions Power Up LEO (more than 200 LEO) to grab the tickets for nice rewards by LeoFinance Team. This special day is adapted from Hive Power Up day that we power up at least 10 Hive and earn Hive Buzz badges for each month.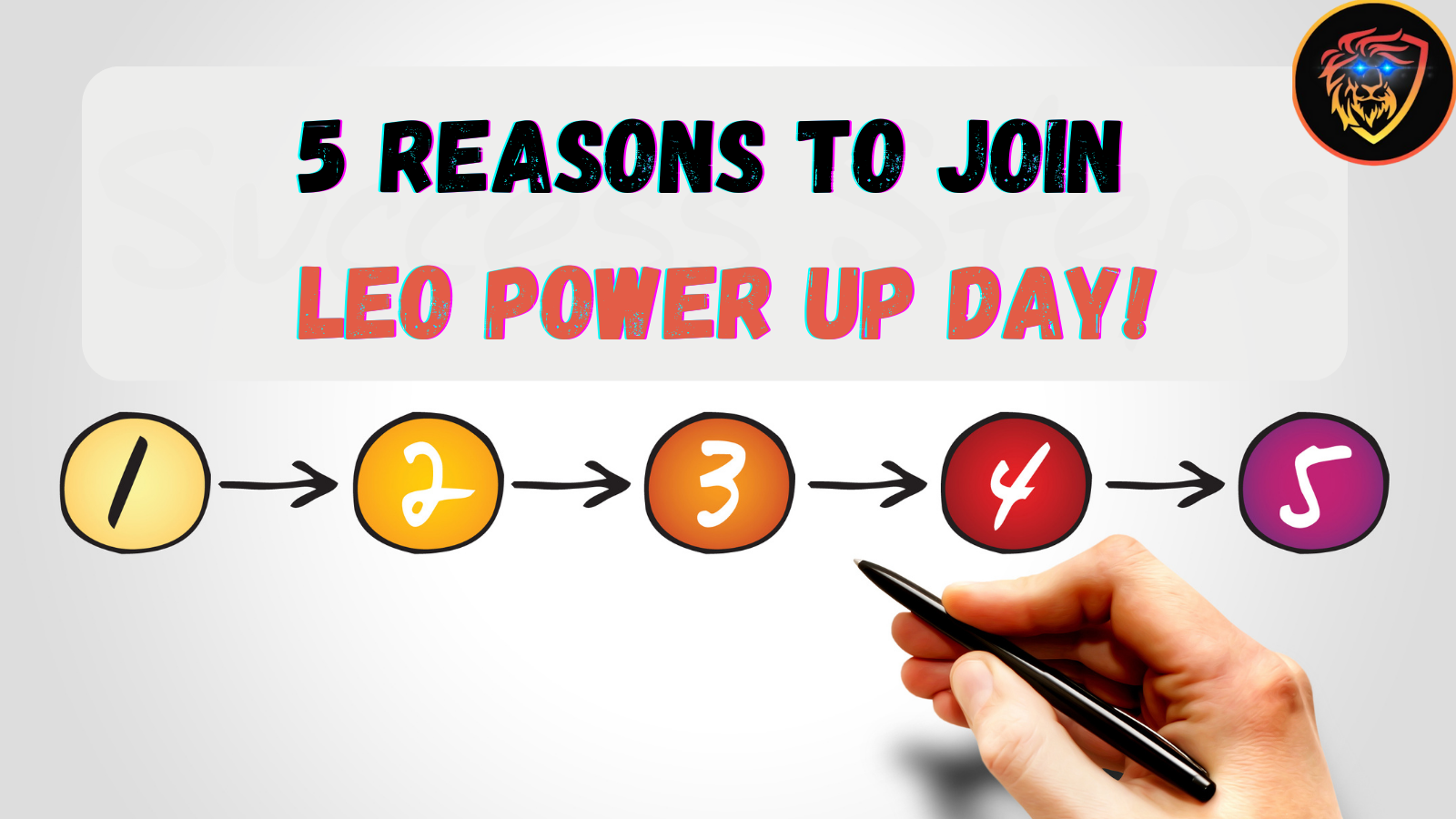 This LPUD is "a bit" different because it is a milestone for some events such as Blocktrades & LeoFinance hivefest sponsorship and BAD LUCK Prize by Onealfa.
Before we talk about 5 reasons why we should not this event, let's remember the requirement of LPUD Day:
Requirements of Second LPUD
Total Leo Power: Above 200 / Below 20,000
Power Up: At least 200 LEO Tokens on 15th of July
No Leo Power Down: since June 15th
A post: About LPUD with (#hive #leofinance, #cryptocurrency and #lpud tags)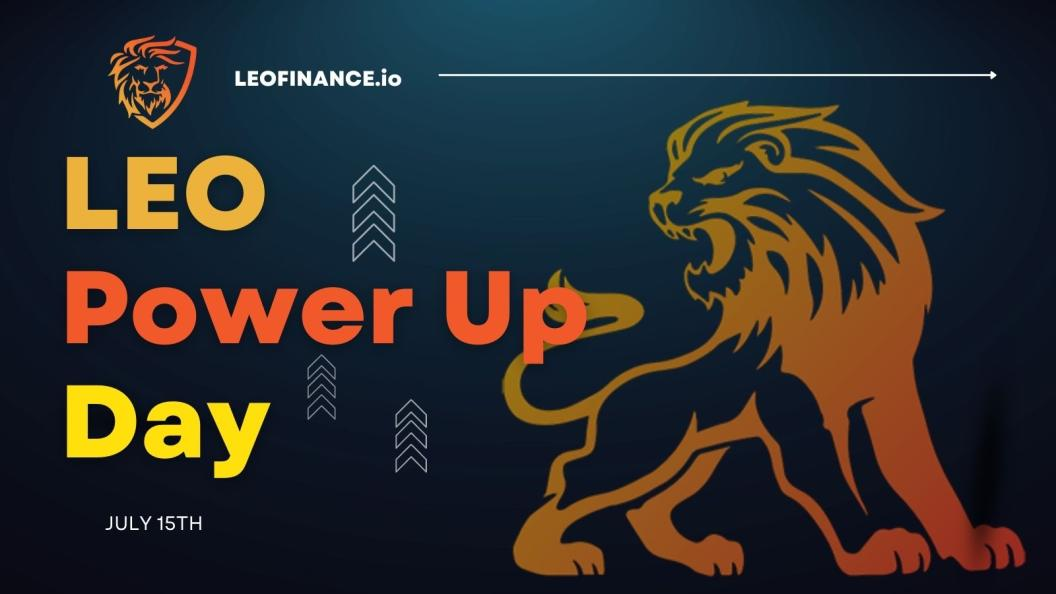 Five Reasons for Leo Power UP
I think all of the reasons for LPUD are amazing and anyone who powers up 200 LEO can enroll for 5 of them at the same time.
We have 1 Vote, 3 Leo Delegations and 1 HiveFest Ticket opportunities on this special day. I think it sounds attractive for everyone 😎
1- Casual LPUD Prize - 20,000 LP for 3 Weeks
you will participate in a drawing/raffle where three Leo users will win a 20k Leo delegation for three weeks.
As mentioned on July 15th Edition post by @leogrowth, you may win 20K Leo Power delegation with the power up. It is the basic award of the event but also one of the best ones for Lions 🦁
2- Bonus LPUD Prize by Community - 8 Random Lions!
We have to admit that we love bonuses. Obviously, there are some bonus rewards for 8 lucky guys thanks to generous lions that want to award lucky participants of the event.
8 random users who fulfill the four requirements above will get one of the next Leo Power delegations for 3 weeks:
Who are these generous lions and how much is going to be delegated for 3 weeks? 👇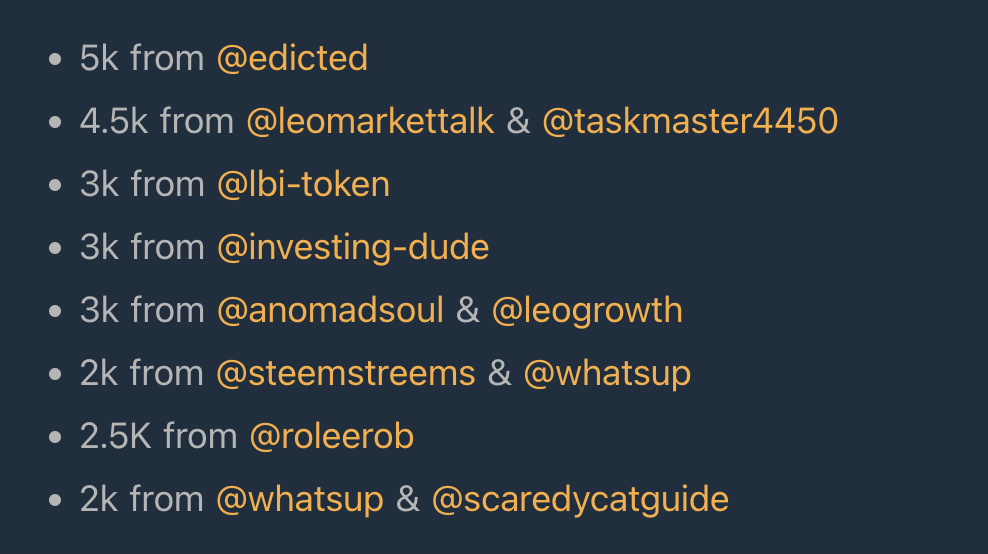 8 bonuses will be given to 8 lucky people. The luckies one will get 5k delegation from Edicted.
5k LP? A QUARTER OF THE CONTEST REWARD BY LEO TEAM!
I told you, everyone loves bonuses 😉
3- @leo.voter loves LPUD Posts 🦁
Our curators will be on the lookout for amazing posts using the tag #lpud, so make sure to make a kickass post and perhaps you'll get a visit from @leo.voter!
Leo.Voter is the official voter account of the LeoFinance team. Its duty is to find and upvote great posts published on, majorly, LeoFinance by Lions.
The attention of @leo.voter will be on LPUD posts for sure 🤙🏼
4- Prerequisite for hivefest tickets by blocktrades and leofinance.

Welcome to the most exciting event of Hive ecosystem: HIVEFEST!
@blocktrades and @leofinance teams want you to attend HiveFest. Do you think you cannot afford it? No worries, there is a contest with 2 HiveFest tickets and accommodation prize.

Thanks to the contest, you can save hundreds of dollars that you can spend in Amsterdam 🤩
Read the details of contest and do not miss the party!
Do you want to fly high? Toruk may teach you some tricks 🐉
Join upcoming 3 LPUD events (by powering up at least 200 LEO) and share it with other lions. Maybe you are the one!
Attend three LPUD events in a row (now July 15, Aug 15, Sept 15), get properly involved in LPUD minded posting (once a month as minimum), and you will be able to apply for "BAD LUCK" delegation prize, if all other prizes have somehow eluded you.
If you are unlucky, you are luck! 🤓 You may grab 60,000 LP Delegation from Toruk for 3 weeks!
Be ready to become a junior Toruk with the delegation prize 😉
TL;DR - Worth it!
Take a look at the prizes and the importance of the second LPUD!
As stakeholders of Hive & LeoFinance, we add more value to our amazing projects. Once again, I'm up for it!
Hive Power Up days and Leo Power Up days are special days that you may get amazing prizes. There is no end for rewards in Hive ecosystem. LOVE IT 😎
Hive On ✌🏼
Posted Using LeoFinance Beta
---
---