Are Resource Credits Getting Expensive?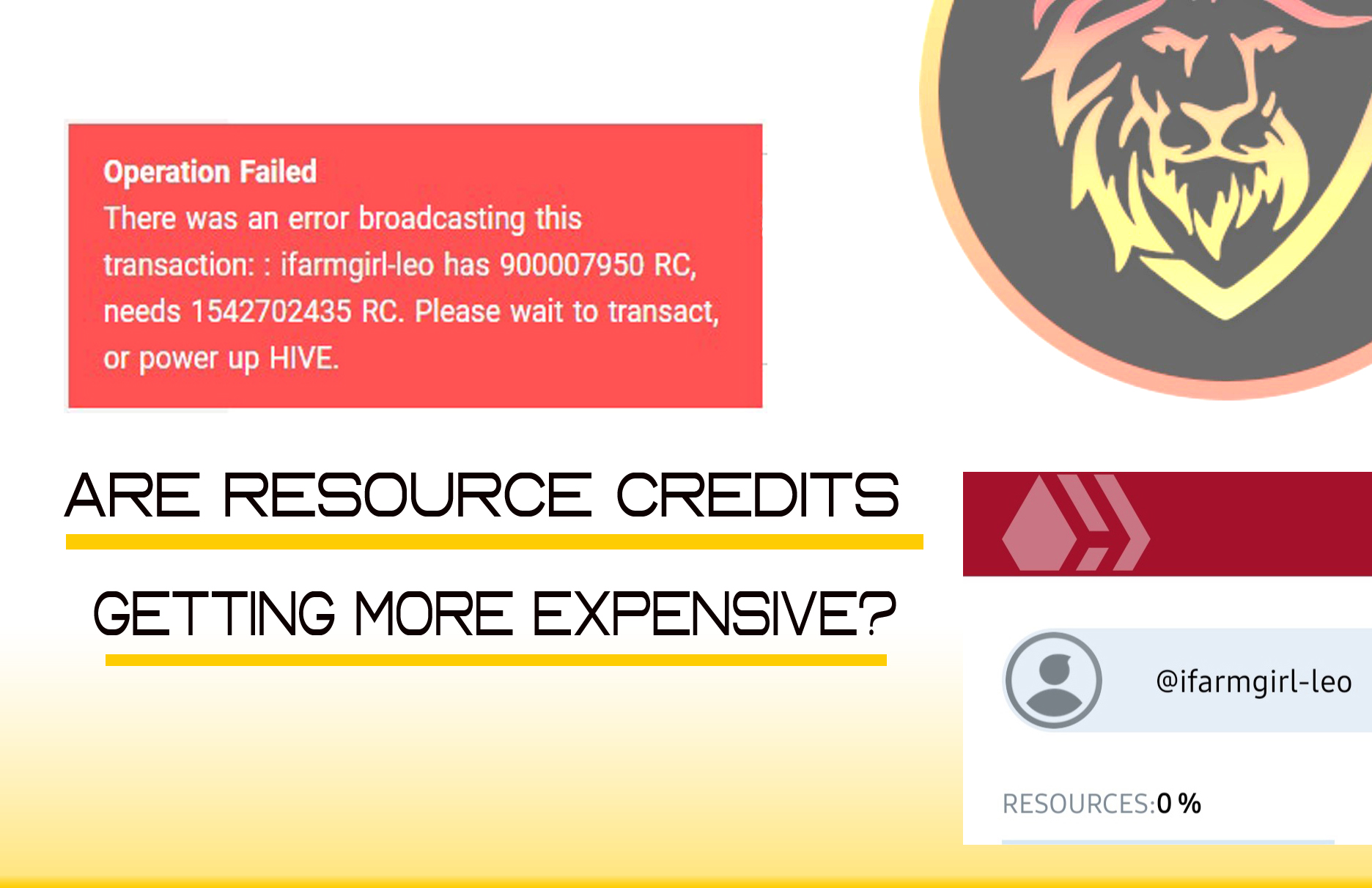 Sometime ago, I read a post by Edicted saying there will be a time when Resource Credits will become expensive, not exactly his words, but I understood it that way.
And then earlier this month prior to the release of #threads, I read this tweet by the LeoFinance team and I didn't really take it seriously. My main account's RC rarely goes below 98% even when I am very active on chain.
"50 HP would probably get one through," I thought.
But then I was proven wrong when I ran out of RC 4 days ago while doing threads. With 80 HP delegated to this alt account, I thought it would be enough but not so. I added a bit more and made it to 150 HP. Guess I want to test how long it will take me but I forgot to track my numbers, lol!
I was surprised around 12 noon today, when while replying to one of the comments, I saw this red notification on my computer screen.
I mean, wow! Broke it the second time around within a week, lol! I can only assume that my RC has not refilled yet and my activities in the morning drained it fully. But I wasn't really that active and probably made only about 20 comments and threads. And while drafting this post in the afternoon, I checked through the Hive Keychain and it was showing me 0% resources and it will take almost 5 days to refill fully.
It's a good problem though which I can easily solve by delegating more from my main account. But thinking about it, is RC already becoming more expensive nowadays? Or should I say, are transactions and activities on-chain becoming costly?
I ranked #7 on the recent LeoFinance Engagement League report so that means I was a bit active during the week. Based on the LEL stats, I made 6 posts, 131 comments and 29 votes. I wonder if the numbers included the #threads though.
But I feel that Edicted and LeoFinance are correct about RC getting more costly...
It's just good that resource credits are rechargeable and we don't have to literally buy them. We just have to increase our stakes (Hive Power) to get more RC or have someone delegate some to our account.
RC delegation would solve this too, which if I'm not mistaken, the devs are working to make that happen. As to when, I don't have any clue but I hope it rolls out before the year ends.
Meanwhile, let's #hive and #thread on!
P.S. Thank you @forexbrokr (Dane Williams) for lending some of your HP. That's so kind of you, salute!

Screenshots are from Twitter, LeoFinance and Hive Keychain. No copyright infringement intended. 270822/20:00ph
Posted Using LeoFinance Beta
---
---