How to Wrap HBD & Adding to bHBD-BUSD LP on Cub Finance
Some days ago, I sent bHBD to Binance Smart Chain purposely to add to the bHBD-BUSD farm on Cub Finance. I want to earn $CUB while making my HBD readily available. We never know when there's another pump.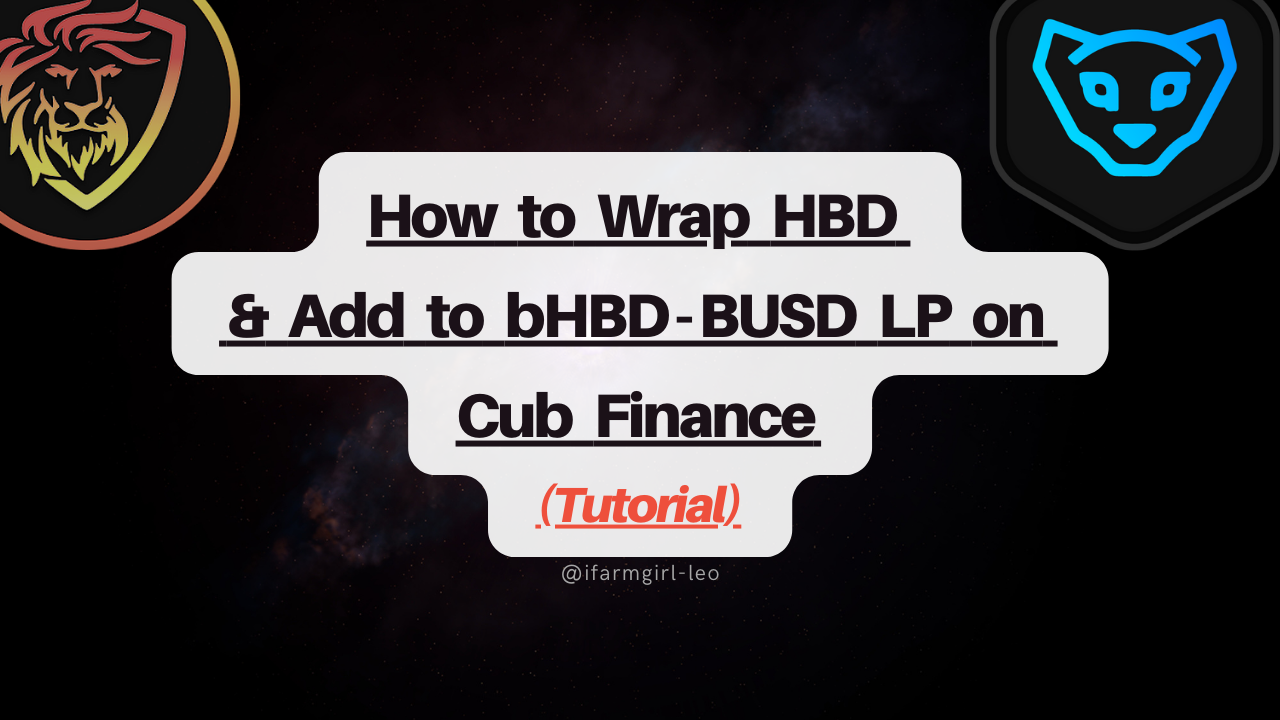 But prior to adding liquidity to the pool, I needed to wrap the native HBD from my Hive wallet first using the Multi-Token Bridge and I'm sharing below how it is done.
For those who have never used the bridge, here's a simple guide on swapping HBD into bHBD:
Go to Leo https://wleo.io (MTB url) and click on bHBD.

Or go directly to https://wleo.io/hbd-bsc and enter your BSC wallet address and amount of HBD you want to wrap through the bridge, click on "Transfer." Check if everything is correct then approve the transaction on your Hive Keychain wallet.
Adding Liquidity to bHBD-BUSD Pool on CubFinance
After wrapping HBD into bHBD, you can now add liquidity into Cub Finance farm. Here's the process on how to do it:
Go to https://cubdefi.com/farms and connect your BSC wallet, click on "BHBD-BUSD" then "Get BHBD-BUSD"

It will redirect you to PancakeSwap where you can add the pair (BUSD-bHBD). Click on "Add Liquidity."

A new window comes up and you click on "Supply." Even if you only have bHBD, it will automatically convert some of it to BUSD when you supply liquidity.

Verify if everything is correct then click on "Confirm Supply."

Approve or confirm the transaction on your BSC wallet. (I'm using Metamask) on this guide.

When the transaction goes through, go back to Cub Finance farm (https://cubdefi.com/farms) to add the liquidity. If it's your first time to add to the pool, click on "Enable" to give permission to CUB Finance to access your wallet.

Then click on the plus sign (+) and then Max and confirm adding liquidity.

Confirm further on your BSC wallet and you're done when the transaction goes through.
Congratulations! You are now going to farm $CUB through your added liquidity. All you have to do is harvest perhaps once a week or longer to save on transaction fees.
I believe $CUB is something not to be missed. Not an investment advice, of course. DYOR. As of this writing, the pool's APY is at 34.30% and this may change as the liquidity increases.
If you have any questions, please feel free to ask them away. Cheers!

Images obtained from the Multi-Token Bridge, CubDeFi and PancakeSwap. No copyright infringement intended. 190922/20:00ph
Posted Using LeoFinance Beta
---
---