The Pursuit to Becoming a Newborn Cub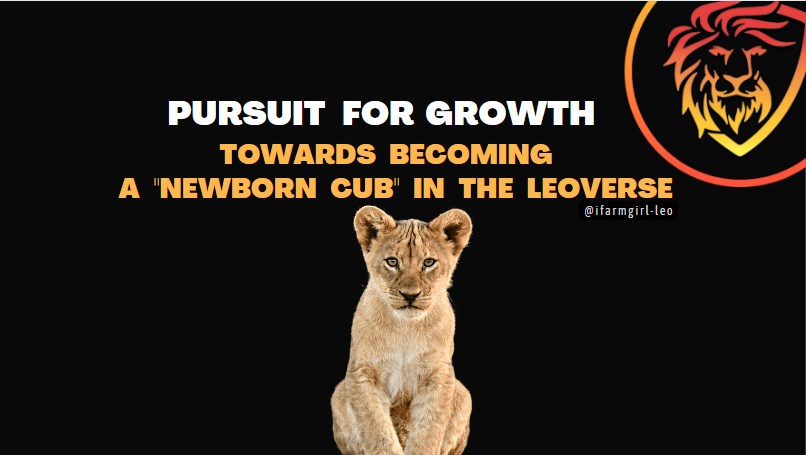 The 5th Leo Power Up Day (LPUD) is just 3 days away and I'm still working on one of my goals which had been to keep stacking up LEO and staking them to grow my Leo Power. Then came the Leo Finance Pride Rank which was introduced by leogrowth (anomadsoul) two weeks ago and such rankings are as follows:
Newborn Cub - 2k Leo Power
Cub - 5k Leo Power
Lion - 15k Leo Power
Leader of the Pack - 50k Leo Power
Apex Lion - 150k Leo Power
Our Leo Power or our stakes show our commitment to grow our accounts and how much we believe in the future of this ecosystem. And while doing so, we get certain privileges that will also help to increase our stacks even more thereby doubling or even tripling our earning potential through our curation rewards.
Becoming a Newborn Cub is the first step to making it into the ranks and to have the chance to enjoy the perks that come with it, re:
Claim Leo Tasks. that allows one to generate post rewards while helping the LeoVerse in the process by creating contents specified in the tasks.

The privilege to drop one post per month on the #loud-roars channel on the Leo Finance discord server for curation. Of course, the basic requirement is that the post must be of high quality and must be published using the Leo Finance interface.

To be eligible to win massive delegations when participating in LPUD until the Lion hits 20k Leo Power.
Source
I used to power up every LEO that I'm rewarded with or those that I buy from the market and only reserve some for the Power Up Day but this time, I decided to do a bit differently. The desire was to stake at least 1k $LEO on the 15th.
Thanks to initiatives in the community (LEO&HODL Contests) and also that of the LEO Then & Now by @leogrowth, which added some more to my small stacks. And I cannot deny the power of threads too. That is why I recommend using it more often (a reminder to myself too) because it is fun and an easy way to interact and even curate. Small upvotes count and they add up quite nicely. And yep, we never know when a whale is lurking.
Of course this goes without saying that getting rewarded is great but should not be the only reason to make #threads. It had been developed for us and we gotta enjoy using it. The upvotes are an added bonus.
Anyhow, to track my progress, this was the Leo Power after the 4th LPUD (15/September):

And we will get there for sure!
Are prepared for the LPUD too? If not, we still got a few days to do so.

Screencaptured from Leo Finance wallet. Lead image created on Canva. No copyright infringement intended. 121122/21:25ph
Posted Using LeoFinance Beta
---
---