A Longing Heart
Walking along the shore, he noticed the golden rays of the sun on the waters. Like he always does, he took a deep breath, stood right where he was, mesmerized and in awe of the beauty before his eyes. It's as if the sun is having a grand show of its own. It does that everyday albeit different and beautiful each time.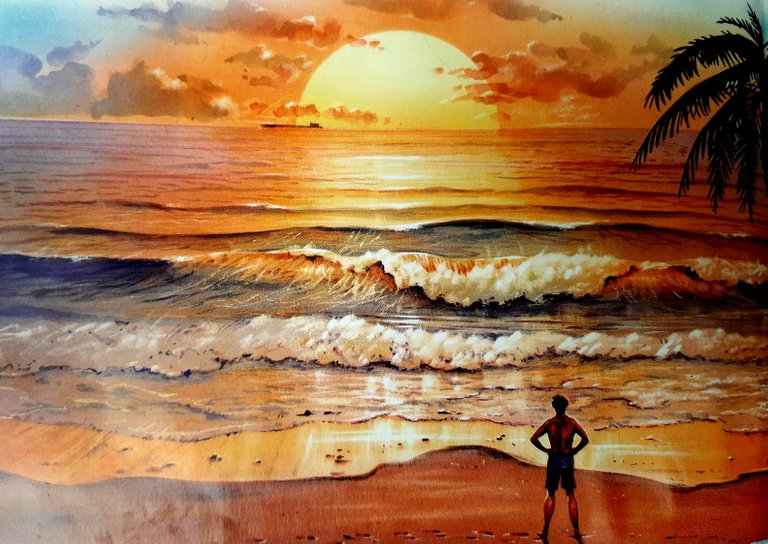 "I wish you were here to see what I'm seeing right now. It's breathtaking and I know you would gasp in wonderment and your eyes would glitter in happiness..." he smiled by that thought of her.
"How nice it would be to camp here through the night, watch the sun until it sets and the darkness fall. Then we'd listen to the sounds of the waves, coming and going as we doze off to sleep..." his mind just couldn't stay quiet.
The short summer evenings they have spent together along that shore were the most fun and happiest. Those moments are still vivid on his mind like it was just yesterday. She's free-spirited yet innocently sweet and had the warmest, most beautiful heart.
"She didn't forget me, did she?" he gazed intently at the setting sun as if he was waiting for a confirmation.
"Silly me," he shook his head in disbelief when he realized how crazy it was for him to think that the sun would give an answer.
It's been six months since they last saw each other when she bade goodbye with a bit of a promise to say "hello" when she gets settled to wherever her feet would take her.
"You must be having fun and happy where you are right now. I hope you remember me even for a little while..." he sighed, took one last glance at the sea illuminated by the setting sun and muttered "I miss you terribly." Then he slowly walked away, keeping the hope that they will meet each other again someday, if not there, perhaps elsewhere.
https://images.ecency.com/p/3jpR3paJ37V8XPrHkfZdMtiM68fywBJwYt7EuhvpC9y91wCtmsFAPR2hd8YsciUbc22rVaeYHVLt8nmEF6BfW5nHAbc3DYnredGWnQqohdFE8L5sqSA7uaZNJ7v5tCba3VHPC.webp?format=webp&mode=fit
Just a fictional story crafted thanks to the beautiful sunset artwork photographed sometime ago from one of the "I Wonder Why" children's book series.
Hope you're doing great today and hitting your to-dos with ease and fun. It's mid-week here already, yay! I wish you a fantastic one!
Photo my own, captured from a page of a Grolier children's book entitled "I Wonder Why the Sea is Salty" by Anita Ganeri. No copyright infringement intended. 191022/08:30ph
---
---
Smile... laugh often... love more... be happy and grateful always!
---
---
---