DEXes on the Hive Blockchain

If you have been here on the Hive blockchain for a while, chances are you would have learned that the Hive ecosystem has its own internal decentralized exchanges (DEXes) and may have used and are still using them too. To date, there are three (3) major exchanges where users can trade HIVE and HBD here on Hive. Of course, there are internal exchanges for Layer 2 tokens as well. But if you are new and still exploring, read on for in this post, we are going to share them and highlight some of their features too.
Login Method: Hive Keychain
This internal decentralized HIVE-HBD exchange has been developed or built by the Peak Open Projects Team and was released not so long ago (towards the last quarter of 2022 if I'm not mistaken). It has more advanced features that are similar to most modern cryptocurrency exchanges or markets.
Hive Hub allows instant Swapping for those who want to buy HIVE or HBD without the need to wait for their orders to get filled. There's the Basic and Advanced trading too which allow traders to set their buy or sell orders and leave them to be filled or may cancel them at any time.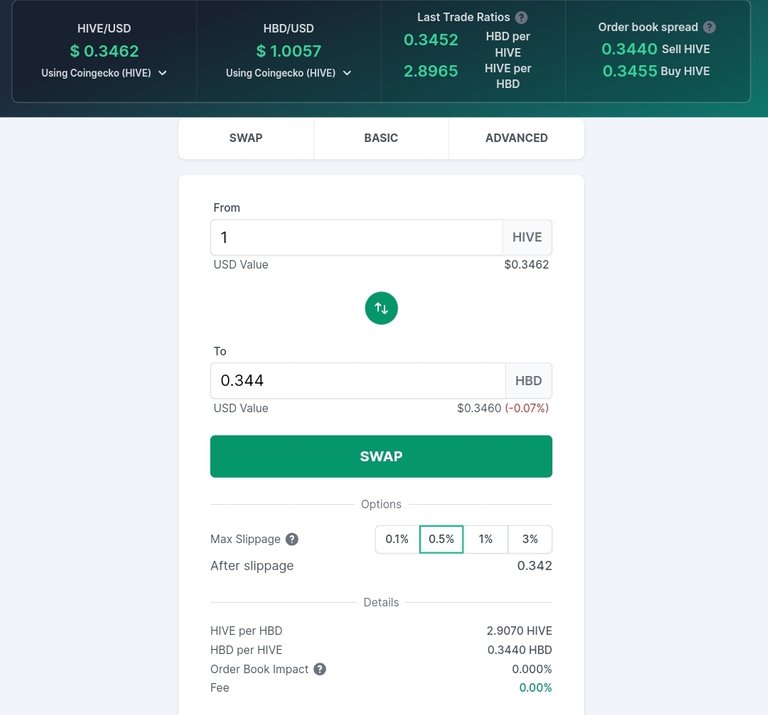 In the Hive Hub market, there are additional useful trading tools or features for analyzing charts which include indicators, live price charts by Trading View, order books and more. Traders or users have the option to customize the charts according to their preferences with respect to timeframes, chart views, indicators among other things and can even save their indicator templates.
Useful Data
Also in the platform are useful information on Hive Governance, i.e. list and details of Witnesses for both base layer and layer 2 (Hive-Engine).
Another governance data included are the details of Hive Proposals and the status thereof.
Statistics
Users can also view certain lifetime statistics on the Hive Blockchain like the list of communities with information or data such as the number of subscribers, comments and posts, including the total amount of payouts in Hive Backed Dollars (HBD).
Also viewable are the blockchain's stats in terms of contents, number of comments and Hive rewards distribution. Such info are available in various timeframes (daily, weekly, monthly, yearly).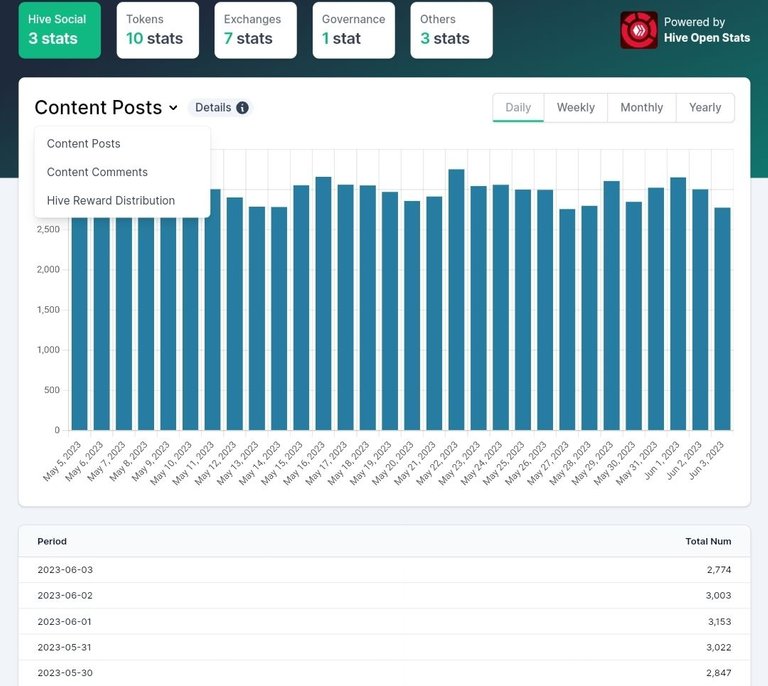 The user interface (UI) is available in both light and dark themes and is mobile-friendly.
My Personal Verdict: Generally, Hive Hub is an intuitive and a super cool decentralized exchange with various useful trading features. It has a very neat and easy-to-use interface too.
Login Method: Hive Keychain, Hivesigner, Manual (entering username and own account Key).
This market was developed by the Ecency frontend team. This also has some features that are quite similar to Hive Hub or other modern exchanges. It allows instant swapping and has Limit and Advanced trading modes. This market was originally very basic but had undergone upgrades late last year and more advanced features were added.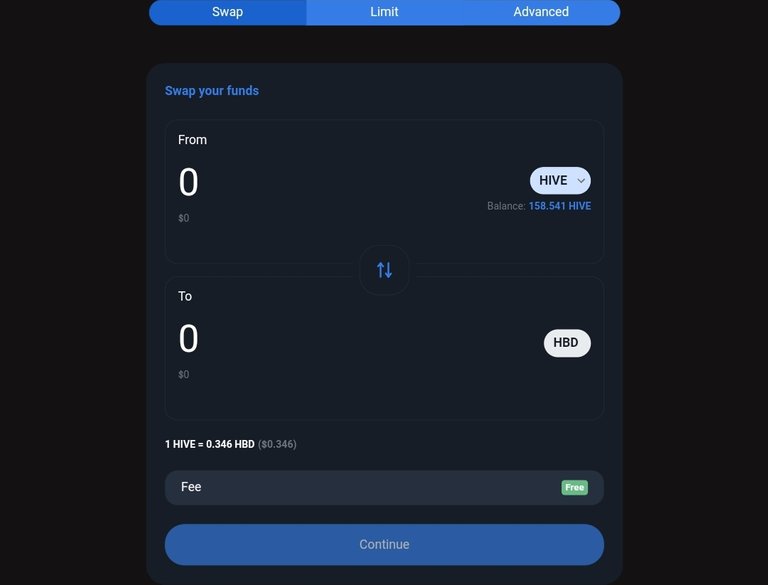 Personal Verdict: Easy (not complicated) to use and I don't think anyone would need a tutorial to be able to utilize it.
Login Method: Hivesigner, HiveAuth or Manual (entering username and account Key)
A very basic or traditional exchange that doesn't have much features except the buy and sell spaces and a basic charting. It is not as intuitive as that of the other two DEX mentioned in the above.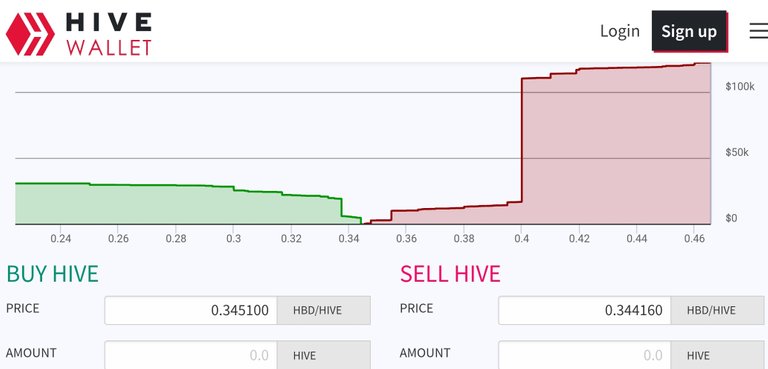 Personal Verdict: It's okay and very usable although can be improved and or upgraded to make it more modern and intuitive.
Internal Markets for Layer 2 (Hive-Engine) Tokens
Leodex
This is a decentralized exchange built on the Hive blockchain by the LeoFinance team and is part of the LeoFinance umbrella. It allows users to trade or swap Layer 2 assets against HIVE (Swap.Hive) seamlessly. It also facilitates the deposit of HIVE to exchange (swap) it with Swap.Hive which serves as the main trading asset on the exchange (although users have to check the liquidity of both assets prior to depositing (transferring).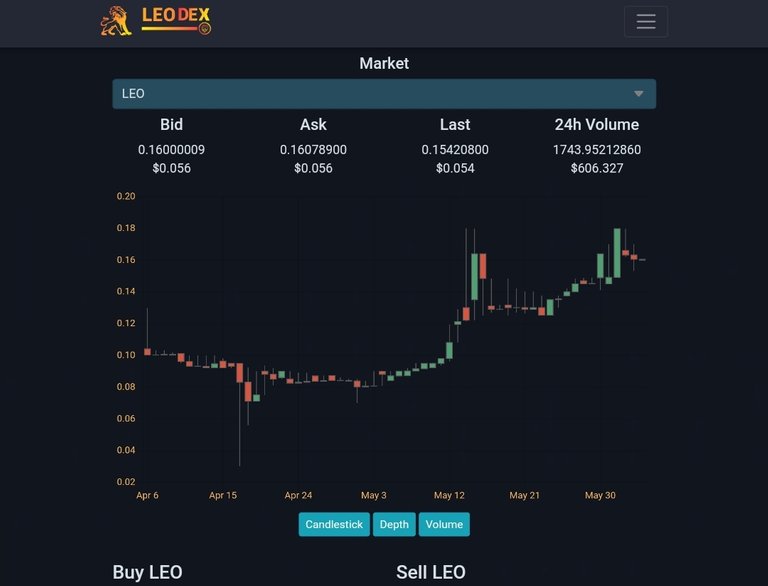 The exchange includes the full functionality of a wallet which enables or allows users to trade, stake, delegate, transfer or send assets to another account/s.
Other features of the platform include the richlist of each token or asset, the Rewards section where users can manually claim their available Hive-Engine token rewards as well.
Personal Verdict: Leodex is one of my favorites and my most used DEX when buying or selling any layer two assets.
Hive-Engine
Hive-Engine is a smart contracts side-chain application or platform on the Hive Blockchain and to quote the description via the website, re:
Hive Engine is a platform that empowers communities, project owners, fundraisers, developers, and businesses to quickly and easily build on the Hive blockchain like never before. - Source
Or according to the site's FAQ, "it is a smart contracts side chain platform for the Hive blockchain. This means that it can execute custom smart contracts based on data published to the Hive blockchain. This allows us to do things that are not currently supported by the Hive blockchain, such as creating custom tokens, or literally anything else achievable with a smart contract." - Source
Additionally, it also allows users to issue new tokens, view their balances and history and transfer tokens too.
Features
Hive-Engine Market
A decentralized market or exchange where HIVE (Swap.Hive) can be traded against Layer 2 tokens like BEE (the Hive-Engine's native token), LEO of LeoFinance, DEC, SPS and other assets of splinterlands, BRO of the Bro economy, POSH and GOSH, BUDS of Hashkings and a lot more. It is the first HIVE-based attempt at a token economy and smart contract environment for HIVE via a side-chain platform.(Source)



Block Explorer
Shows Layer 2 token transaction details of an account.



Lease Market
This allows users to lease their assets on their own terms (lease duration, APY, preferred payment token and more.)



Personal Verdict: A really nice and mobile-friendly interface. It's available in both light and dark mode. I like the different charting features and also the fact that I can view the token details via a pop up without having to leave the trading page.
BeeSwap
• Website
This is a DeFi application and or platform that allows instant swap of layer 2 assets into Swap.Hive or vice versa with 0.25% fee. Users can also convert HIVE into Swap.Hive instantly (and earn BXT in return). Conversion fee is 0.25% as well.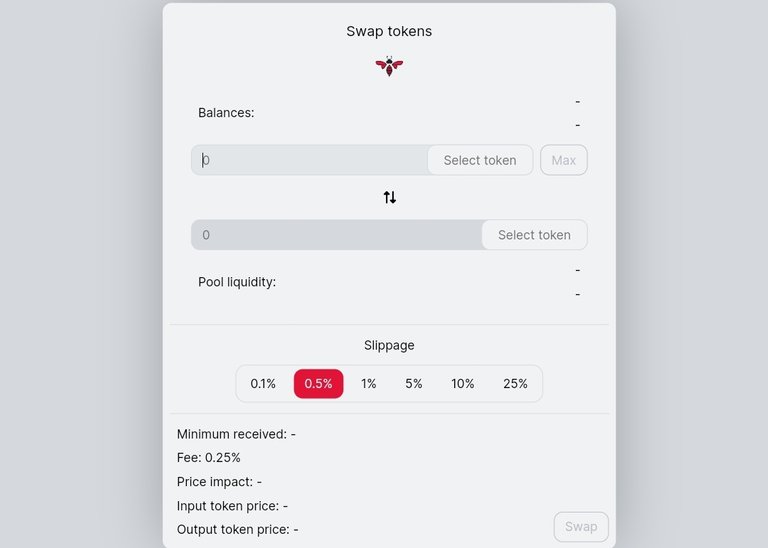 As it is a DeFi platform, users can pool their assets or provide liquidity and earn rewards (some pools include BXT, one of the native tokens of the platform as rewards).
Personal Verdict: This platform has large liquidity of both HIVE and Swap.Hive as well as layer two tokens. I like the wallet menu that categorized and segregated the Splinterlands assets from the HE tokens.
Tribaldex
• Website
• Login Method: Hive Keychain or SmartLock
This is an intuitive exchange for HE or Layer 2 tokens. The platform allows users and or communities to create and trade tokens including NFTs and smart contracts on the Hive blockchain. It is available on desktop and also has a mobile application. Additionally, it can be viewable in both in light and dark mode. Transactions are fast too.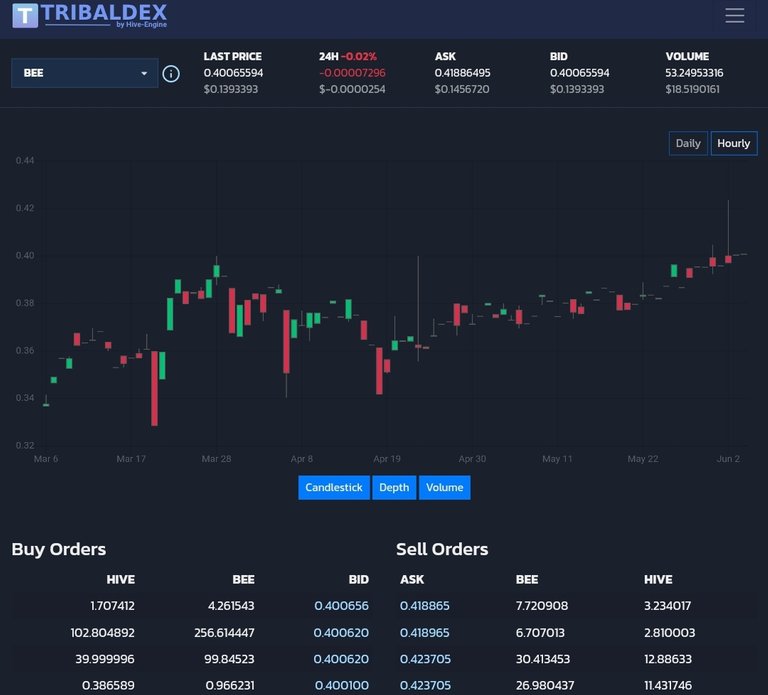 It combines decentralized finance (DeFi) features (through the Diesel Pools) which facilitate pooling of Hive-Engine (layer 2) tokens as well as other blockchain assets like wrapped Bitcoin, Ethereum, Litecoin, Bitcoin Cash, WAX, DOGE, MATIC, BNB coin as well as Stablecoins like USDT, BUSD among others.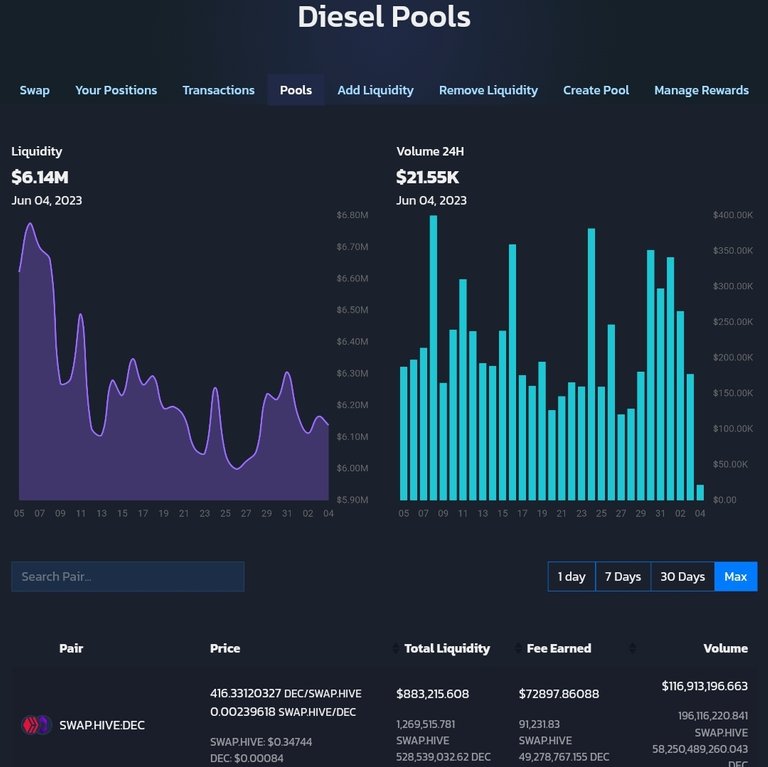 Also viewable on the Tribaldex platform is the list of Hive-Engine Witnesses and their block informations.
Personal Verdict: The exchange is very intuitive, mobile-friendly and very fast too. I also like the pop up window for the token information within the exchange. The mobile application is very handy when one is out and about.
Summary (TL;DR)
Hive is one of the cheapest and most scalable blockchains to build applications. And to date, there are three decentralized exchanges built on Hive for swapping and or trading the blockchain's main assets re: HIVE and Hive Backed Dollars (HBD) and they are as follows:
Layer two assets also have their own decentralized markets that are built and thriving within the Hive ecosystem, re:
♧ Both Hive-Engine market and Tribaldex allow communities or users to easily create their own Tribe tokens, Non-Fungible Tokens (NFTs) and smart contracts on the Hive blockchain even without programming knowledge.
There are also third party (centralized exchanges to trade HIVE and I may write about them on another day.
DISCLAIMER: These information are based on my own research and experience. Do your own due diligence when using any of them. Do not enter sensitive information like your keys on any website unless you fully trust them. Photos and or screenshots are from the applications mentioned. No copyright infringement intended. 04062023/10:20ph
Posted Using LeoFinance Alpha
---
---