"Exciting" Things Coming to Hive & LeoFinance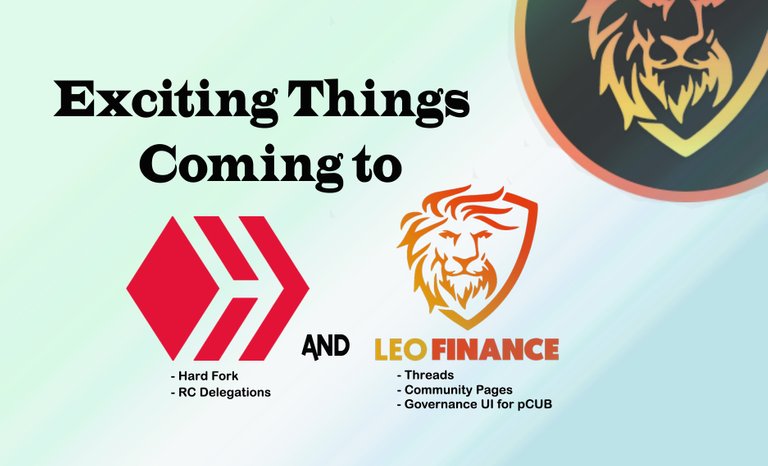 It might not be known to many but developers behind the dApps in the Hive ecosystem are hard at work ever since when (I have no idea, honestly) but I have watched and listened to several podcasts and it was where I often get information. The bear market is making them grind even more.
And from what I see, the common grounds they are working towards is making Hive Blockchain easier to build applications on and also on to make it easy to onboard users into the ecosystem.



Resource Credits Delegation
The hard fork is coming or probably already being worked on and what's exciting about it is the ability to delegate Resource Credits. The good thing about this is that it will be easier for front-ends (and also existing Hivers) to onboard new users and delegate them enough Resource Credits which will make them interact and perform activities without having to worry about running out of RCs. Big stakers don't often utilize their RCs and delegating them to newcomers might as well put them to good use.
There is not much information about this but we will see how it will roll out.



"Threads" on LeoFinance
I have shared about "LeoThreads" sometime ago. It's essentially a proxy for ProjectBlank (microblogging on Hive which LeoFinance have been working on in the last two years according to Khal). It creates crypto-twitter on LeoFinance so to speak.
Per the recent AMA replay, they have been working for this and for them to test all the infrastructure for ProjectBlank, they come out with "Threads" where they will test the features live, to see how it works and scale before ProjectBlank rolls in.
How does a "thread" start?
Anyone can start directly, go to a container (LeoFinance/Hive post) and create a comment on it and that basically starts a "thread".
Go to LeoFinance UI, "Thread" Page and there will be a button "Create a Thread" and a little pop up will come out where you will create a 240-character thread.
The "Threads" front-end will look like how Twitter works.
I'm personally excited about this feature coming out. And ProjectBlank too.



More Community Pages on LeoFinance
Per Khal, there are about 12 new communities that are about to go live in the interface. Each page will be run by Leo Ambassadors and their mission is to grow Leo through these pages.
Currently, there are 3 community pages (Thorchain, Splinterlands, Comdex) so when the new 12 come out, there will be 15 in all. The role of these community pages is to expand the LeoFinance community.
Accordingly, anyone can "create" a community page on Leo Finance by contacting anomadsoul.
And last but not the least, the governance UI for PolyCUB is coming too. Hopefully we will be able to test it out sooner.
There are also exciting things coming for 3Speak and Splinterlands which might be another day's topic.
Thank you and cheers!

Images/logos from within the Hive/LeoFinance ecosystem. No copyright infringement intended. 130722/12:00ph
Posted Using LeoFinance Beta
---
---