HBD: My Best Stablecoin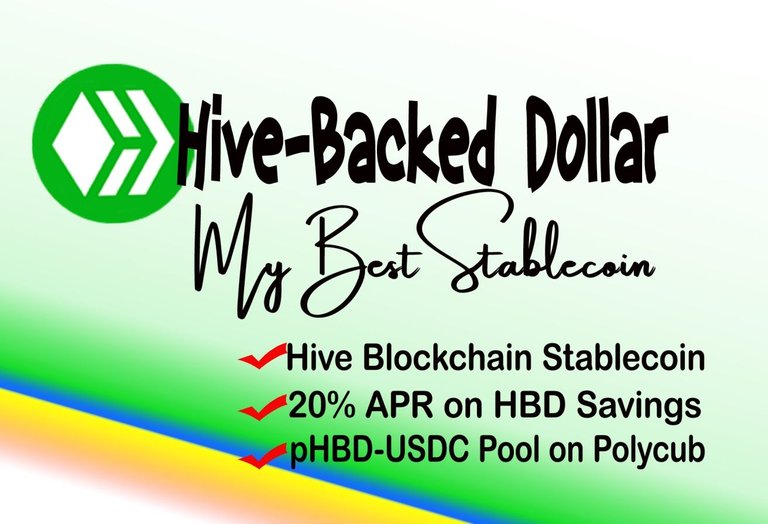 In an effort to diversify my crypto investments, I started saving Hive-Backed Dollars a little over a month ago. I reckon it is one best stablecoin that can't be ignored and it's something that I want to have to accumulate on my crypto purse. Why so?
First, 20% APR on HBD Savings
Even time deposits on banks can't have such an interest rate, worst, one is taxed when saving in banks. People are now a lot smarter that not many would want to keep their monies in banks for the sole purpose of earning interest.
Having learnt that the 20% is sustainable on HBD savings and it being one best way to earn interest on crypto without being exposed to too much risks, I decided to start my HBD Savings journey. But that's not all, add the following reasons too:
HBD is built on the Hive blockchain, a continuously evolving and developing ecosystem with many people around the globe making it thrive in a decentralized way.



I have total control over my account because I hold my keys to it.



It only needs 3 days to clear withdrawals (I actually like this because I see it as another layer of protection or security in place.)



No minimum amount required to start. I can add any amount to it daily without any restrictions and additional fees.



I can compound the interest monthly which maximizes the potential of growing my savings over time.

I ran a little calculation on how much I'm going to end up in 5 years with a 300HBD initial capital and adding to it 30HBD monthly and that would have me over 3,861HBD. It excites me how much more it could grow if I add more to it over the course of 5 years. And that's why I chose to build my HBD Savings.
Second, LP with USDC on Polygon and farm in DeFi
With the launch of pHBD-USDC pool on Polycub, one can now
wrap HBD into pHBD
in the Polygon chain and farm PolyCUB at a reasonable APR (currently at 25+%APR) without the risk of suffering any impermanent loss.
(This APR may increase soon through the [governance voting]( via the xPolycub DAO.)

Screenshot via Polycub


This is particularly another good opportunity for those who are conservative when it comes to investing and have low risk-tolerance. Personally, having this pool helps me in my goal to accumulating PolyCUB token without any significant risks.


What's more?
The continuing plans and discussions behind the scenes for more use cases of HBD make it even more interesting to hodl or save this stablecoin. It is also worthy to note that despite the fall of Terra (LUNA) and its stablecoin UST, the Hive-Backed Dollar regained its peg to the USD and is holding so well.
Although I consider HBD as the best stablecoin, I encourage those who are thinking to invest in it to do their due diligence before making any investment decisions.
---
No part of this publication is to be considered a financial advice. DYOR please. 260522/11:10ph
Posted Using LeoFinance Beta
---
---