How's My Game?

Rising Star is the only Blockchain game that I still play to date and it might have been 3-4 months ago when I started it. So far I've completed 1495 missions and currently at level 56, still on the Local Gig Circuit zone with barely 1600 Fans, 5k skills and 79 cards, lol! I didn't really have any game strategy early on so leveling up in the game was slow but I did learn [some great tips(https://leofinance.io/@ifarmgirl/rise-my-star) from other players which helped me progress. Thanks as well to several giveaways which I enjoy participating and where I won some cards and Starbits (and some LEO) too.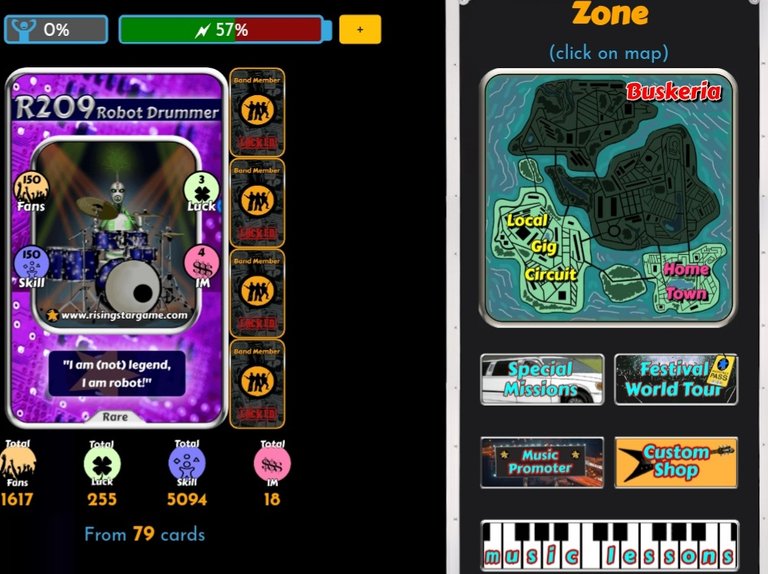 I had a dilemma some 2-3 weeks ago I got to level 50, whether or not to purchase 1M Starbits to be able to do the Millionaire Card Missions. And although the urge was so strong especially that the Starbits price is so affordable, my goal to build my Hive Power first came on top so the 1M Starbits has been put on hold for the time being.
Meanwhile, I'm still playing different missions and taking lessons daily with the goal to increase the skills and reach level 75 so I'd be able to do Band Auditions. It will be a long way to go but I do enjoy the game so hopefully will reach the level in the last quarter of this year.
Bought the S41 Abs card last week for the Summer Breeze mission but for some stroke of bad luck, I am yet to win any special card, lol! It would be awesome to win at least one before the mission ends (4th of August).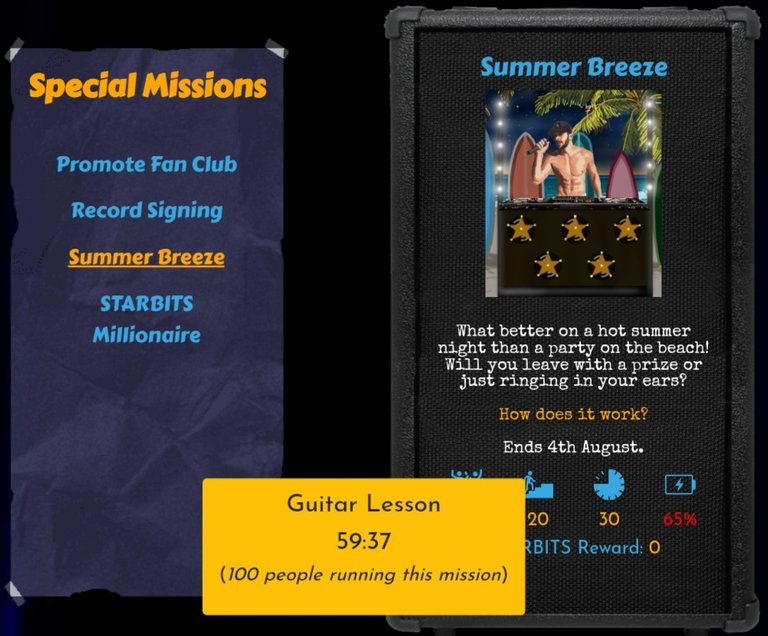 Other recent spend was the bulk Fan Cards which was my first time to do because I usually choose cards to buy. Didn't know that buying 450 fans would give me 3 similar cards with 150 fans each, lol! That was a new and amusing learning experience. I did save some Starbits from the purchase so it was a good bargain.
And funny too that I only learned recently that when the mission finishes and I hear "Hmmm... Yummy!" it means I had discovered a pizza slice, lol! "I'm not drunk" means some temporary fans were added, haha! Gotta admit I'm not really attentive to details and don't even check my game diary most of the time. But like I mentioned, I'm having some fun in the game and the fact that it doesn't really take much time to play is great.
Lastly, if you are playing the game (or even when you don't), you might wanna drop by and support their proposal. Their aim is to increase onboarding to Hive through the Rising Star game. Read more about it here.
So that's just about it for today. How about you, how's your game going?
Thank you and have a glorious weekend!

This publication contains a referral link and I may earn when you sign up through it.
Images and or screenshots were from Rising Star dashboard. No copyright infringement intended. 230722/09:55ph
Posted Using LeoFinance Beta
---
---