Jumping Aboard the #MyHiveGoals Ship
The market has shocked many at how fast things are going. Some may have already been liquidated and perhaps a lot in the brink of losing their collateral if they are not able to bail themselves out. I can only imagine how stressful it is for those who didn't expect things to go this way.
I cannot deny the fact that I am feeling disappointed with myself too for not taking action on the assets I should have let go but well, another lesson to be learned. Although I'm quite the stubborn holding on to them. But I won't waiver, it's not the end for me, lol!
Amidst the extreme fear and doubts and everything else around, the goal of BUIDLing my account is 100% intact no matter what. I was reading Jongolson's update earlier today and I got inspired to jump aboard the #MyHiveGoals ship to keep myself more motivated and driven. There is magic in writing our goals and I believe it has more when we let out in the open so I'm doing just that. I hope the universe will conspire with me to get them, of course with effort and consistent work :)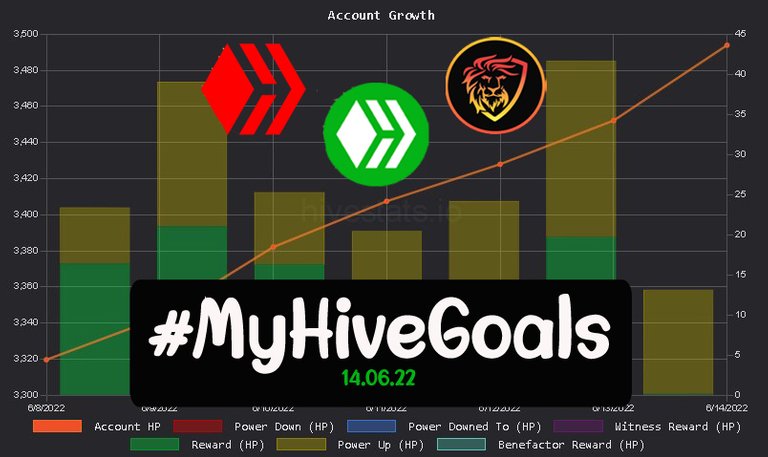 5k Hive Power
I started with 297 HP in January and my only goal back then was to reach 1,500HP at the end of 2022. Little did I know that I'd hit that on 1st April. I had to set a new target which is 3k HP and also crossed it off 1st of June which made me set 5k as the new target and that's what I am working at right now.
So where I am at?



5,000 - 3,507 = 1,493 HP more and I will be there, yay!
I have been staking HIVE daily since January 1st and will do so every day for the rest of the year.
And thanks to the Hive Engagement League for the extra 10 HP added to my account today. An awesome prize for topping the League for the recently concluded week. My third in the top spot if I'm not mistaken.
From 1st June, I've manually staked 231 Hive (HP) so my account is growing steadily.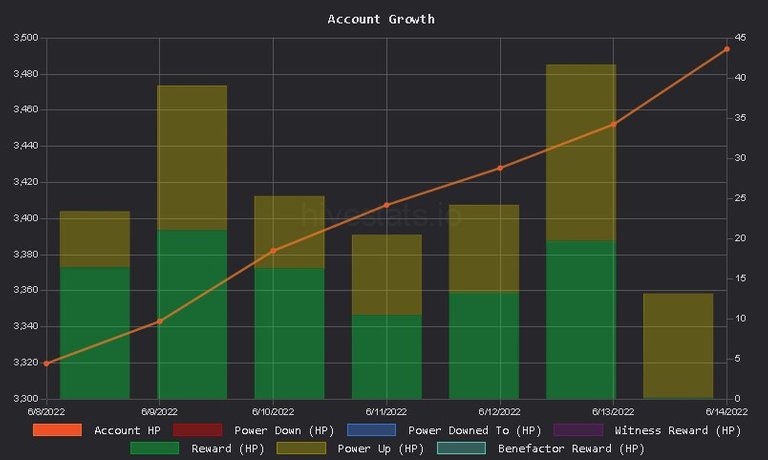 HBD Savings
I only started saving in April if my memory is correct. The 20% APR encouraged me to do so. I didn't set a particular amount for this but it's time to have one now. 1k HBD sounds right. 25% of my daily HBD rewards goes to this wallet so slowly but surely, it will grow.



1,000 HBD - 428.721 HBD = 571.279 to go

3k Leo Power
I started in LeoFinance 27th of March 2022. I didn't know about Leo Power then but learned as I stayed put. Now I am sitting at 1909 LP. This was possible because I was consistently engaging in the den and writing contents from time to time and also from buying LEO using a portion of my HBD rewards.




5,000 LP - 1,909 = 3091 LP to get there
The #LPUD is fast approaching and I bought some LEO in preparation for that day and I'd probably buy more later today. Also expecting some sweet LEO from Khal for outranking him in the last two weeks on the LeoFinance Engagement League so that will add up towards the target.
I have goals too for some Hive Enginge tokens but I will have to really consider them first. The above 3 are my top priorities for the time being.
It's good to concentrate on the numbers and not on the price. I think that's the way to go and avoid absorbing the sentiments of the market.
Thank you and cheers to the new week! Let's keep roaring!

Post divider, screenshots and or logos are obtained within Hive and LeoFinance. No copyright infringement intended. 140622/11:00ph


Posted Using LeoFinance Beta
---
---