Nature's Arts and Colors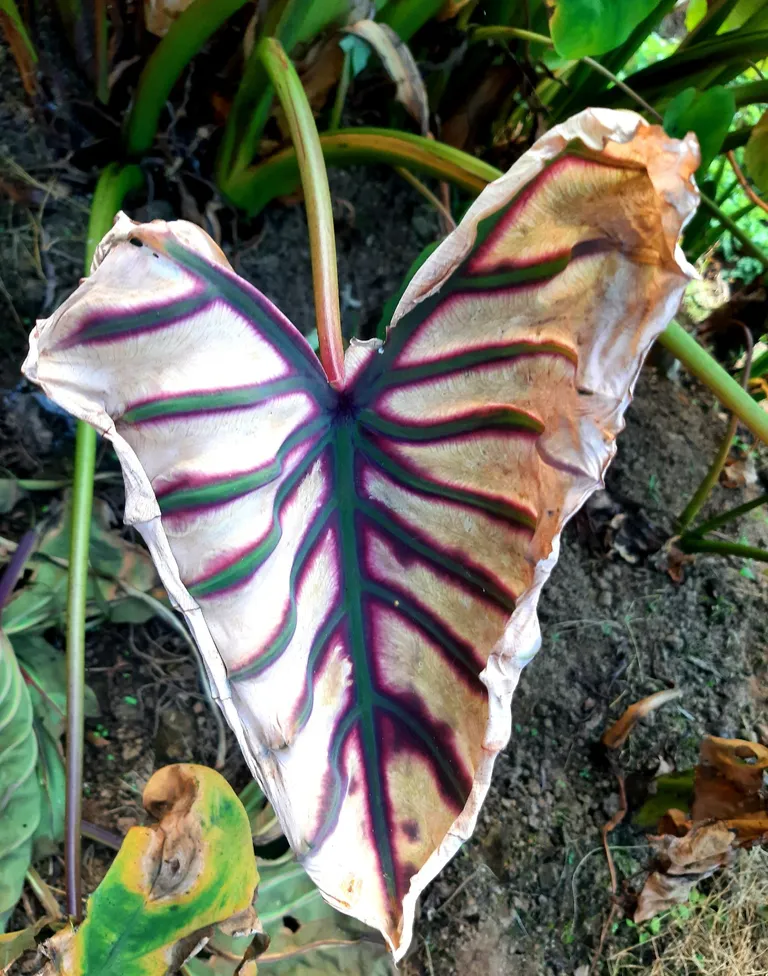 Natural art?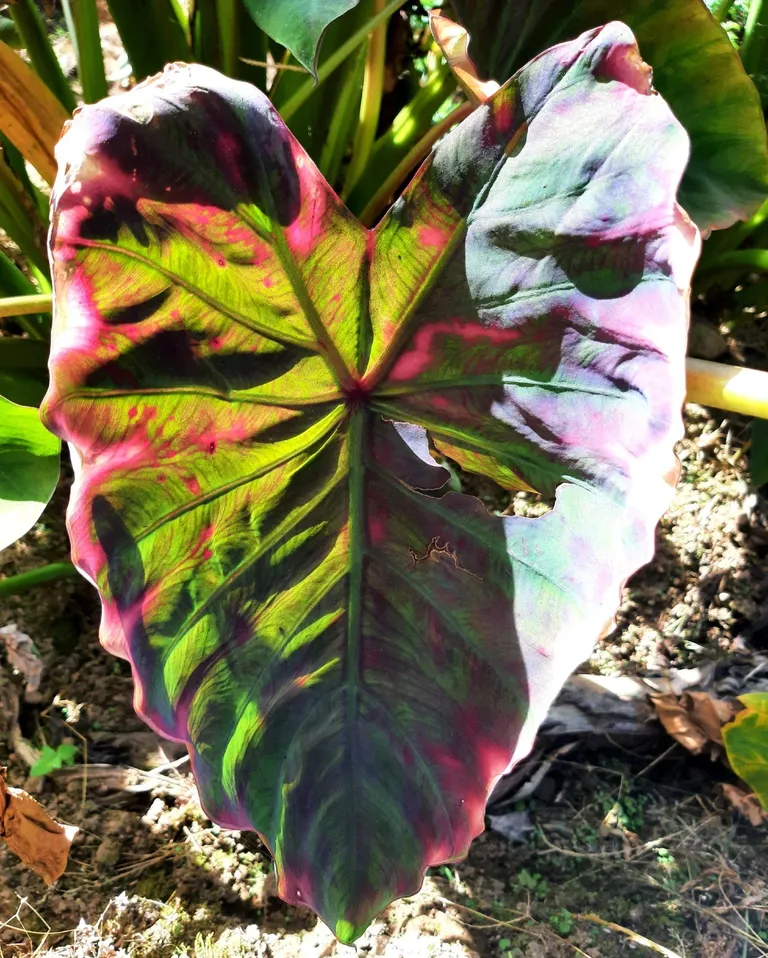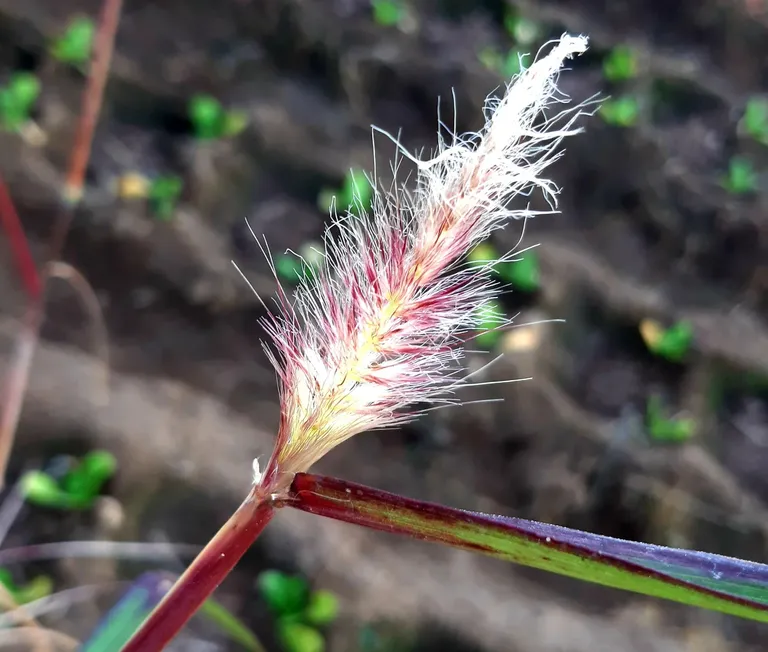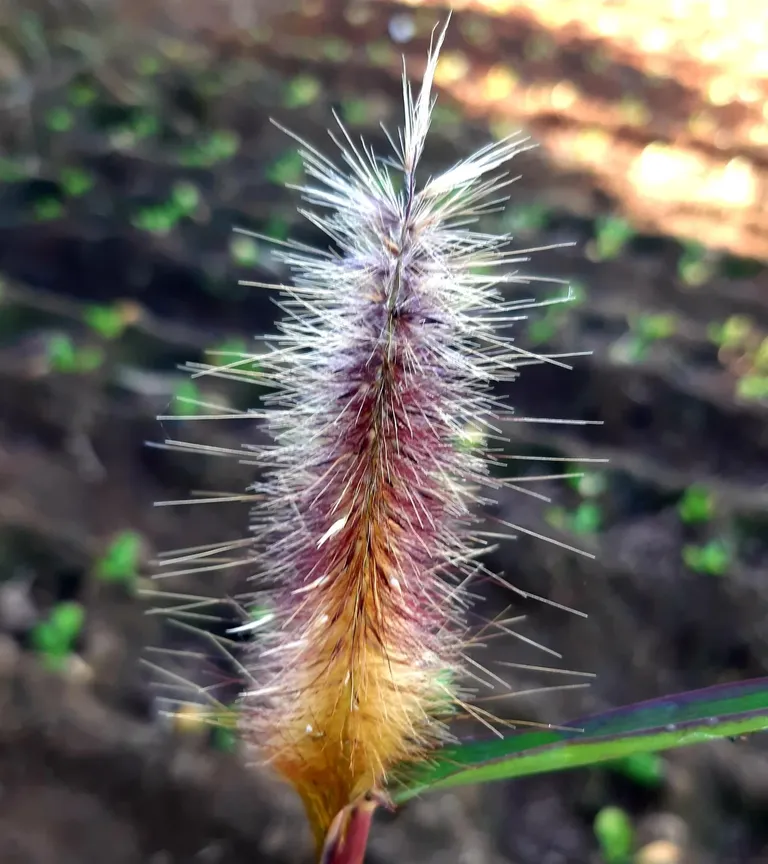 Yesterday morning before leaving the other house, I decided to go by the neighbor to bring them the bagful of dried fish which came all the way from Bicol. Because I'm not really a fan of fish and aside from deep frying, I didn't know how else to cook them so they had just been staying on the cupboard for the week. Then I remembered fellows from the lowlands seem to love fish so I reckon our neighbors would.
So yeah, I brought to them and they didn't refuse so I suppose they like it, lol! And while leaving their property, I noticed the gabi plant leaves that dried probably due to the extreme heat during the daytime. Not sure but whilst the other leaves were green and thriving, one leaf was different and I couldn't resist taking photos of it. And another, well actually a few more leaves were turning purplish, kinda. I wonder if they have sprayed something onto them.
Going down, I walked past some fountain grass growing just above the neighbor's farm. I could not stop myself from stooping down and examining closer the interesting spikes (if they are even called such). I even imagined a hairy caterpillar looking at it, LOL! The colors are quite fascinating so being me, it's pretty automatic to take snaps of it. Click! Click!
Meanwhile, today here at Mom's, things are looking good. My old man often makes jokes and mother laughs heartily that she usually gets teary-eyed. Her recovery is amazing so we teased the magic pills worked. Except needing help from getting off the bed, she can now walk slowly with her cane, dragging her right foot a bit but at least she can lift it, so yay! Makes me proud because I have so much faith in her and she's showing so much more.
Now, she's requesting to be out in the sun so this is all from me and I wish you a lovely day (night) wherever you may be.
Cheers!
Photos my own. 301122/09:50ph
---
---
Smile... laugh often... love more... be happy and grateful always!
---
---
For the best experience view this post on Liketu
---
---