The Weekend Battle on LeoThreads

Unless you have been elsewhere, you may have already been aware of the #WeekendBattle that ensued in LeoThreads on Friday at 00:00 UTC time. But for those who still don't know about it, the challenge was to SLAY (outrank) 4 people with respect to the number of threads made within a 72-hour timeframe. The four were rmsadkri, taskmaster4450le, anomadsoul and none other than the king of the jungle (LeoFinance's founder), khaleelkazi.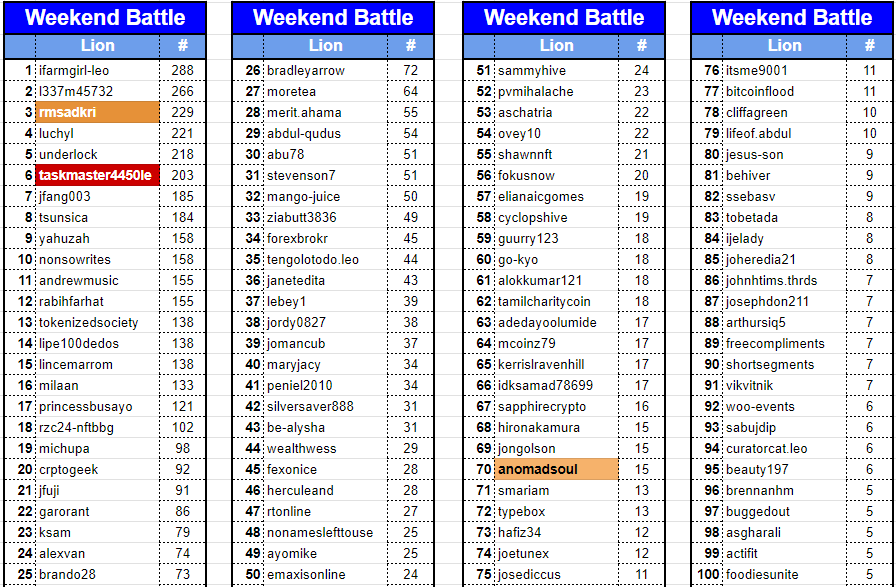 So what's the catch for those who will be able to slay them? XP points on the Adoption Campaign which is running on Zealy where a $10k USD is in the prize pool, NFTs, HP Delegations among others. These extra XP can boost one's rank on the campaign's leaderboard.
Anyway, the battle has just concluded a little while ago (midnight Sunday, UTC) and here is the final leaderboard.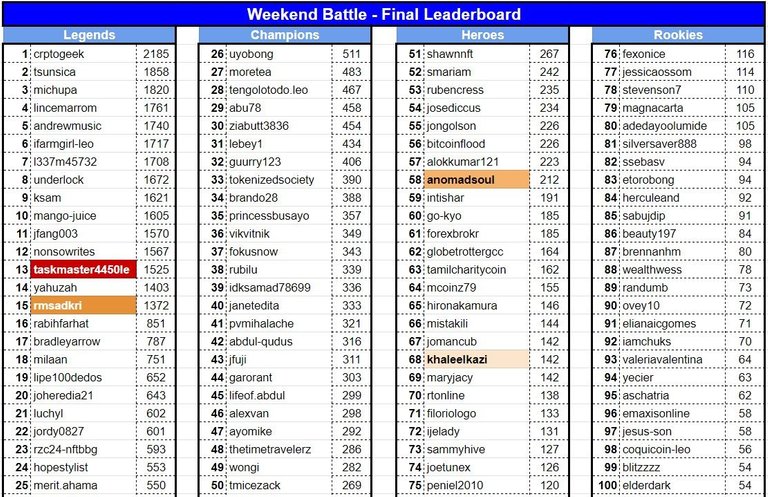 Whilst some people went on to work the moment the game started, others may have learnt about it after some time or may have just watched for things to happen. Nevertheless, most people specially those on the top 60 ranks have done their best if I may say so. It had been fun and the challenge made me learn some really good things.
The UI held quite well but...
The number of threads soared compared to the previous days from just about 5k to 10k to 15k and more. The last 24 hours alone, threads created may have been above 20k. The LeoFinance UI which is still on beta handled the activities quite well.
Except that it suffered a gateway error for about 2 hours yesterday. With just a few hundred people creating threads, the UI had such an issue. I'm not sure what the exact reason of the outage but the developers may have already checked and gauged how the infrastructure would be able to handle a lot more pressure as the userbase and the activities or transactions on it increase.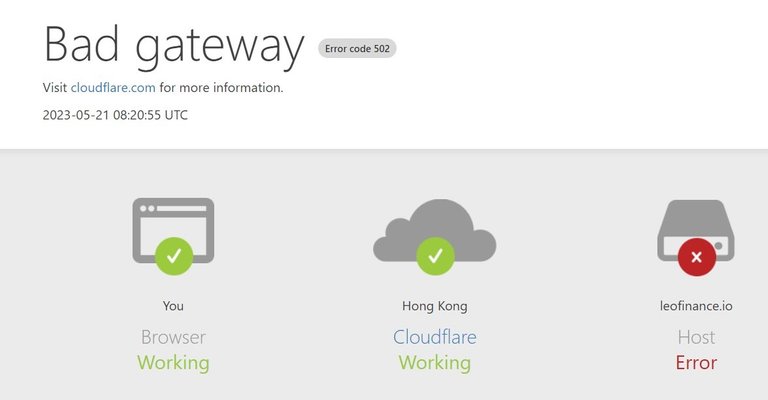 On a personal note, it has been proven that one can do or achieve things when he sets his mind into it and do the work. This may sound cliché but that's what this challenge has shown and I believe one can see that just by looking at the charts and the numbers therein. Some people have become committed, driven, consistent, dedicated to the extent of sacrificing their weekend, sleep and other things just to get what they want. While some stayed in the game and kept on to the end, others may have just given up and resigned.
I'm sure most of those who worked hard for this will agree that we can discover our own capability too when we decide to not quit and give it all we can to see things through. Of course, some good strategies employed help a lot. And we can't discount a good teamwork as the Spanish community have proven as well.
Anyhow, congratulations to all who made it! You all rock!
If you are yet to come aboard the Adoption Campaign, I invite you to do so by visiting this link. Do check out LeoThreads as well if you aren't there yet.

Screenshots from LeoGrowth update sheet. 22052023/10:30ph
Posted Using LeoFinance Alpha
---
---