Tokyo Beast: A Game of the Future
A new gaming platform that is said to be creating a new and innovative entertainment experience that combines creativity, Non-Fungible Tokens (NFTs), and crypto has recently been introduced and launched during Korea Blockchain Week, although the game is yet to go live.
A play-to-earn it seems! Except that the producer claims it is not just another Web 3 game.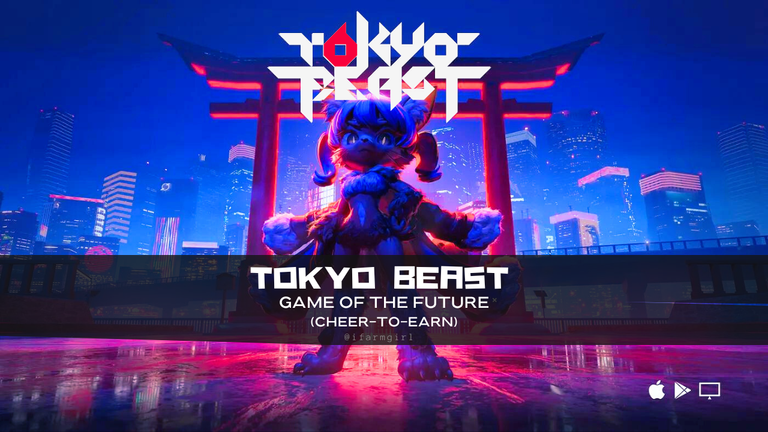 This is a game designed to be a fusion of anime creativity and NFT collectability, a betting system using crypto. Game players (NFT holders and betters) can participate in events from within and outside the game, create their unique and diverse characters known as Beasts, which they can use to engage in thrilling battles, embark on epic virtual adventures, and depending on the outcome, reap bountiful rewards.¹
Accordingly, the game is on the Polygon network and will offer a free-to-play version. There will also be a premium edition with enhanced features.²
The project claims to be "completely original and large-scale with many experienced staff members who have developed and operated famous Japanese games, and a development budget unparalleled for a Web3 game."³
It's not just another Web3 game. We're aiming for a true crypto entertainment IP project where Web3, Web2, the game's universe, real-world gameplay, investment value, and content entertainment all organically merge. (Naoki Motohashi)
The game is planned to be released in 2024.

Game Setting & Characters
The game setting is Tokyo in 2124.
The story goes that in the "era that was later called the INCUBATION OF REPLICANTS when replicants began to rise to prominence, a major project was launched. The name of the project is "TOKYO BEAST. It was a redevelopment of the replicant model BEAST, which had dominated the market for a time, and tied it to the NFT, which had been released 100 years earlier."⁴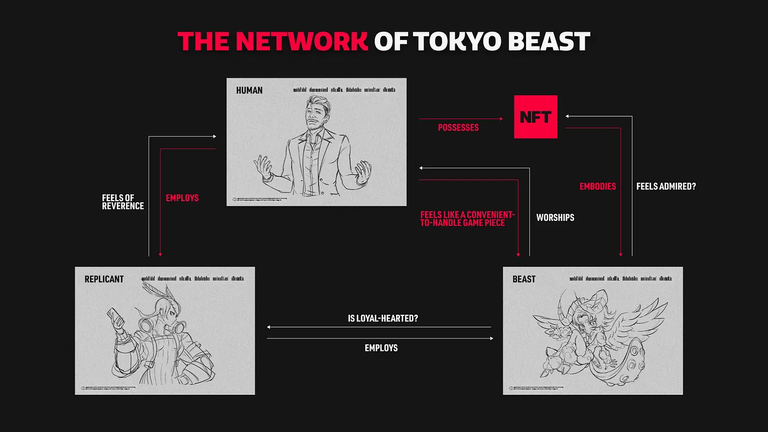 ❇️Replicants

They are Androids with a will. They serve as a workforce for humans. They work with PROXY Beasts to achieve good results and rise in Xenokarate, aiming daily to break free from the low hierarchy.⁵




❇️Humans

They own Replicants who work and earn income for them. They are at the top of the hierarchy and gain wealth by investing, buying, selling, bleeding, and strengthening BEAST NFTs, and lending their copy data, PROXY Beasts, to replicants to fight.⁶




❇️Beasts
Replicant models that had been redeveloped. These are what game players use to engage in battles.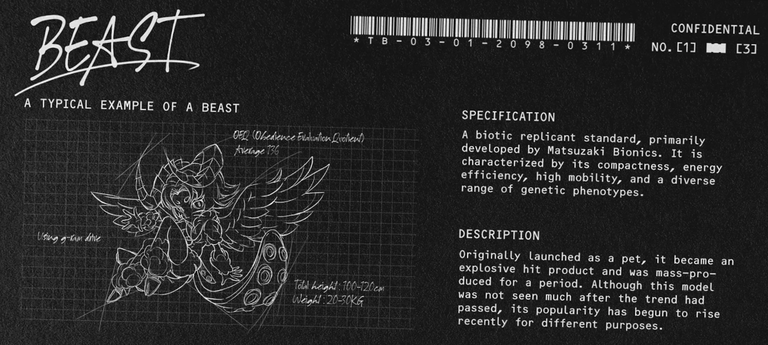 Gameplay
There has not been any disclosure about the gameplay but there are clues suggesting that it's going to be an interesting battle that involves NFTs.
Countless copies of a character are generated from an NFT and used in battle by game players. The more the copied BEAST performs well in battle, the more the BEAST NFT holder will be rewarded, increasing the demand for NFTs. Breeding BEAST NFTs and redesigning their genetics is the exclusive privilege of NFT holders. Your choices will create a new BEAST and alter the balance of power in the game. You can create new value for NFT.⁷

Core Modules
Apparently, these will be released globally and sequentially in 2024. The first erg called Incubation has the following modules:
BASE: This will allow users to experience the unique economy and investment of the game using the project's token, $TBZ.

Users will be able to earn rewards for staking and locking TBZ or purchase a LUCKY TICKET NFT to be entered into a weekly drawing that could win a BEAST NFT.⁸

FARM: A function that allows users to cultivate BEAST NFTs and experience their owners.⁹

TRIALS: a game feature that allows players (along with the Proxy Beast) to experience being a hero who fights with dreams and romance on his/her shoulders.¹⁰

Battles are strategic auto-command battles between parties of four Beasts. All players compete in the arena on weekdays, and the top 20 players will clash in the weekend championship for betting.src

Project Roadmap
There are 3 phases on the project's roadmap.
Phase 1: Official Website Launch

This includes the launching of its social media and the start of marketing.

Phase 2: Exchange Listing

Includes the release of Finance Functions, NFT Sales, and enabling of NFT Staking.

Phase 3: Pre-registration & Game Launching

Tokyo Beast Campaigns
There is an early campaign which started on the 4th of September and will run until the 31st of October. Winners will be rewarded with TB Mystery Box that contains NFTs (4 rarities - Diamond, Gold, Silver, and Bronze) and TBZ tokens. The higher the rarity, the rarer the prize.¹¹
Follow Me Campaign

Get a chance by following Tokyo Beast's official X (Twitter) account. The highest rarity "TB Mystery Box Diamond" will be given away to the lucky winners of the draws.

3 winners will be drawn for each target number of X followers being reached (5k/ 10k/ 15k /20k / 25k / 30k followers), a total of 18 winners.

Weekly Prediction

This will start on the 14th of September.

Follow the official X account and participate in the weekly prediction quiz on the official X account for a chance to receive a high rarity "TB Mystery Box Gold" by lottery. 15 people will be selected each week.

Strike Jackpot

A jackpot-style campaign will be held during this Early Entry Campaign. Each time a target number of live-streaming viewers or Official X followers is reached, a prize will be added to the jackpot, and a drawing will be held on Official X to determine who will win the jackpot.

Galxe

There's a community page of Tokyo Beast on Galxe and hop in and join the campaign on Galxe if you are up for it.

Summary (TL;DR)
Tokyo Beast is a project/game that involves anime creativity, NFTs, and crypto (TBZ). The project website is now live but the game is expected to be released in 2024. One of the goals of Tokyo Beast is to enable the participation of the general smartphone users, Web 2, and Web 3 enthusiasts.
The gameplay is not yet disclosed but there are hints that it will be a battle that involves NFTs. Players will be able to craft their own Beasts. From my readings, the game may also include betting.
Per the project's roadmap, it is currently in Phase 1 (marketing stage) and there's a campaign going on where participants can win TB Mystery Boxes containing different prizes.
As to whether this project will live up to what it claims to be or what it is trying to accomplish and launch a new and exciting immersive game, let's just wait and see.
For information only. Sources: Tokyo Beast / Medium / CMC / PlaytoEarn / YouTube / Cointelegraph

Lead image edited on Canva. Photo/Logo from Tokyo Beast. Screenshots linked directly to their sources. No copyright infringement intended. 12092023/10:15ph
Posted Using LeoFinance Alpha
---
---