Will I Ever Stop Growing?

I've stopped growing (physically) for years now, both in height and in width, not getting any pounds added to my weight even. But that's not the growth which I'm referring to on this post.
First of the month which means it's HivePUD and the 'growing' here means powering up or staking HIVE. It has become sort of a ritual for me, everyday (Hive Power Up Month) and every first of the month (HPUD).
Today is my 15th month streak and it feels good to keep doing it and seeing how the account grow steadily albeit slowly. And I don't see myself stopping anytime soon. The goal remains, enjoy the journey and keep stacking and increasing the Hive Power (HP). I tell you it's an addiction, one that I'm very proud of, hehe!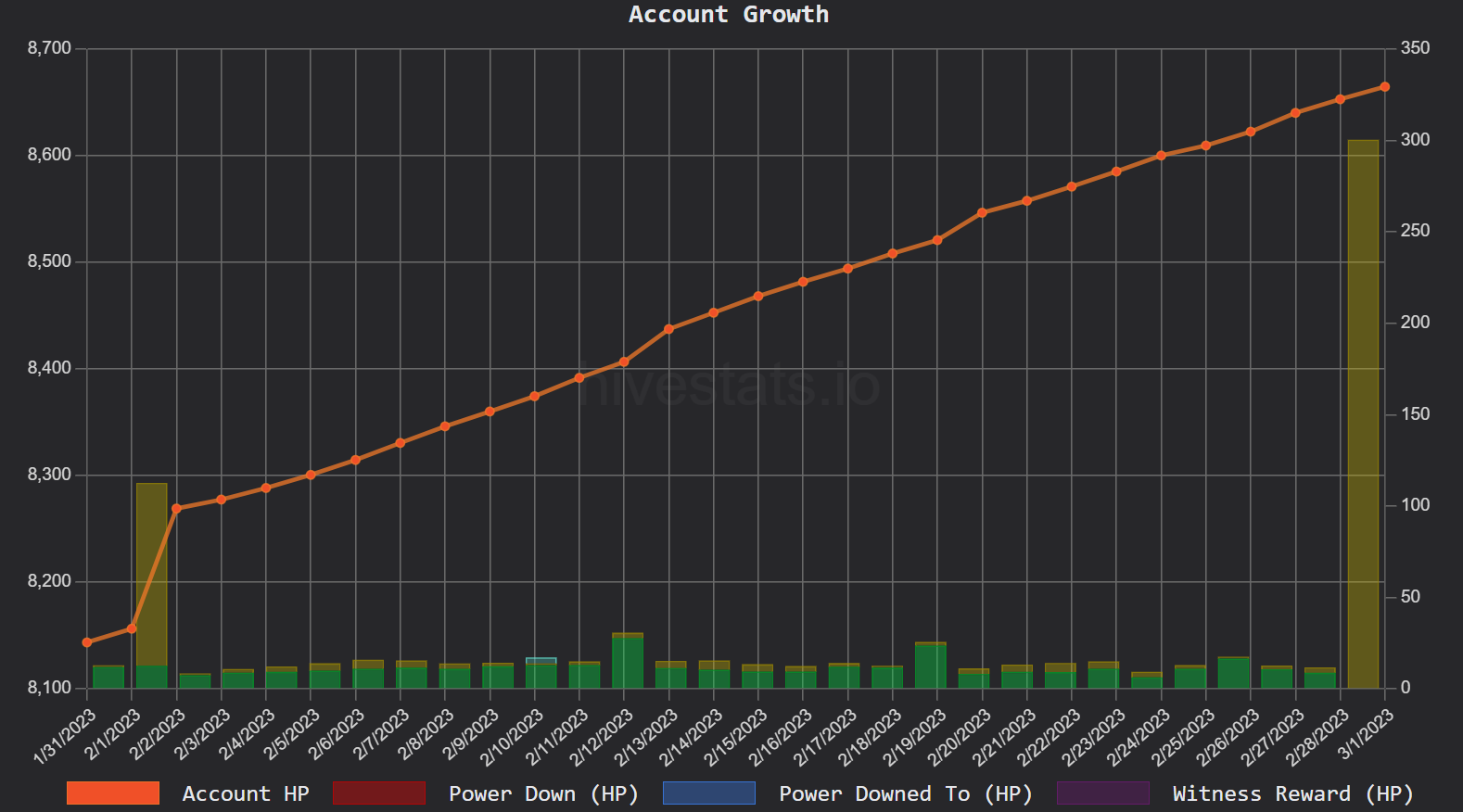 Anyway, here's a brief review of the previous month's progress.
Started with 8,142 HP on the 1st of February and ended up with 8,665 HP prior to today's staking. That is an increase of 523 HP (6%) for the whole month which is not too shabby but I somehow know that it can be improved. My monthly author rewards was 300 HP and curation rewards was 36 HP.

March HivePUD
I decided to power up most of the available liquid HIVE on my wallet and added 300 to my HP which made it to 8,965 at the time of this writing. Go forth HP and grow, please? LOL!

Staking LEO
LPUD is 15 days away and I couldn't wait so I just sent 100 LEO today. I figured keeping them liquid for the whole month and waiting to do it on LPUD kind of delays the growth so I sent them to work earlier, lol!

These LEO staked today are from my daily rewards for delegation HP to @leo.voter
If you are new and wondering, there are other ways to earn LEO, re:
Other initiatives

There are weekly writing prompts by @hodlcommunity

There's also the Crew3 Race which is currently running and will end in 3 hours time where juicy prizes are up for grabs, 5k LEO for the first placer. The next campaign will be on the 15th and a total of 10k USD worth of prizes are at stake.

There are other various ways, some I have not tried yet (like leasing your LEO Power) so I can't share them today.
Growing on Hive
We all know that consistency is the key. So if you just started and are being challenged, just keep on. Show up everyday and do meaningful activities - engage or interact with others, create contents, curate etcetera.
There is no shortcut I guess, or is there? Do tell me if you know, lol!
Cheers and let's keep forging ahead!

Screenshots are from Hivestats. 01032023/11:00ph
Posted Using LeoFinance Alpha
---
---