What Convinced You That Hive Is A Good Platform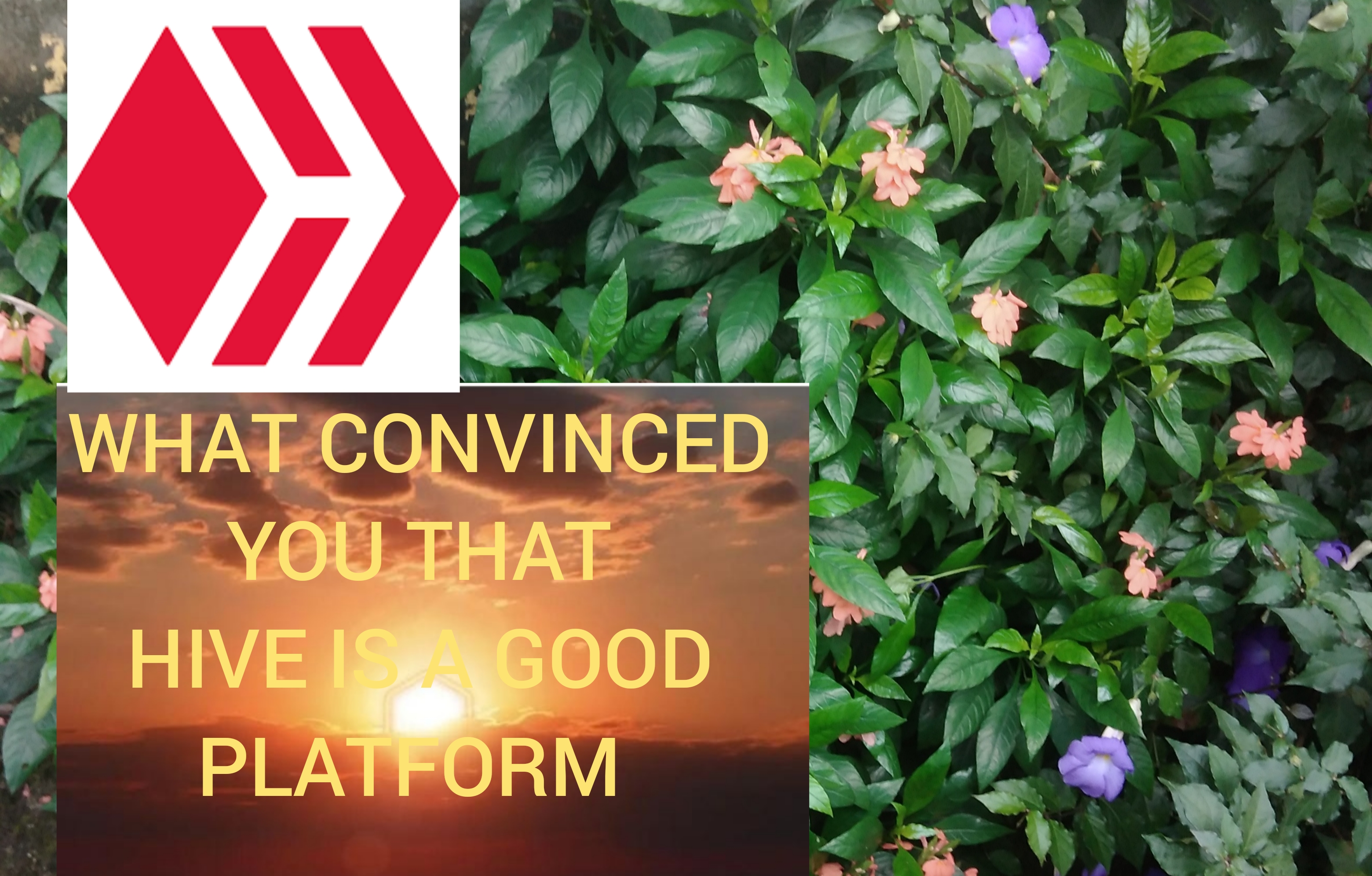 the picture is mine designed through polish app
What Convinced you that Hive platform is better than other social media platform. Was the question Mr Danson asked me
I have a very big Hive banner hung in front of my office. So many do come to know what is Hive blockchain. Because it is boldly writtenWELCOME TO HIVE
On Monday morning while sweeping the office, a young Man approached me and asked, what is Hive blockchain? I explained what hive is and what blockchain is and after that explanation, He said it is interesting if what you explained is true. He said to me that many online businesses has come and went away with people's money. How sure am i that Hive will not do the same.
I reminded him what blockchain is. It is decentralized meaning it is not controlled by one person. I gave him example of Bitcoin and asked Him, who is controlling Bitcoin. He answered holders of Bitcoin. Excellent i replied to him. I told Him that Hive is like Bitcoin ,it is a digital currency and it is controlled by holders too. You decide how many you want to buy and hold, you also decide when you want to sale it. And the keys of your wallet is with you.
He said that He is okay with the explanation i gave him about HIVE. I went on to tell Him that He can buy it on Binance and i showed him the process of buying Hive. He asked another question.
What is the different between Hive platform and others?
I asked Him, if he has Facebook page, he said yes and He has been using Facebook for 5 years now. I asked him the following questions.
How much he has earned from writing on Facebook?
Who has the power to shut Facebook down in a minute?
How many people own Facebook?
Can you copy my post and share?
How many Niche is in Facebook?
He told me that he has not earn money from Facebook because of using Facebook. He also said that Facebook is own by one person. He said Facebook does not have communities and you can copy and paste what ever you like.
I appreciated him for his answer. and then told Him that, if he will learn about Hive,he will be convinced like me that Hive is better than other social media platform.
Write and earn crypto on Hive
I explained to him what we do on Hive, we create original content and earn crypto for doing so. Our time and contribution is valued and appreciated. We have communities where you can write different topics and earn. I showed Him Leofinace as one of the Communities where you can write about marketing, finance and crypto.
I also explained leothreads to Him and He was like, where is this platform all this while that people don't know it. I told him that millions of people from different parts of the country already know Hive and have been blogging for years. He was so happy the way i explained hive to Him. But he asked another bomberlistic question.
Where do Hive get the money they pay people.
I did not talk much on this but showed him practical way it is done. I told him that each post pays out within 7 days. And earning is divided into two. The author 50% and the curators 50% i clicked on a post with value and showed him how the earning is shared and at last i voted a post and he saw how the earning increased.
It was then that i told him that it is a win win platform. How many hive you staked in your wallet, determine what you will earn as a curator or the value you will add in a post. It was not small explanation on how and where Hive get the money used in supporting authors.
Seeing the curiosity in Him about making money, I told him that Hive is not get rich quick scheme. And vote on all his post is not guaranteed just like, like on his post on Facebook is not guaranteed. People vote or like what they appreciate so He should not come to hive with salary in mind or over expectation.
At the end, he told me that he will make more research about Hive and how it works. I gave him the website and i showed him how to sign up if he want to join hive as an author or as an investor. I also reminded him the need to avoid copy and paste of anytype. All his post should be original free from plagiarism be it self plagiarism or unintentional plagiarism.
He expressed his gratitude for the time i spent to explain Hive to Him. He assured me that, if He understand Hive the way i do, he will be happy and he will share it with his colleagues. This afternoon, I recieved a call from a lady who said, Mr Anthony Danson gave me your number to explain Hive to me. Hive to the world
Conclusion/Summary
I know that with time, many people from my City will know about Hive and embrace it. I use to tell people that people who are selling Gold do not hawk it, they don't make noise because they are selling value. Hive blockchain is not get rich quick so there is no need of unnecessary noise only to get money from people. No Hive is giving to people so their work and accomplishment speaks for them.
Posted Using LeoFinance Beta
---
---