⭐️ Rising Star Giveaway - Whitney Houston week - Question of the Day [10000 STARBITS ] (Ends 19 September midnight EST. (UTC - 05:00 hrs)). + Game Stats and progress...
Hello and welcome to all the readers.
Yesterday's post ended Madonna Week. Today, i pick a new artist, Whitney Houston Nicknamed "the Voice". I will share the artist's album and a question to make it interactive.
In this round, you could win 10000 starbits. You just need to answer the question of the day.
Please read the rules before commenting to avoid disqualification or attracting downvotes. Winner will be drawn on 20th September 2023.
Please note, the end dates of the posts may overlap, this is just to ensure that more hivers can participate.
Question of the day: [winner gets 10000 Starbits]
Whitney Elizabeth Houston was an American singer and actress. Nicknamed "the Voice", she is one of the best-selling music artists of all time, with over 220 million records sold worldwide. In 2023, Rolling Stone named her the second-greatest singer of all time. Houston influenced many singers in popular music, and was known for her powerful, soulful vocals, vocal improvisation skills, and use of gospel singing techniques in pop music. She had 11 number-one singles on the Billboard Hot 100 and is the only artist to have seven consecutive number-one singles on the chart. Her accolades include eight Grammy Awards, 16 Billboard Music Awards, two Emmy Awards, and 28 Guinness World Records.
Whitney Houston is her debut studio album. It was released on February 14, 1985, by Arista Records. The album initially had a slow commercial response, but began getting more popular in mid-1985. It eventually topped the Billboard 200 for 14 weeks in 1986, generating three number-one singles — "Saving All My Love for You", "How Will I Know" and "Greatest Love of All" — on the Billboard Hot 100, which made it both the first debut album and the first album by a solo female artist to produce three number-one singles.
The album topped the albums charts in many countries, including Canada, Australia, Norway, and Sweden, while peaking at number 2 in the United Kingdom, Germany, and Switzerland.
This is her first album and many may have not heard it before. I confess i also have not heard it before. But, i picked this album as it's a start of a journey of a great singer.
I would request everyone to listen to the album.
You can read more about the artist and the album on wikipedia website.
https://en.wikipedia.org/wiki/Whitney_Houston
https://en.wikipedia.org/wiki/Whitney_Houston_(album)
Songs list:


source - google search
So my question is?
Which song did you like the most from her first album 'Whitney Houston'?
Hint: To qualify, please answer the question in few words, thanks. Please read the rules to avoid penalty.
Video source: Youtube.com
Rules:
Comment below your answer with your risingstar name (if different).
Any comments like 'count me in', 'i'm in' etc, without the answer to the question will be disqualified and may get a downvote.
Upvote and re-post not necessary, but it helps.
Share this post with your friends so that they can also participate. [spread the word]
The giveaway will end on 19/09/23 midnight EST. (UTC - 05:00 hrs)
Good Luck to everyone.
My game progress and stats:
Today, first i did my millionaire mission and then did 3 custom production missions.


Then opened two card packs.
Card Pack 1: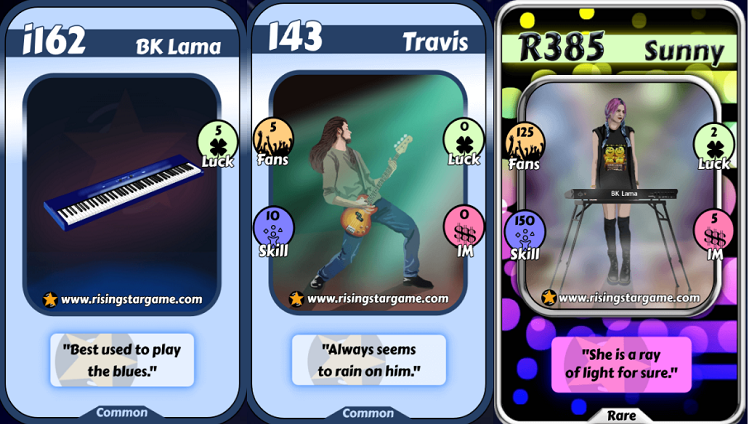 i162 BK Lama - 5 luck
143 Travis - 5 fans, 10 skill
R385 Sunny - 125 fanss 150 skill, 2 luck [rare]
A decent card pack. 3 duplicate card added to the collection.
Card Pack 2: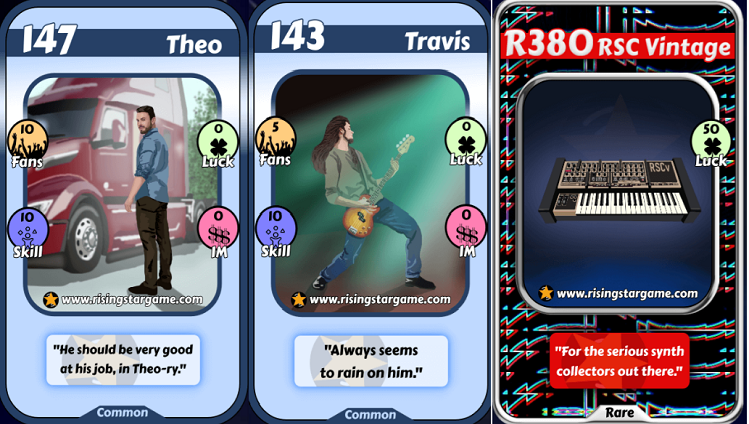 147 Theo - 10 fans, 10 skill
143 Travis - 5 fans, 10 skill
R380 RSC Vintage - 50 luck [rare]
A decent card pack. 3 duplicate card added to the collection.
September Goals:
| Task | Goal | Current Status | Balance |
| --- | --- | --- | --- |
| Level | 146 | 144 | 4544 XP to next level |
| *Starbits | 130000 | 148391 | - |
| *Swap / Music Promoter/ hive-engine | 80000 | 0 | 80000 |
| *Custom shop missions | 25 | 10 | 15 |
| Ego | < 10% | 0% | - |
| Ranking | < 200 | 214 | - |
Game Stats: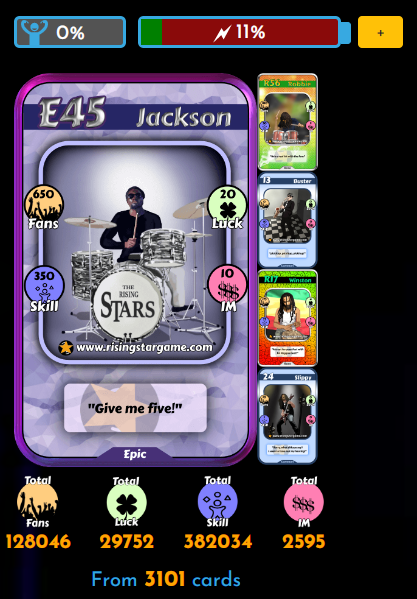 Skills 107589 - from cards, 274445 from lessons
Fans - 125804 from cards, temporary 2242 minus 0 fans at a rave.
Luck - 29752
Cards - 3101
Ego from fans - 128046 (2242 temporary drunk fans)
Ego from missions - 70735
Total - 198781
Starbits doing Millionaire missions - 90000
Players Ranking:

---
Thank you for reading my post.
Have a nice day.
Farhad
[imfarhad]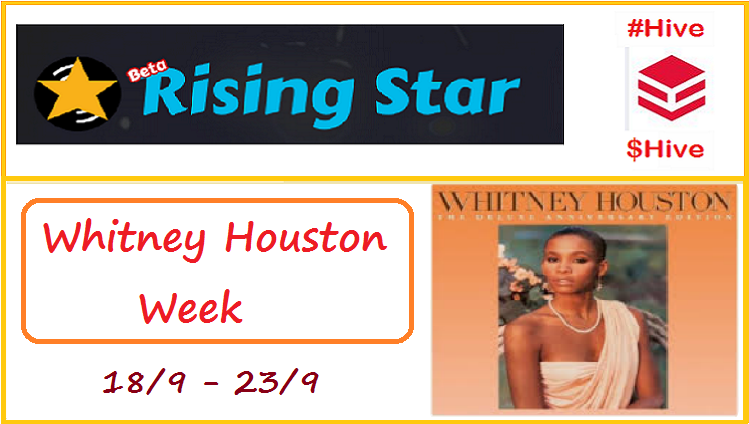 Start your risingstar journey. Join risingstar using my referral link: https://www.risingstargame.com?referrer=imfarhad
Please don't create multiple accounts you will be banned.
Failure is not the opposite of Success. It is part of Success.
--- William Ritter
Previous post - https://peakd.com/hive-195370/@imfarhad/rising-star-giveaway-madonna-week-queen-of-pop
---
if you like my content, please buy me a coffee at https://www.buymeacoffee.com/farhadkias
---
Have you heard of ctpx?
At ctpx, everyone has a chance to win ctp tokens every hour. Every 10 websites you explore you get a chance to win. My Referral link to signup ctpx - https://ctpx.io/?ref=imfarhad - thanks.
my offer - Join using my referral link and Xplore 50 sites, i will send you 50 CTP tokens.
Note: Please do not create multiple CTPX accounts
---
---