Ramblings About USD And The Bear Market
Before I go into this, let me make it clear that I am not saying I think we're headed for a rally or that a bear market/recession isn't coming. I'm just looking at possibilities because don't nobody know nuthin anyway. Also, this is all pretty stream of conscious. Welcome to my head.
The bear market
There's barely a person out there right now that isn't calling for the long bear market and I completely understand why. There aren't many reasons for anything other than a bear market right now.
The market has forced the Fed's hand like it always does while Jay Powell stands up on the podium and tells everyone it's their guidance that's pushing the market. Make no mistake, the market is the one doing the pushing while the Fed flails.
But with all this pushing and all this bearishness, it's important to remember that while the market is always right, the participants inside the market are usually wrong.
This idea makes what I'm seeing in the DXY (USD Index) chart pretty interesting to me.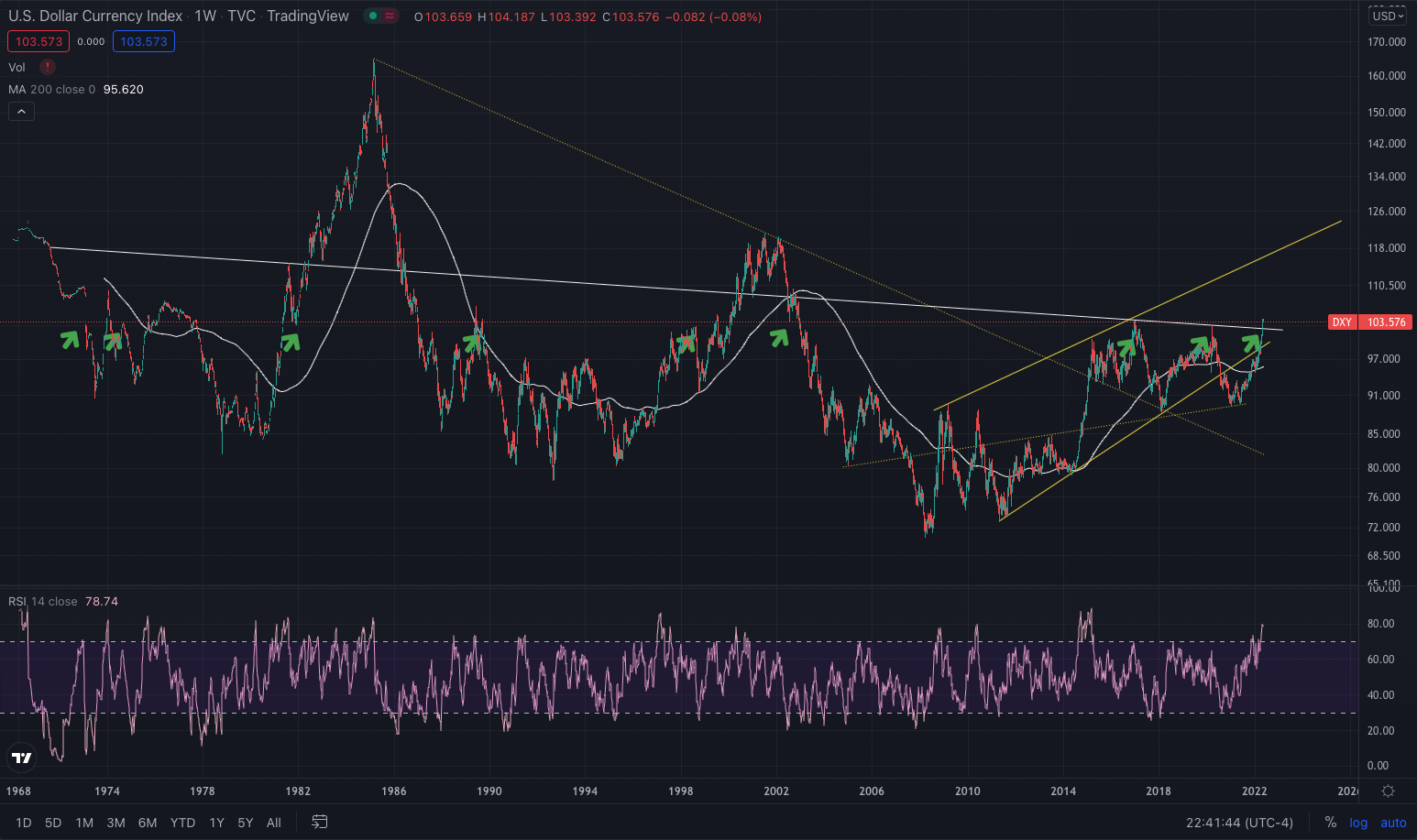 Above is a chart of the USD index for about the last 50 something years. See where we are right now? Now go back and look at all the green arrows to see all the times price has run right to this spot and reacted off the line. This price, for whatever reason, has mattered to the USD index for 50 years.
Since the late 1970's its only spent about 6 years above it. It was most convincingly above it in the early 1980s and then it got back above it again 20 years ago in 2001ish and that's it.
It's also interesting to not that in 2001 it didn't get nearly as high over it as it did in the early 80s and it stayed there for half the time.
This makes some sense when you consider the whole chart is trending lower with a series of lower hits and lower lows.
In fact if you trace the trend line between the two tops you can see we trended above that around 2014 but are still well below the high price. Then three times since 2015 we've come back and tried to push higher than where we are today and failed each time. And each time the narrative was the dollar was definitely going higher and the market was toast.
Then in between we had those downtrends where everyone would tell you the dollar was toast and would never come back. Well, if you look at the trend, we are now well above the downtrend we've been on for 50+ years but still struggling to get above this 50+ year resistance price.
More interesting than that though is if you look at the daily, weekly, and monthly RSI, they are all currently in overbought territory.
Now the DXY has been known to have this happen and then still manage to find a way to consolidate and push up higher. And it's also worth noting that right now, DXY looks to be trying to do the same thing.
Take a look at the monthly chart and you can see that in late 2014 when we hit overbought just as we crossed over the 200 month moving average, it just kept right on going higher. Where did it stop though? Right at this price. Since then the 200 month has acted as support.
And if you look to see what its doing right now, it crossed that long term downtrend line we saw in the weekly chart above that its also only been above a few times i the last 50+ years and bounced off of it perfectly as new support. Now this monthly candle hasn't closed yet so its not official yet but so far its acting like we might be using this as a launching pad. That would fit the ever popular super cycle narrative that's been around for the last decade.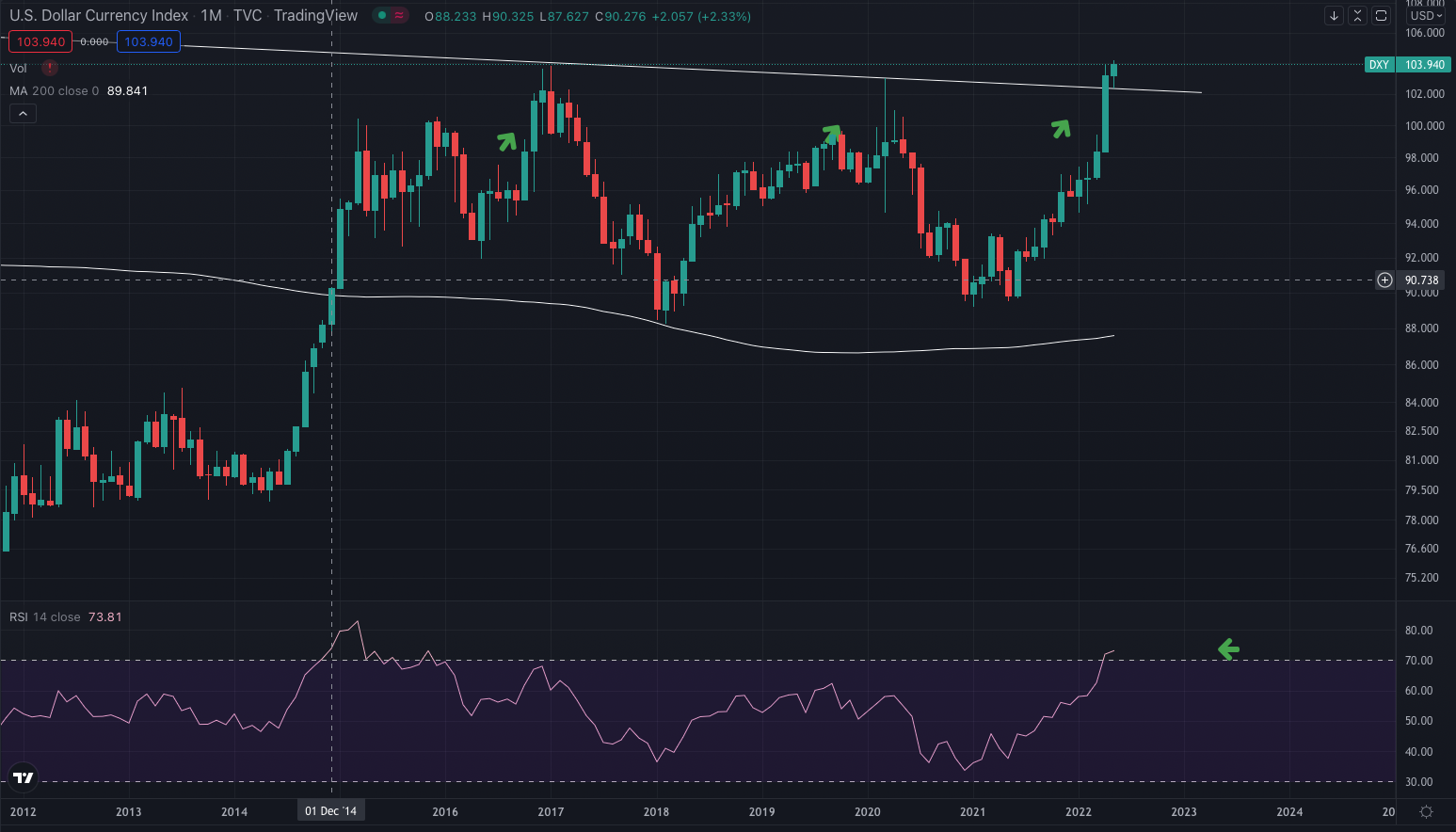 Just for kicks, let's take a look at the daily chart too so you can see what its been doing and where we are on the RSI.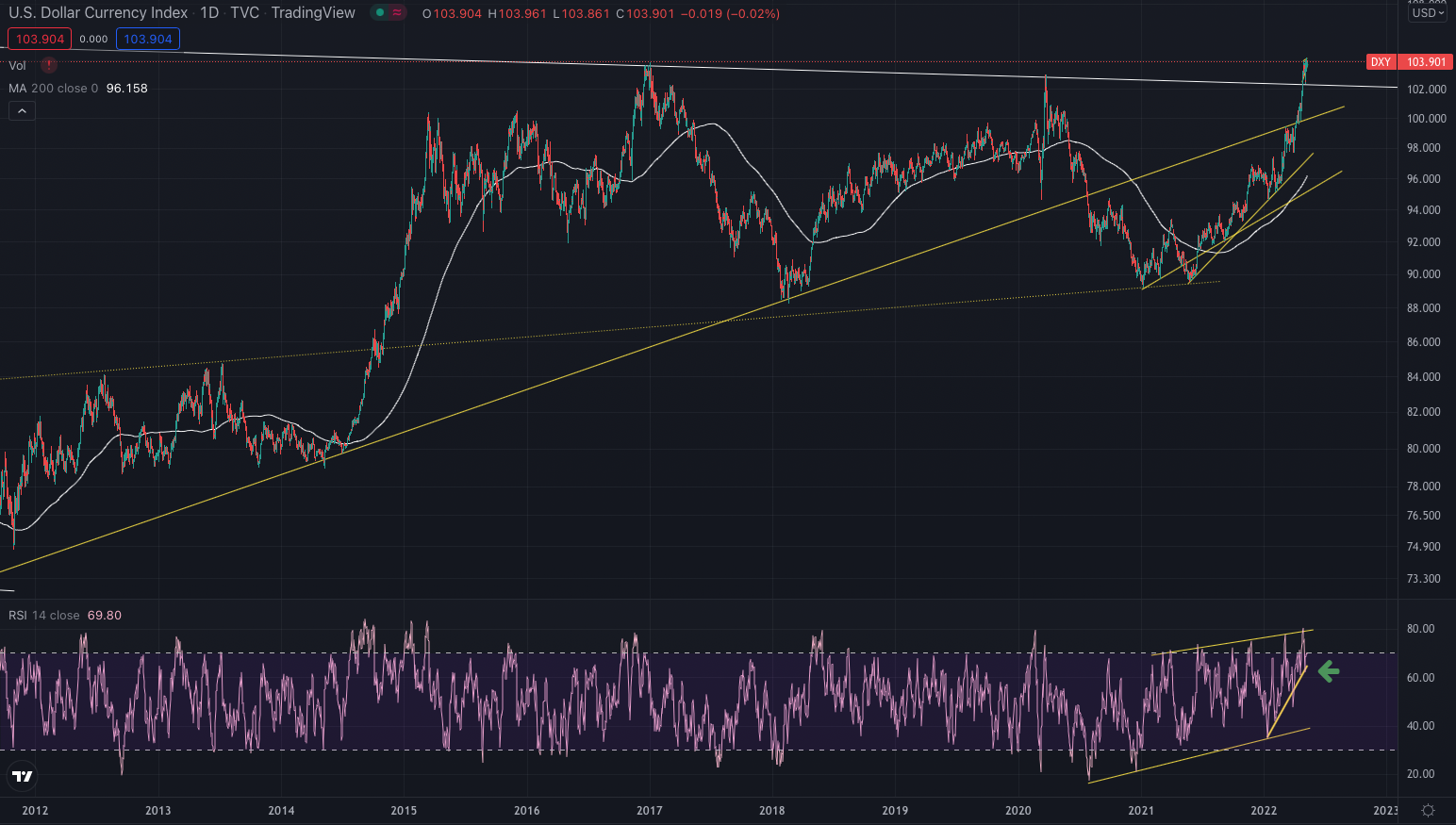 On this zoomed out chart you can see that long term down trend line we looked at in the daily and weekly charts that we just crossed over and it now acting as support.
You can also see that for years we've been bouncing between that yellow uptrend line and that white downtrend line perfectly. Then when the pandemic hit in 2020 we dropped below it before bottomming out and heading back up. In this time we formed a rising wedge which is actually a bearish pattern as price gets squeezed into a smaller gap until it usually breaks down. But as we can see here, it didn't do that. Instead it burst to the upside as it hit overbought and then even blasted through a trend line it hasn't been above in 20 years.
I've talked about these movements before. They are happening more and more. The fake-out move. When the chart says one thing is most likely to happen and instead of that happening, it moves with extreme force in the opposite direction. If this isn't extreme force in the opposite direction I don't know what it is. Usually, this is a set up for a big move coming in the way you originally thought after it sells you on the idea that you were wrong and you jump on board the other way.
Now this isn't a stock. This is the most important currency on the planet. When it pulls a fast one, no one is spared but its still the market. And just like we said before, the market is always right but the participants are usually mostly wrong.
This set up is either an incredible fake out where not only does it turn around but it does it with force which would have it not only reenter that wedge it started building last year but following through with the breakdown.
To further support this possibility, go take a look at the RSI. See how it is now wedging together in that bearish wedge pattern that at some point should break down because it will have no where else to go but down?
So what I'm saying is this is either the super cycle playing out where all the rules go out the window and the dollar hits new highs which causes another great depression and resets everything, or, this is a fake-out that's going to send the market's screaming higher when everyone least expects it and this is the fear event that has every one who came in saying they are early selling for a loss before it all takes off without them.
That idea is one I've had for a while. Whether it's from a fake-out or a depression, most people who are in now and happy to be early are not going to be in when it matters. Little people don't get to be early. It's not how it ever works and web 3 isn't going to change that.
So since we all know what could cause the depression scenario, let's take a look at what could cause the sudden reversal.
And for that, it's pretty simple. Supply lines come back online. The world gets flooded with inventory, prices of commodities and goods crash, the fed has to pivots to rate drops, governments start buying up inventory to help industries not go under, the market gets flooded with cheap dollars and suddenly we are at dow 50k by 2024.
But it doesn't really need to happen that way.
A much easier scenario would be CPI, etc comes in lower than expected this month or next, Wall Street realizes that even though the Fed is still going to raise rates a few more times and cut the balance sheet, maybe they won't quite do it for as long or as much as the market has priced in to that point and while the little guy investor thinks the market should be going down still because inflation is still nuts and the Fed is still raising rates, the smart money starts buying hand over fist.
The talking heads and youtubers call it a fake-out move and start showing charts of all the other fake-out upside moves like they always do. The little guy investors keep shorting, get crushed, have no money to buy back in, and suddenly we have bitcoin 100k and Dow at 40k by the end of the year while DXY breaks down and thousands of people kick themselves because they were early and now somehow it managed to take off without them. It's a pretty normal story for small investors to tell.
If you can't tell, this whole post is just me thinking out loud.
I hope you've enjoyed this time in my head lol.
Anyway, I was going to write more about this next zoomed in daily chart but this is too long as it is. Still it's interesting to me. Bull flag above resistance with RSI consolidating and a deliberate successful backtest of the resistance/support line anyone? Or is it a bearish wedge that's already in nosebleed territory at a level its struggled to get above for 50+ years and an RSI wedging into a no where to go but down scenario?
Charts!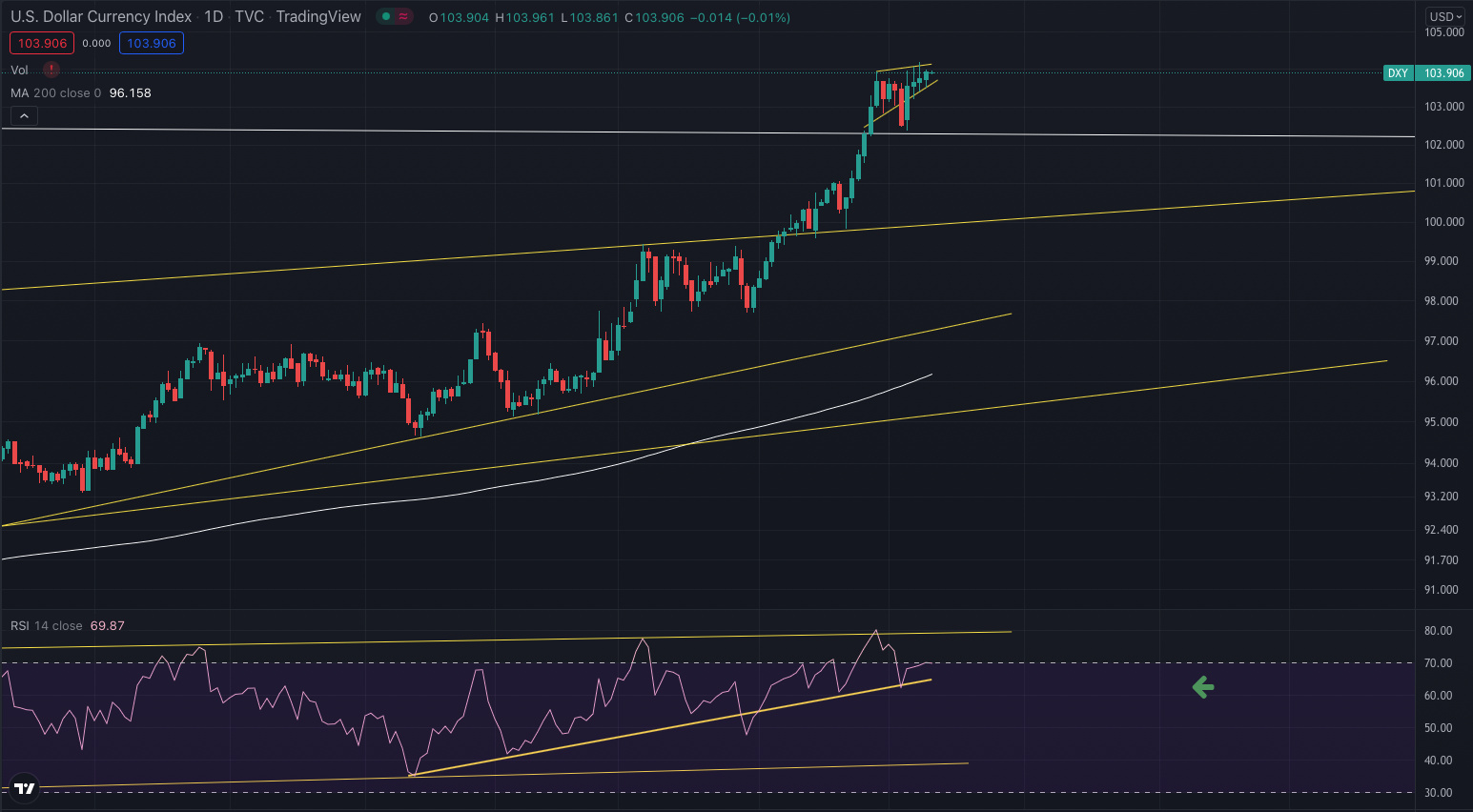 Posted Using LeoFinance Beta
---
---