The New Floor in Gold Foil Cards is $12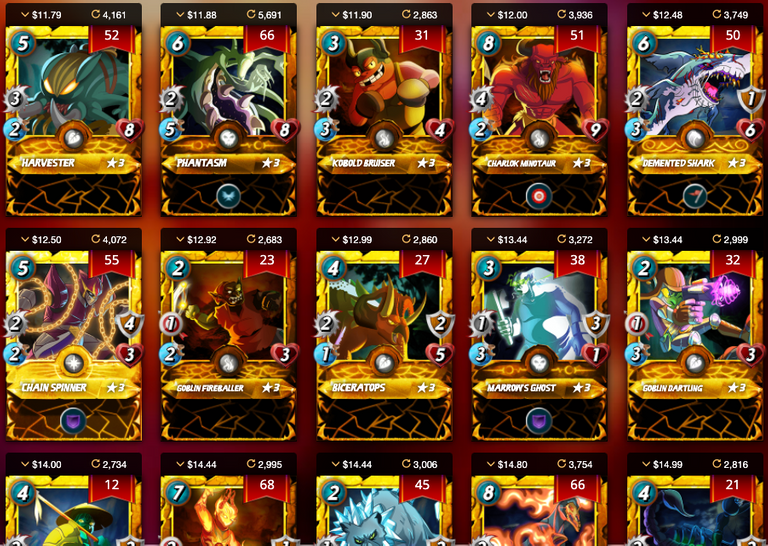 Not financial advice. I have constant brain freeze.
About 4 days ago I made a post about the floor in Gold cards signaling the next leg up in the market. At the time prices went from $5 where they'd been for close to a month to $48 pretty much overnight. Before I went to bed last night they had jumped again to $10 and upon waking up today I see they are up to $12.
That's not all though. Take a look through the gold epics. A few days ago I was buying a variety of the cheaper ones for $110-$150. Now the floor is $150 (only one monster left at this price) and many of the ones that were $120-150 like Lunakari Mistress and Torhilo The Frozen and Coral Wraith are all pushing $300 now.
But where the real action has been is in the OG Alpha and beta cards at all levels. Let's look at some Alphas.
Alpha Epics had a floor of $35 just a few days ago and now have a floor of $70.
The Alpha Rares are moving up too. The floor is still low enough at $14.50 but that was $6 last week. And there's only one at that price. If you look at these market structures, you'll quickly see why.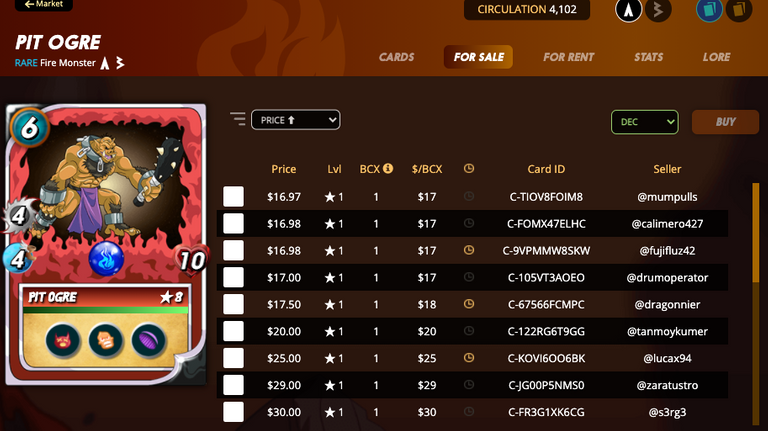 Look how thin the floor is. Just six buys away from $25 being the new paradigm and this is the second cheapest of the bunch. And this is how things move up. I detailed how I move markets in my last buying spree post. I'm not the only one out there doing this.
Even the alpha commons are getting in on the action. There are three cards left that are in the $4 range before the whole floor jumps to $6. Again if you look at the chain, you'll see it's just a few sellers who are way below the market with their prices. If someone came in with $600 and bought out the floor on a few commons, the floor for the whole space would be over $7. Instant profit and the catalyst to start the next leg up.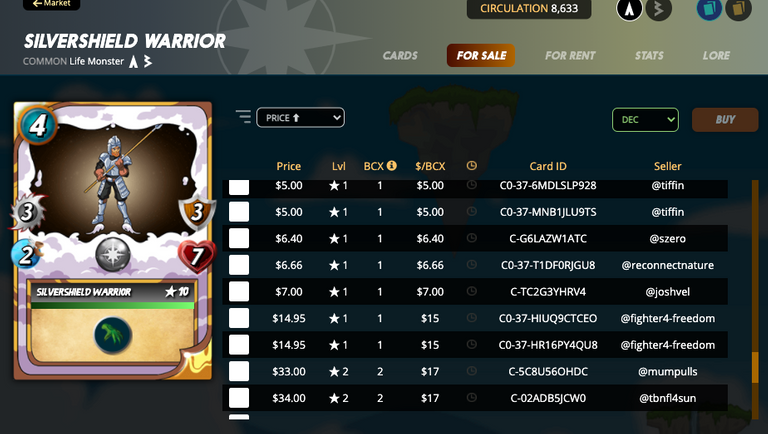 Yesterday I posted about Alric Stormbringer's meteoric rise. Last week the gold foil alpha was an insane $499. This week the normal ones have risen to $250 while the Gold Foil has one left for sale at $2500. Once 4 more Alric's sell between $250 and $299, there will be no more on the market except a few lvl 8's.
I fully expect Gold Foil Alphas to go over $10k soon.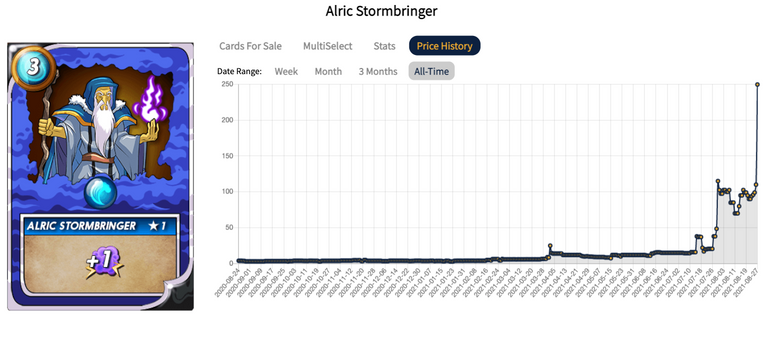 There are several Alpha and Beta Golds right now that just don't have any sellers at all like Gold Foil Alpha Cerberus and Gold Foil Beta Defender of Truth. Even at 50x price increases over the past month, people still aren't willing to entertain the idea of parting with their more rare cards.
There are some other like Gold Beta Serpent of the Flame where the bottom listings are $10k plus. It's been said that something is only worth what someone is winlling to pay for it, but if no one is willing to entertain the idea of selling for less than $10k, that means the most "paper handed" owner is effectively a buyer up to $9999.
And let's not forget Furious Chickens which I did a post about a few days ago pointing out the absurdity of their then low $34 price which are now $60. Spoiler: it's still too low.
As I've posted about before, the the bottom gold cards ran from $5 to $8 and no one came in to sell, the market signaled bigger money that it was ready to move. And I think what we are seeing now is that bigger money starting to roll in.
The other side of the story is sellers are pulling inventory or just not listing. When you see 20 listings at $4.00 and then the next one is at $8 in a market like this, it signals there are 20 units that are undervalued. Sellers right now in almost every single listing are undervalued and money is coming in and snapping up those deals.
With 130k active accounts, we are still playing in the kiddie pool with these prices. Wait until the actual whales get here.
Not financial advice. I eat crayons.
---
---