Whales Want You To Succeed--My Personal Engagement Challenge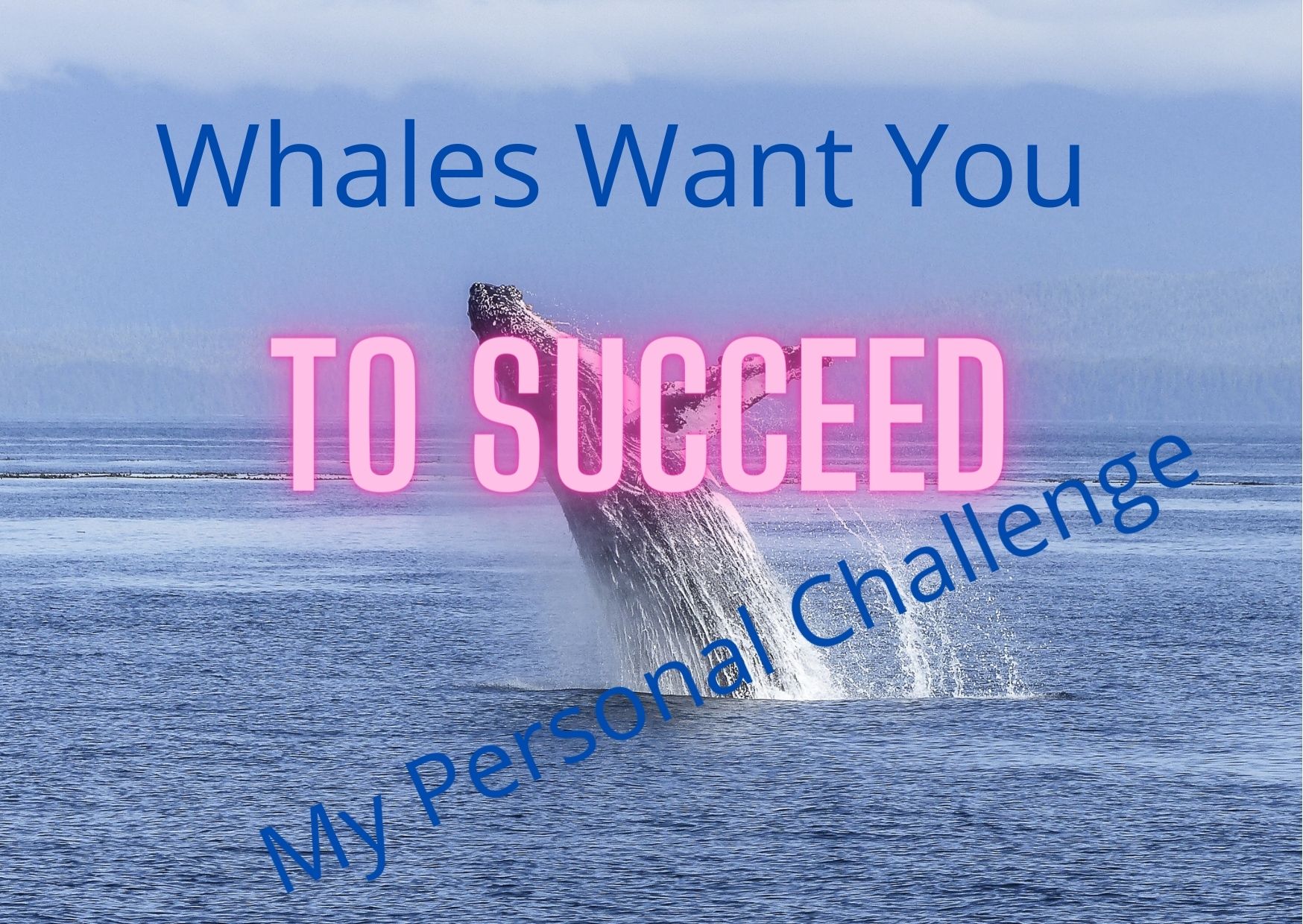 These past few weeks there's been some great content on Leo suggesting how to be a more successful Hivean. It keeps coming down to one truth:
Successful Hiveans (and people in general) are those who provide value. The way you provide value here is to engage, engage, engage.
Not just by putting out quality posts and hoping people find them but by consistently showing up in the comments of other people's posts with meaningful insights that further the conversation.
Engagement enriches the content and the community. It's those two things that determine the value of these silly tokens we love to stack.
Thoughtful comments helps the author and other readers see different perspectives, they make content more relatable and even, they help you organize your thoughts, get ideas to write about, and become a more efficient writer and thinker.
More selfishly comments get upvotes and get you noticed.
Get Seen - Build Influence
Fat upvotes are great and they are a big reason why most of us are here. Eventually they'll even help you build enough of a bag that your bag alone will give you some influence. When no one knows you though, the upvote isn't the show.
The show right now is you. You're out there now to let people know that you are here and you offer value. To do that, you want to be in front of the most people possible and that means interacting with popular content first and then if you have more time and energy, filter down into other content that really piques your interest.
How do you know what's popular? It's the stuff on top of the LEO homepage that already made all the money. Here's the thing though, if you're engaging with the content that's 6 1/2 days old, you're probably not maxing out your visibility. Not only will the content not be up there tomorrow but most of the engagement and reading has already been done.
You want to be there when its fresh. You want to be there when new eyes are still finding it and starting to upvote it and make their comments.
How do you do that? Simple. Take a look at what's popular now that's interesting to you, make a note of who wrote those articles, then follow those people and watch your feed.
You can also glance over to the new content column and see which authors have content in both places. Then grab on to that newer article, read it, and engage with the article and the commenters on the article.
More often than not, if you do this, you'll end up engaging with a lot of whales and their content.
Talk to those whales
When I first heard the advice that new people should make an effort to comment on whale content so they notice you, my first thoughts were, "makes sense but it sure sounds scummy".
The funny thing is that the advice is mostly coming from whale accounts. Not only that. If you look at the engagement numbers, the people who are engaging the most with other people's content are the same whales the little guys are trying to get the attention of by commenting on theirs. They might as well be holding a sign saying come talk to me.
Many people fall into the trap of thinking whales are just people who bought in big so they could bully the roost. But the truth is many of them are people who just contribute more than anyone else and are therefore rewarded more.
And guess what? Whales want you to be rewarded too. Because if you're being rewarded it means you are doing things that create value for the community that they are now heavily invested in.
A smart whale would rather be a large fish in a huge pond than the biggest whale flipping around in a kiddie pool.
The whales want you to succeed. They want to reward your quality content. They want your content and your engagement to bring value to their investments so they will reward you handsomely for it. Whales want the people who help enlarge the kiddie pool to stick around.
And you need to be noticed if you're ever really going to be able to meaningfully help enlarge the pool.
My Personal Engagement Challenge
With all this in mind, I want to set a challenge for myself this month (May 5-June 5). It's a challenge I hope to learn a lot from and maybe be rewarded for. It's also one I think everyone who isn't already doing it should join into.
**For the next month, I am going to make sure I make at least 15 comments each day using the Leo Finance front end. **
I don't have any specific LEO or HIVE stacking goals, just the activity goal. I'm doing what I can control and letting the outcome happen however it happens.
But I will still be following these bag size metrics and a few others to help me understand the results:
My Hive bags
My LEO bags
My follower count
My reputation
So here's my beginning numbers:
|Metric|Current|
|-|-|-|
|Hive Power|847|
|Leo Power|528|
|Followers|92|
|Reputation|59.19|
Of course I don't plan on stopping there but for the first month, my parameters are simply at least 15 comments per day and to see what happens.
Hoping to learn a few things
What I find quite often when I do things like this is that I learn things I never expected. This seems like an easy and straight forward exercise and it is. But there's always things that jump out of these experiences beyond what I expected to happen and I can't wait to see what those are and share them.
To explore this I'll be doing a weekly check-in post.
To close I'd like to thank these people for helping me to figure out how to do this Hive thing better.
@forexbrokr
@taskmaster4450le
@littlebee4
@hitmeasap
@jfang003
@khaleelkazi
@niallon11
Thanks yall
Posted Using LeoFinance Beta
---
---