Richlist Strengthens its stakes further

@hranhuk was the biggest beneficiary of the #pob price changes in the last week with the gain of 6 positions followed by @brofi and @nonsowrites.pob with 4 positions each.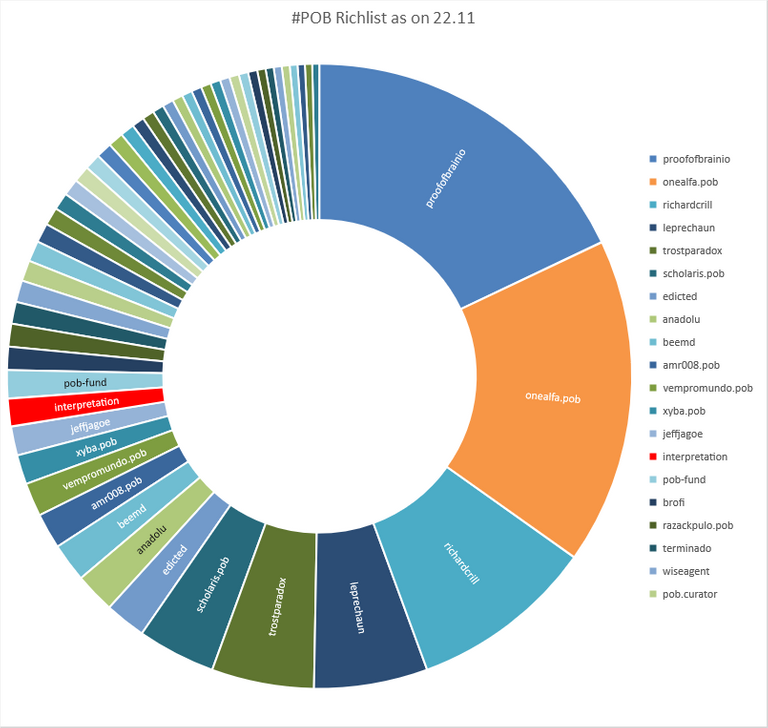 Highlights of Last Week
Highlights of the week
Ranks for 14 accounts, were unchanged during the week. Whereas last week there were 15 stable accounts.
27 Accounts gained the positions from the previous week. Last week 27 accounts lost the positions. This indicates some whale has left the rich list.
6 Accounts lost their positions in last 7 days whereas in the last week there were only 27.
4 new accounts were added to rich-list.
There were 3299 accounts with negligible or zero balance. This number is substantially higher than the previous weeks 3190. This also indicates that there are many accounts which are selling #pob at the miserably lower price levels.
List of top 50 Rich Accounts
Influence of Richlist on #pobpower
This week the total POB power locked in the stakes is 1600134 as against 1567946 in previous week. The total power with top 50 rich accounts was 1089768 as against 1087124 last week.
Which means out of the total power staked, top 50 Rich accounts control is 69% of the total power.
How much POB Power you need ?
In order to be featured in this publication, you need atleast 4712 POB power staked. This amount keeps changing every week, last week it was 4722. This indicates that the #pob power required to be in the top 50 is getting reduced with the time.
---
---