Alive and CTP stacking + curation reward
Today we tried to have ALIVE and CTP, with the curation gains.
We voted mostly in:
https://www.wearealiveand.social/created/ctp
We are at 3,752,794 ALIVE on a 10k stacking goal
and 391,606 CTP on a target of 1000




I'm starting to have good ALIVE and CTP curation gains
Some example of winning alive curation.



We are now reaching an average of 0.5
Some example of CTP curation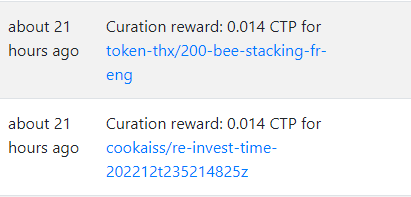 We're hitting an average of 0.014, I'm sure we can do better.
And I also wanted to thank the ALIVE tribes for the bro offered every day, even if they are very small, cumulating over 1 years, that would still make me a nice sum.
---
---