Baso - The Spoiled Cat at My Favorite Satay Shop Always Cute and Adorable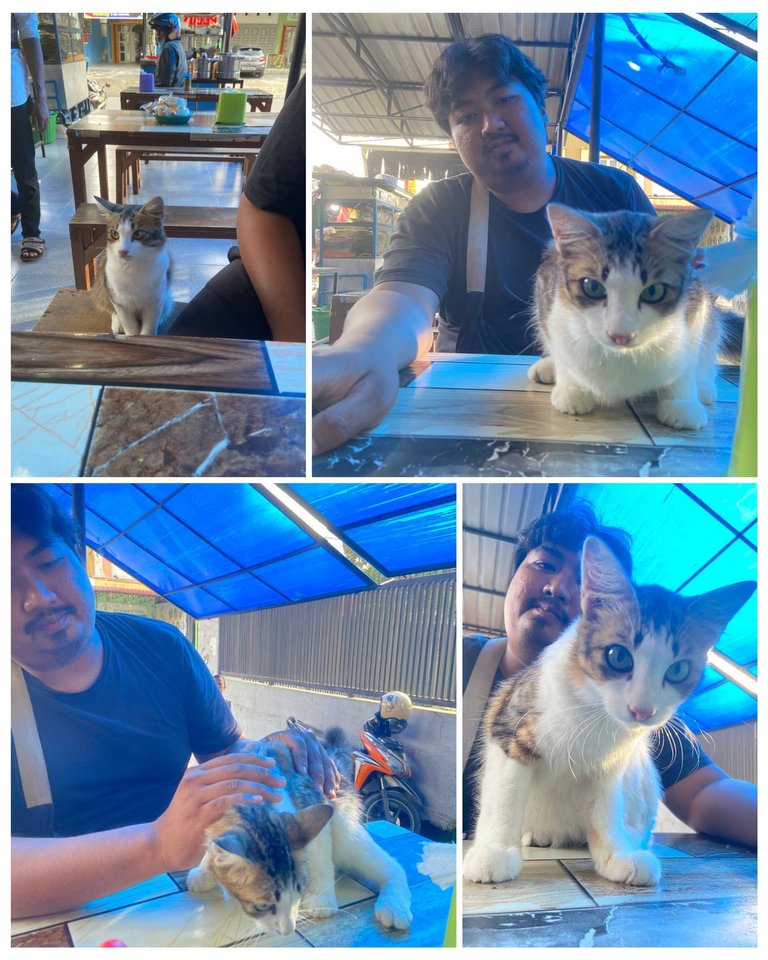 ---
---
Hello everyone,
How are you today ? I hope and pray, we are all always in good health and patient in living this life. We all know that the threat of a food crisis and economic recession is in front of our eyes and we may experience it if we are not prepared. However, one thing I am sure of all members of Hive Pets, must be in a happy condition because they have true friends like cats or dogs.
I haven't contributed to the Hive Pets Community in a long time, usually I'm pretty consistent writing here. However, ever since kepin (my orange cat) was lost or thrown away by someone, I am very sad and have no intention of writing about pets anymore. However, I still feed the stray cats around where I live. Well, even though it's a risk to make my house visited by a lot of cats and they fight loudly almost every day, I always laugh. Because these cats fight over the female or her territory.
My wife said, my body does have an aura to be loved by cats. Every time we go anywhere, like the market or a place to eat. If there is a cat, it will definitely come to me. As happened a few days ago, when my wife and I went to eat satay in the afternoon. One cute cat came to me and wouldn't move.
---
---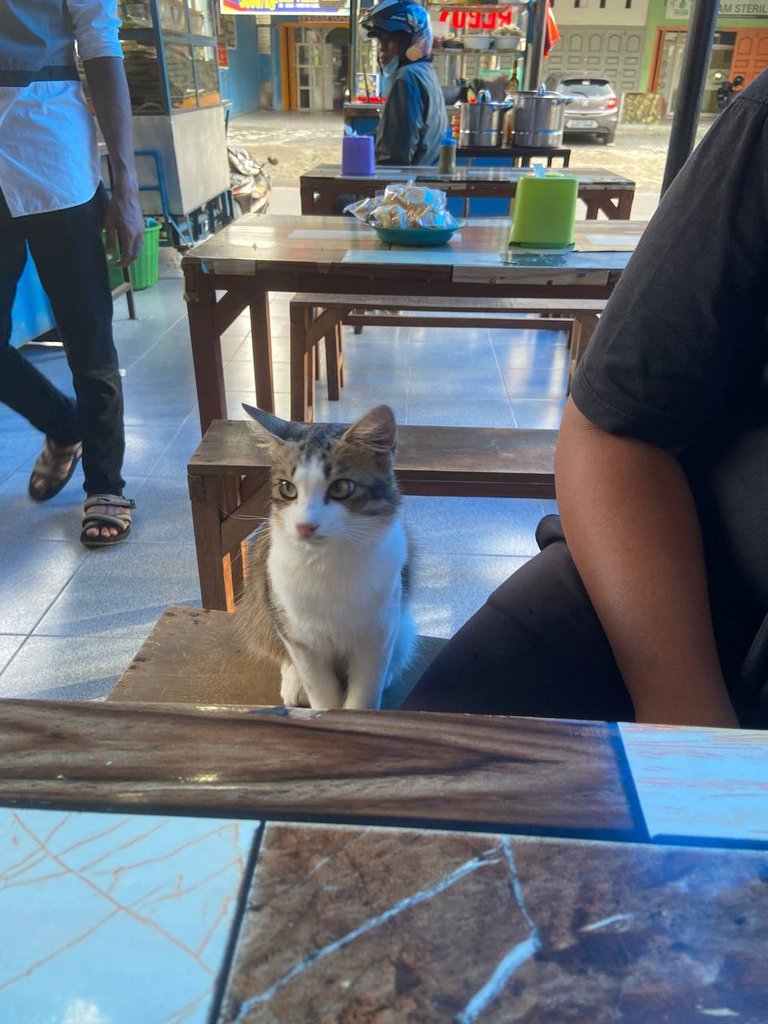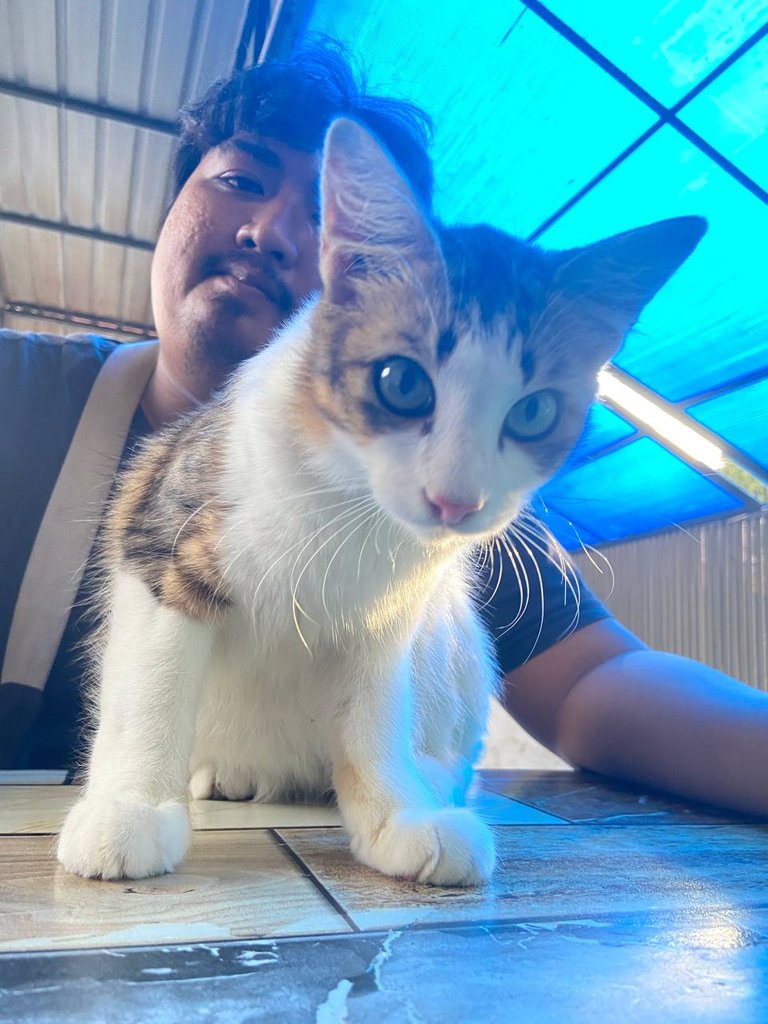 This cat is very cute, it's the first time we've met but it's like he already knows me. In my country, there is a term "cat shyness" which is a condition where someone wants something but acts as if they don't. Just like cats, when the moment of introduction with each cat. Cats will always be defensive even if we try to approach them by feeding them. Usually, when we turn away, the cat will come to take our food.
Thing is, the cats in this satay outlet are not shy. He was very brave, came straight to my feet. Then climbs onto the table, and rubs his head against my hand. I immediately asked him to play. I tried stroking this cat and it turned out that he enjoyed it and was indeed a spoiled cat.
This satay outlet cat was actually cared for by the owner of this satay shop. This cat has the name Baso, taken from the name of Indonesian street food (Baso: meatball). The choice of a strange name, how can a cat be named baso, while this cat lives in a satay shop. Why isn't this cat called satay?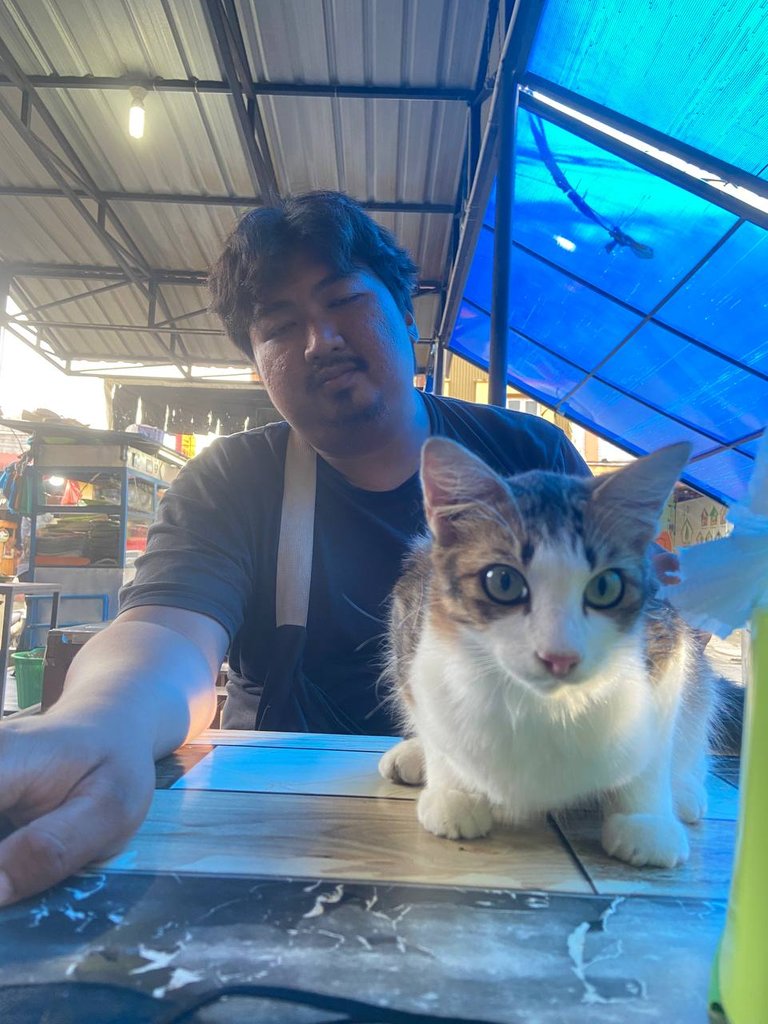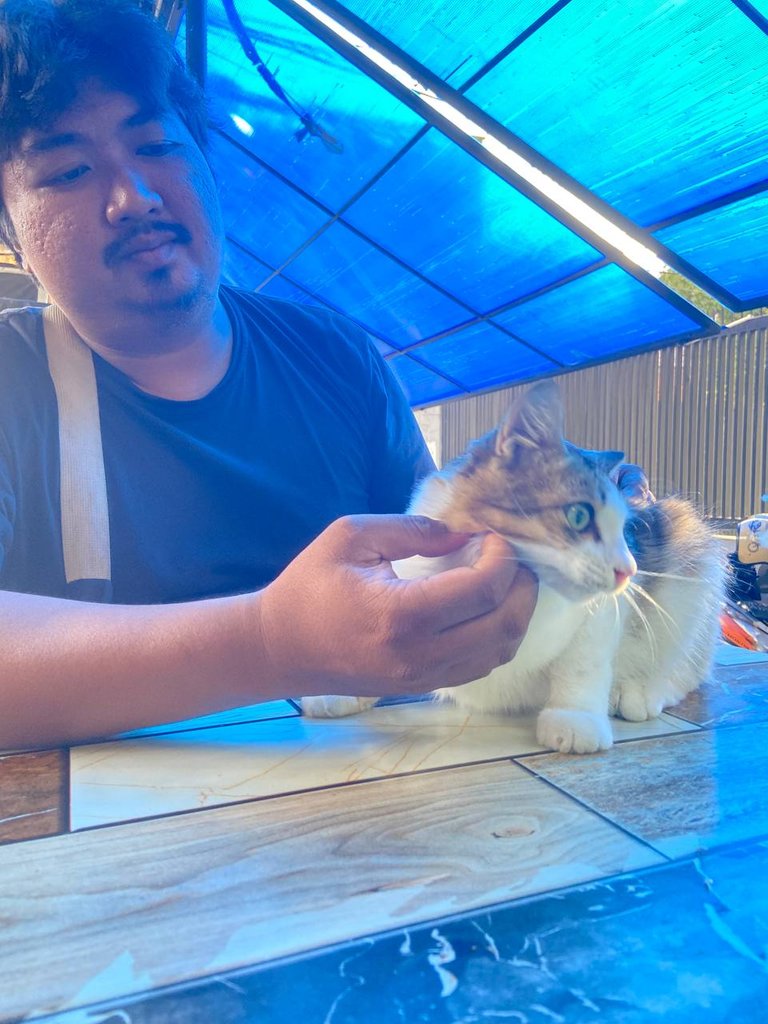 Baso (satay outlet cat) is responsible for securing the location and looking for rats. According to the owner of this satay shop, this cat has a split personality. On the one hand, he is very cute and adorable as he is now. However, when it was night and until the early hours of the morning, he turned into a mouse-hunting super cat. Because of that, the owner of this satay shop really loves this cat.
This cat is too cute for me to pass up. He kept climbing on my table. Even though I dropped it to the floor and it still went up. This kind of cat attitude can only be tolerated by people who like cats. Because of that, these cats seem to have an instinct to recognize every human.
However, not all of these cats are treated well or get lucky people. Often times, cats encounter arrogant humans who treat them like pests and treat them roughly. In fact, cats just want attention from us.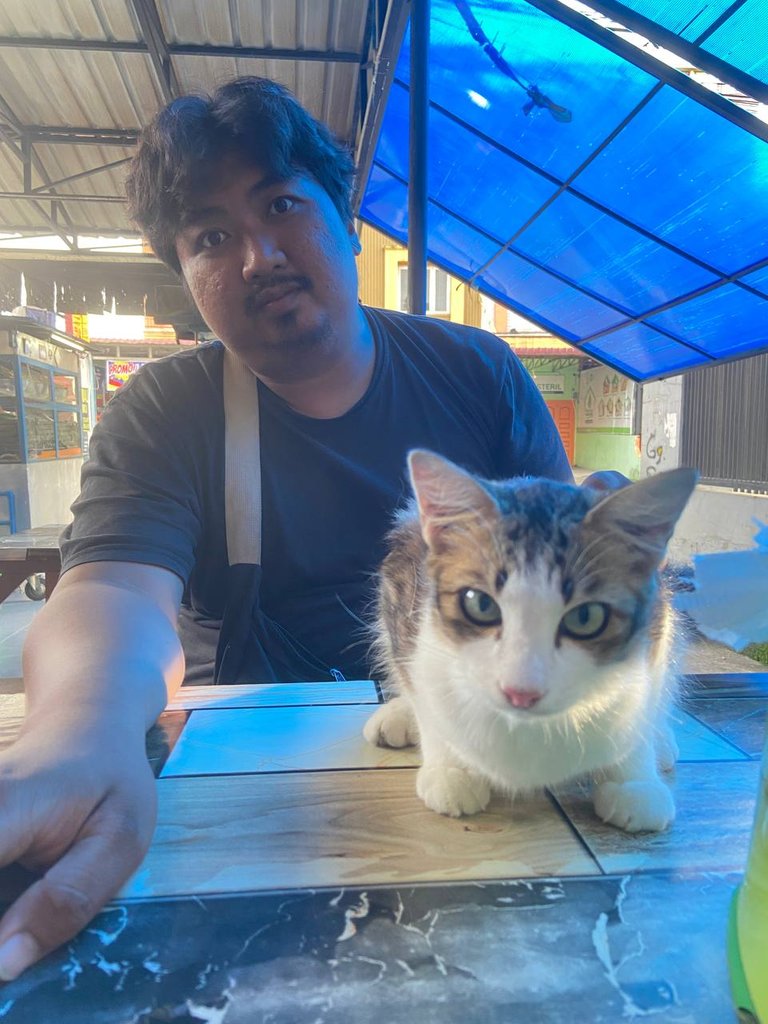 I am a cat lover. I like seeing cats, both from their cute and unique shapes and behavior. Cats are very different from dogs, both in form and approach. If the relationship between humans and dogs can become friends. The relationship between cats and humans is very strange, many people say it's like the story of a master and a maid. Cats as masters, and humans as helpers. Because it is also possible, not all humans can be ready to have interactions with cats.
---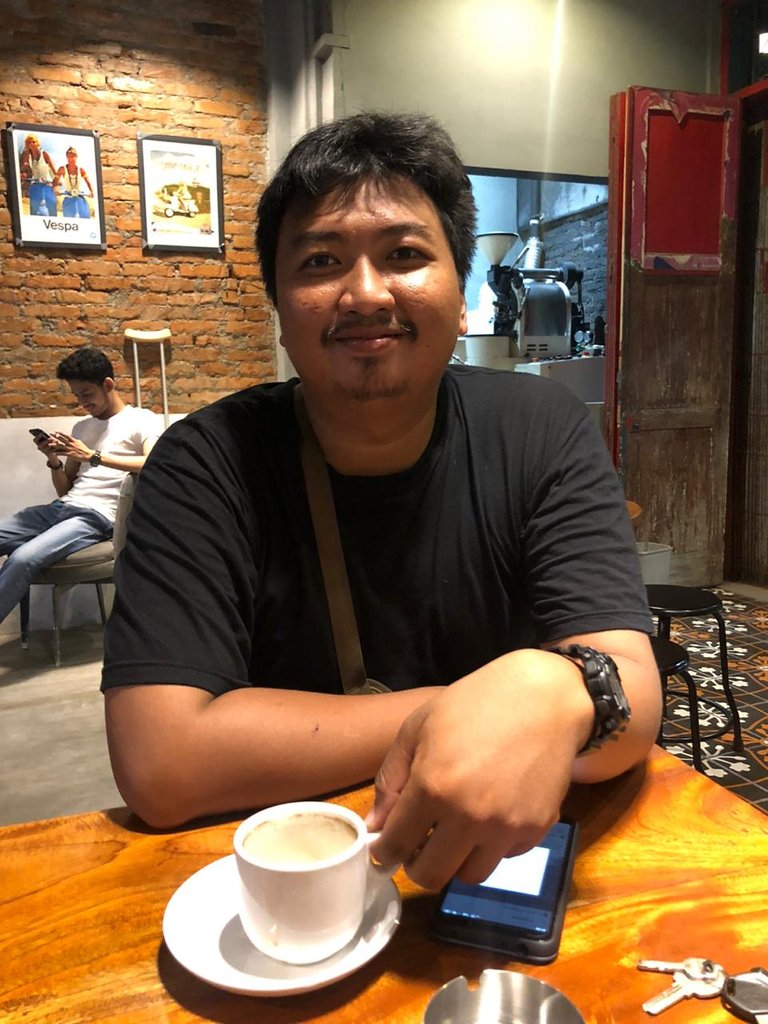 About Author

Call me Isdarmady, because I have a full name that is very long, namely Isdarmady Syahputra Ritonga. I am a head of the family who work as Farmers Vegetables Hydroponic and Consultant Hydroponics, sometimes I also sell coffee from various regions in Indonesia.
I have expertise dispensing coffee with a variety of techniques and tools brewing, because I have the desire to make a coffee shop with hydroponics as centerpieces. Help me realize that dream.
Thanks for read, vote, re-blog and support me in Hive. Maybe god will reward the kindness, let's success together.

---
---