How to celebrate the early spring cubdefi brings to the leo verse in the middle of crypto winter ?


source
A lot of crypto projects are down and struggling to make positive progress. Funding may be restricted and growth limited as is the case in severe winter.
Cubdefi living up to its goals
Roll back to the month of March 2021 when the cubdefi.com was rolled out with a single point agenda of creating a workable and reliable defi platform that can be used by the leofinance.io community which focused on crypto blockchain and financial centric content to grow their crypto assets.
Cut back to October 22 and it looks like a functional and profitable project like a blooming garden in spring despite there is winter elsewhere.
Numbers do not lie
HIVE & HBD liquidity has seen a healthy grown of 30%
In accordance with its cub token burn plan 350,683 CUB was bought and burned by CUB DAO
This is a process that been going on for a couple of months now and the progress shown by the charts

not only shows the teams commitment tiwards the project but also instills a lot of confidence in the bag holders of cub tokens.
This has helped support the token price and at the time of writing this post the cub trades at a price of $ 0.02 up 1.6%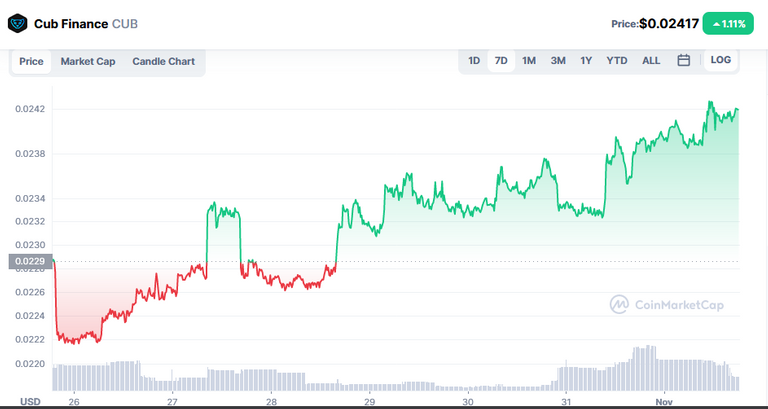 The cub price chart for the past 7 days as per coinmarketcap.com shows a nice positive price trend.
bHIVE & bHBD generated $7,945 in revenue which is a good sign for a growing project.
The project has multiple streams of revenue
The revenue for the project comes from
Multi-Token Bridge Wrapping Fees
Internal Arbitrage
Oracle Staking
However it is interesting to see that All revenue earned is used for autonomously buying back and burning CUB on a daily basis.
It is a audited and certified project
The cubdefi project has been audited and certified by certik.org
the report can be read and verified from here https://www.certik.org/projects/cubfinance
The project gets a green tick
Solid fundamental growth, transparency and dedication of the team along with multiple SAFE & SECURE bridges to move crypto across blockchains makes it a project worth investing.
The detailed financial report can be found here
https://drive.google.com/file/d/1m6-ThaNKxl-wwCtxBqS3rpXnEzBgPZ9j/view
What is in the project for the investors ?
The winter or economic slowdown id not just in the crypto field but also in fiat world and affecting us all. So could cubdefi helps us improve our financial future ?
Looking at the cubdefi.com farms one finds so many lucrative investment opportunities for the end user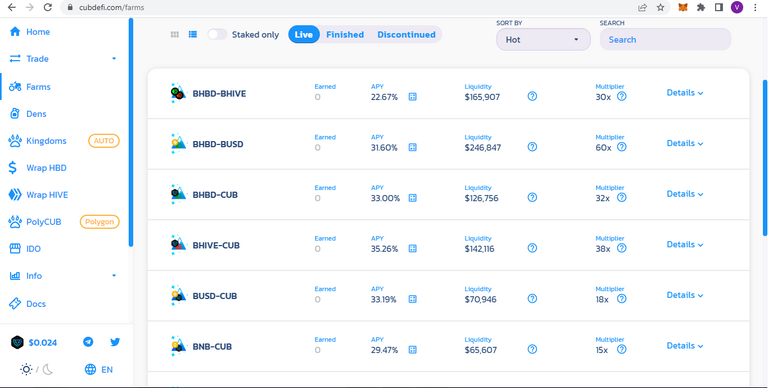 One can check out al the pool options and pairs at https://cubdefi.com/farms
Disclaimer: The purpose of this post is for education only. This is not financial recommendation. Please do your own research DYOR before investing.
Posted Using LeoFinance Beta
---
---