How to have some Fun & Earn with Crypto-Shots ?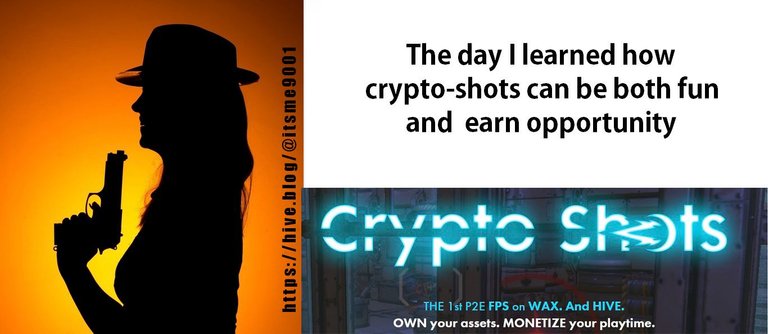 Image created by using free image from source photoshop and image from https://www.crypto-shots.com
While browsing I came across this post about a game review of the crypto-shots game and found the game play video and description quite interesting.
It is a first person shooter 3D game that can be played in the web browser.
A web browser based game means that there no downloading or installation needed.
For the game to be played you would need a desktop or a laptop computer with an internet connection and a suitable browser.
Though I tried the game in firefox as well as chrome browser and it worked well for me however it is highly recommended that you play it in the firefox browser for best results.
Where to find the game crypto-games.com for free ?
The game comes in two versions the
F2P : Free to Play mode and
P2E : Play to earn mode
Both the versions of the game can be found at https://www.crypto-shots.com
Let us first try the Free to play F2P version of the game.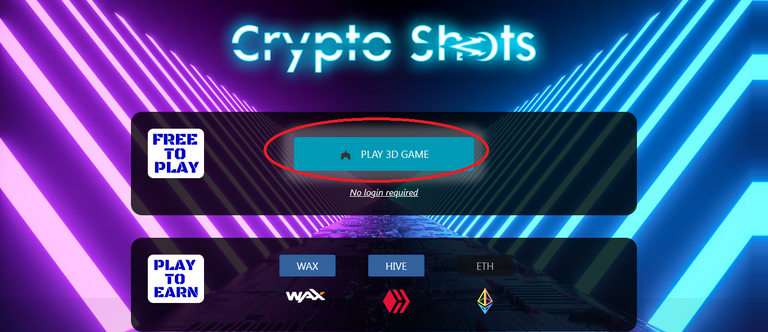 Click the Play 3D Game button
A screen appears telling me to pick a mode of play.
One can choose from Easy, Medium and Hard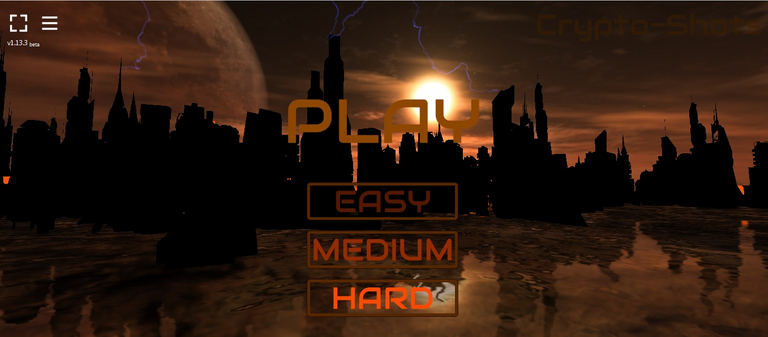 Before I can even choose a mode I have to stop for a moment and admire the art work in the background.
It is beautifully done and without having any prior info of the game I can say it looks like I am looking at an alien land.
Silhouettes of structures and a heavenly body which could be the planets moon or another planet in the vicinity.
The celestial light source indicates that there might be some kind of life forms on the planet.
Moving the mouse the panorama pans and tilts and gives me the feel of being into an immersive environment and I wonder am I going to experience this as a game which may some day be playing with VR headsets ?

Let us play the easy version
The Game is all about shooting your enemies which happen to be drones.
The drones attack you and you have to defend yourself from their attack.
Every time you are hit by their attack you lose some vital life force/energy by a few percentage points.
Your job as part of the game play is not just to stay safe and alive buy also to destroy your enemies.
For this you have a fixed amount of ammunition.
This is what your enemy looks like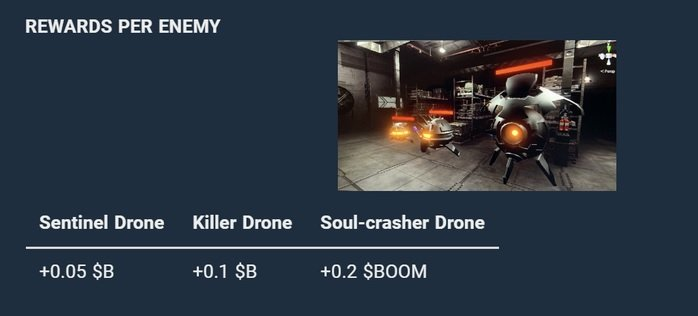 source
Pro tip : Since your ammunition is limited use it well. A good tip is to let the enemy come in range, aim and then shoot.
Though sometimes the excitement got the better of me and I wasted some valuable ammunition.
Here is my game play video

My game play strategy
Attack is the best defence so shoot and kill your enemy as soon as possible however since ammunition is limited so learn to aim and shoot if you are new to this game.
Once you get the hand of it you would be able to kill your enemy drone with the minimal of ammunition.
My Attack is the best defence strategy works because I aim and shoot from a distance whenever this is possible. This way I am away from the direct line of fire and yet I can attack the enemy drone.
For this it is important to be aware of the surroundings and know what places you can use to take cover against the incoming drone fire.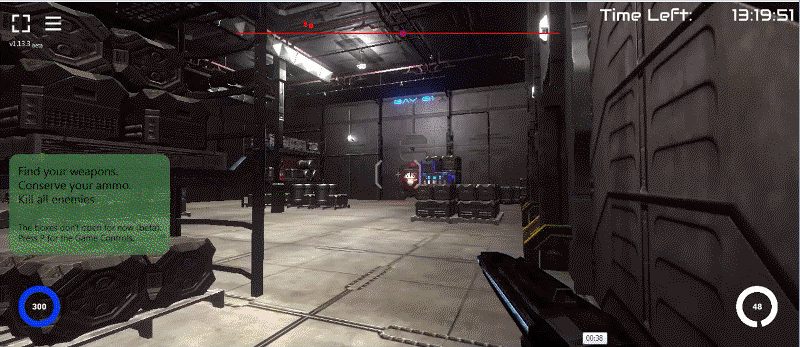 Take cover to get away from lime of fire
I did it to save myself from bodily damage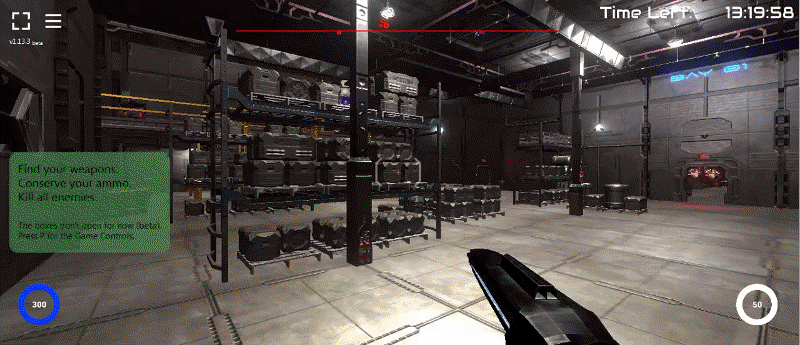 I see no reason to show false bravado. When you have limited resources it is wise to strategies.
Taking cover not only protects my NFT avatar but gives one time to assess the situation as to from which direction the fire is coming from, how far the enemy is and is it in my range to shoot?
Calculate the odds. Take calculated risks
When things look in your favour it is OK to take on the enemy and go for the kill.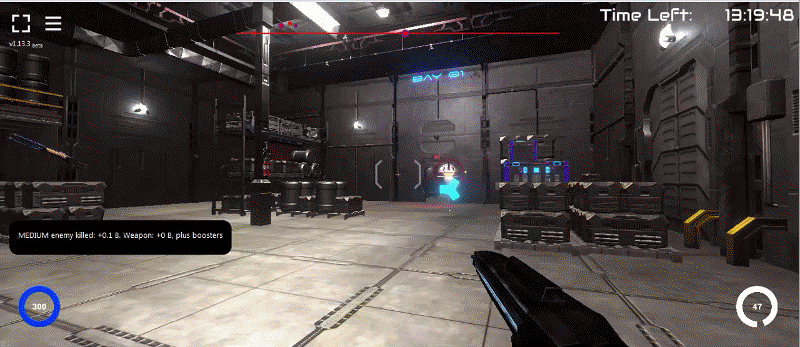 That being said each game play is different one would need to evolve the gaming strategy according to the situation and your gaming style.
The whole idea of the Free to Play mode is to see how the game is played and if you get stuck, killed or run out of ammo you can always start afresh and learn how to play the game.
Monitor your game info and a few more controls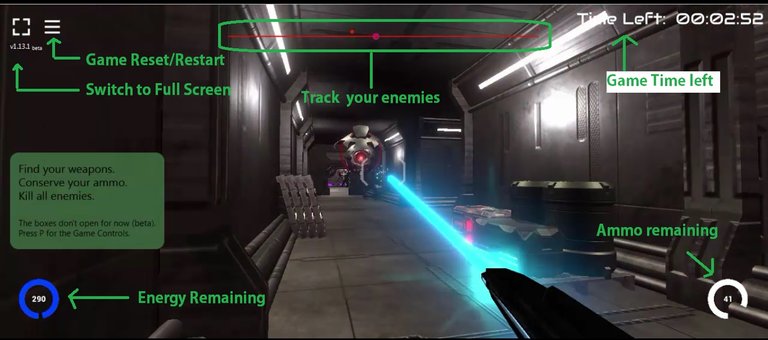 how to play the Earn to Play version of Crypto-shots 3D Game ?
The game would be played with the same way except where would be more advance levels and there would be in game rewards.
The in game rewards are paid to you using the in game currency
https://www.crypto-shots.com/ token Dot Omega (DOOM).
Your Play2Earn journey starts from Play.crypto-shots.com
Currently you can select the wax or the hive blockchain.
I selected the Hive blockchain and logged into the game using the hive keychain.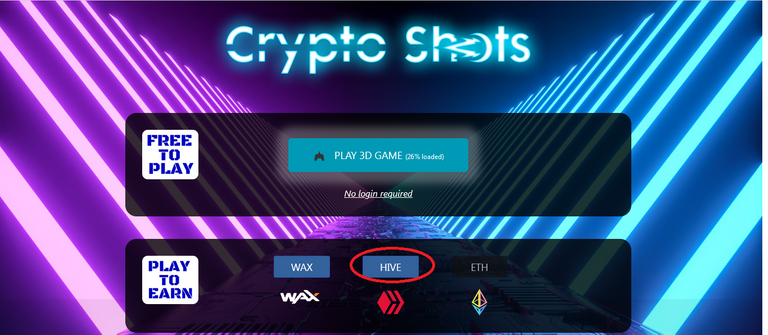 The post login screen takes me to the game inventory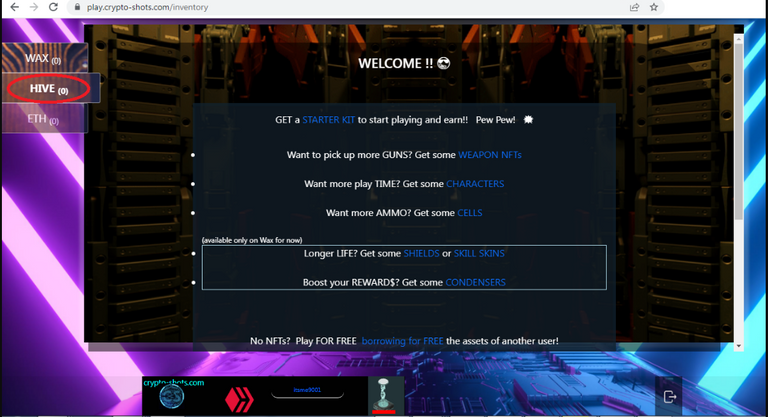 For those playing the game on Wax blockchain the marketplace looks like this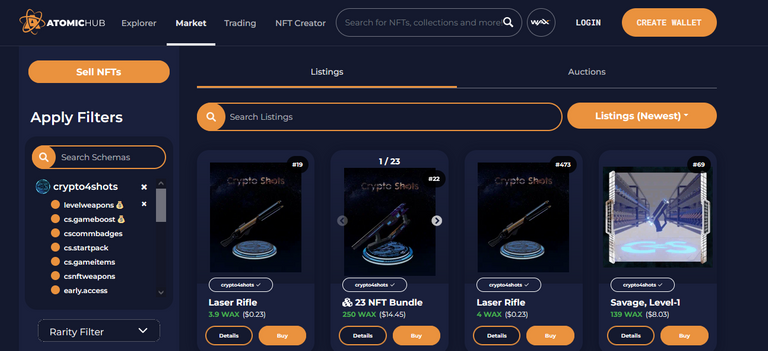 Access the market on the Wax Market here
The highlighted hive section tells me that I have connected my game account with the blockchain that I had chosen that is hive.
The screen is self explanatory and tells me that to play one needs to have a starter pack of the game.
For buying of starter pack, guns or ammunition one can click on the hyperlink or directly go to the hive marketplace https://hive.crypto-shots.com/marketplace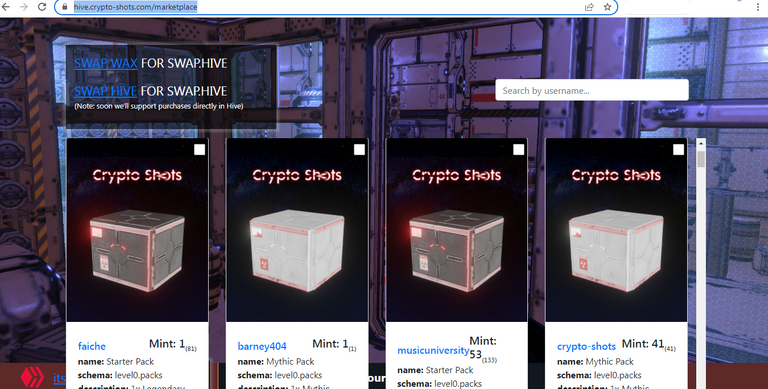 There are a number of starter packs to choose from and one can pick one according to your game play style or budget.
The starter packs start from a price equivalent of around $6 paid in hive.
An added option is to borrow NFT's for game play.
I checked the white paper which can be found here
It has a detailed documentation about the game, its in game currency and details about various characters NFT's ammunition etc.
Trivia: Do you know that based on the NFT's you hold you can play the game for a maximum 115 minutes each day as each character and weapon needs a cool down time before it can be reused in the game again and there is limit to the number of times they can be used in the game each day.
Do check the details in the game whitepaper.
A lot of questions may be crossing your mind
One question I had myself was would I be able to play the game and would it be hard to play?
After playing the game my answer would be..
If you can left click your mouse=> You can kill your enemy drone
With the arrow keys you can move around.
With the press of the Key character "C" you can make your avatar crouch.
By pressing the "Space Bar" you can make it jump
Here are the complete set of controls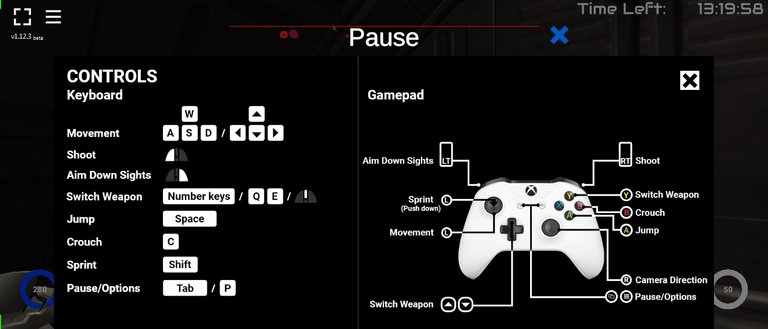 You can play the game using the mouse & keyboard as well as a gamepad if you have one.
A Misconception
A common misconception is that being a shooting game it is aimed at guys only. However after playing it I would say it was well worth my time and there is no reason why a girl should not play and enjoy the game.
I think the developers too would not like to keep the game targeted at only 50% of the world population that is boys and so I think I see female characters as well in the NFT market place.
The world of crypto, blockchains, NFT , web 3.0 is open to everyone and so is the free to play and Play2Earn segment of crypto-shots.
How about borrowing characters for free to play ?
This is a very useful project and is based on the idea of scholarships.
suppose you invest in the game however feel you do not have the time or the skills to play the game then using the scholarship program you can collaborate with a player who has both the skill and the time to play but no cards.
Using the scholarship program a partnership can be forged on a profit sharing basis between the NFT owner and the player.
More details about the program can be found here
One thing i would see added to the game
I would very much like to see an affiliate and referral system so that one can spread the word about the game and the business he/she brings can generate a passive affiliate/referral income.
My thoughts about the game
If you aare looking for only endless fun part then the free to play game is for you.
I could restart any number of times however if you are looking to have fun and earn as well turning your time to something useful then you may consider the Play to Earn version of the game.
With this mode you can earn as a player or use the scholarship program in the future to generate some passive income as the owner of game NFT's or play the game without investing and yet earn some crypto as a student.
For me the game play was a glitch free experience which I enjoyed a lot and I would do my bit to share the link of my post on twitter and social media accounts to see if I can get more players to play the game.
It is a fun game and currently it is one of the top games on the hive blockchain.
However even now these are early days for the game as the game is still evolving so I feel those who start early would face less competition and get to earn a lot of in game currency.
Incidentally the in game currency has a lot of use cases as per the white paper.
WHAT CAN I DO WITH MY $BOOM?
Purchase NFTs while playing, using our in-game Marketplace [LIVE]

Stake it for passive income. You also need to keep some of it staked in order to play, as your player level increases (S2C rule). [LIVE]

Buy/Sell it on Alcor (and later on other exchanges too) [LIVE]

Initiate a Scholarship; [LIVE]

Use it to start/restart levels after level 0. Some spaceships will charge $BOOM and some others WAX. [in-progress]

Purchase extra ammo if you run out during the game. You will be able to choose between WAX and BOOM. [todo]

Burn some (together with NFTs and some $MARS) to try and guess the combination of a SECRET WEAPON.

Purchase our merchandise on our website. [todo]
Eg. nerf guns, water guns, branded headphones, t-shirts, hats, stickers, keyboards, mouse, shot glasses, branded targets, etc etc.

Some of our merch will be 3D-printed by us and only a very limited amount will be available!!
Some of it will be in the form of vIRL NFTs!!

Earn #passiveincome providing liquidity to the #WAX/BOOM pool: https://bit.ly/3L4XCmd [LIVE]
Stake it to earn $MARS [stage: testnet - https://bit.ly/3PdMGWD]
The game whitepaper has a lot more detailed stuff about the game which you may consider going through.
Currently there is a on going contest going on to play the game and write a review for a chance to win one of the many meaty prizes.You can find the contest details here
For any other info you can refer to the below links
Play now 3D Game: https://play.crypto-shots.com/
Hive NFTs Marketplace: https://crypto-shots.com/
Project Website: https://crypto-shots.com/
Discord: https://crypto-shots.com/discord
Twitter: https://twitter.com/@cryptoshots_nft
all images and gifs unless stated have been created from https://www.crypto-shots.com/
Disclaimer: The purpose of this post is for education purpose only. Please DYOR do your own research before making an investment.
---
---