Never underestimate the power of LPUD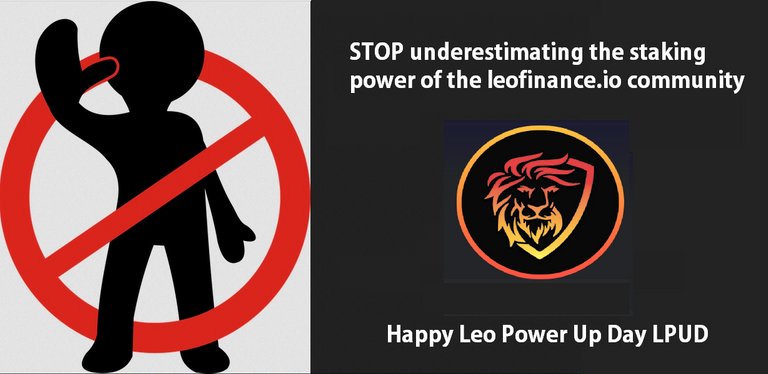 source
While there is a sea of red in the crypto space leofinance.io is celebrating!
The reason for the celebration is Leo Power Up Day or LPUD
This day is celebrated on the 15th of every month to celebrate the spirit of building up your account.
Leofinance is a layer 2 community that is built over the hive blockchain.
Leo is the native token of the leofinance.io platform. One way of earning the leo tiken is to create and curate content related to the topic of blockchain, crypto or finance content.
When such content gets up voted by other community members you earn Leo tokens as reward. Even those who upvote or curate content get 50% of their leo vote value as curation reward.
This means the more voting or curation power you have the more curation reward you can get.
The LPUD opportunity
By staking 150 or more leo kokens you enter into a draw for one of the many prizes.
The prizes are ...
Ten random users who participate in LPUD will get one of the next Leo Power delegations for 3 weeks:
5k from @edicted
5k from @leomarkettalk & @taskmaster4450
5k from @anomadsoul
5k from @bitcoinflood
3k from @lbi-token
2k from @steemstreems
2k from @whatsup & @scaredycatguide (1k each)
2k from @mcoinz79
2k from @alexvan
X from @forexbrokr (amount pending)
The biggest prize is for being unlucky !
If you participate in the Leo Power Up Day initiative for three consecutive months - September, October & November - and you don't win any prize on any of these editions, and you made a post about #LPUD each of those months, then you qualify for the Bad Luck Prize by @onealfa, where he will delegate 60,000 LEO tokens for three weeks to on lucky winner!
There will be another Bad Luck Prize of 100 liquid Leo with the same rules as above!
The winners of this contest will be chosen randomly using a provably fair random picker from a pool of users who fulfill all four requirements.
Some rules to participate in LeoPowerUpDay:
Your total Leo Power (on the 15th) must be less than 20k
You must power up at least 150 Leo on November 15.
You must not have powered down Leo since August 15.
Make a post or a #thread on Leo Finance about LPUD, perhaps you'll
get a visit from @leo.voter!
Power up 2000 Plus leo gives you extra benefits
If you are a leo who powers up 2000 plus leo then you automatically get lucky.
This is as per an interesting opportunity which goes as follows:
You power up between 2000- 4999 Leo tokens you are awarded 4000 LP delegation for 25 days plus an NFT.
If you power up with more than 5000 leo tokens you get a delegation of 5000 LP for 25 days plus an NFT
Leo community is upbeat
While most of the crypto market may be recovering from the jitters of the FTX debacle the mood in the leofinace community is quite positive and upbeat.
People are buying and powering up or staking their leo tokens thus increasing their voting power.
A direct influence of these purchases can be seen in the price charts of the the leo charts.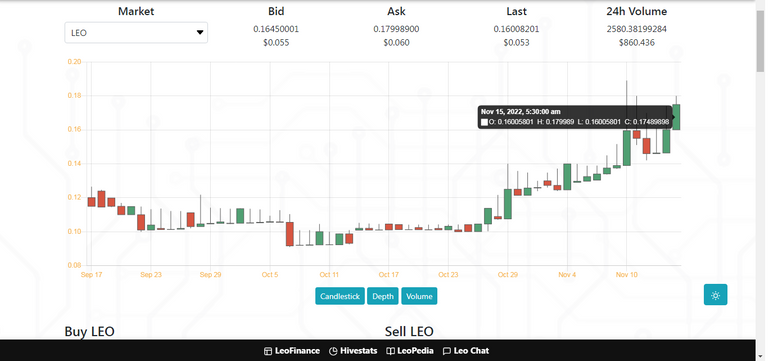 source:leodex.io
Final thoughts
It is good to see the leo community building its leo powers and growing theit crypto fortunes.
The leo token price action and its charts from leodex.io proves that when the community extends its support to a project there is no way it would not go higher, do well and succeed.
Thanks for reading my post folks if you likes it please up vote and rehive.
Posted Using LeoFinance Beta
---
---