[ESP-ENG] Felices 4 añitos mi princesa 😍 Happy 4th birthday my princess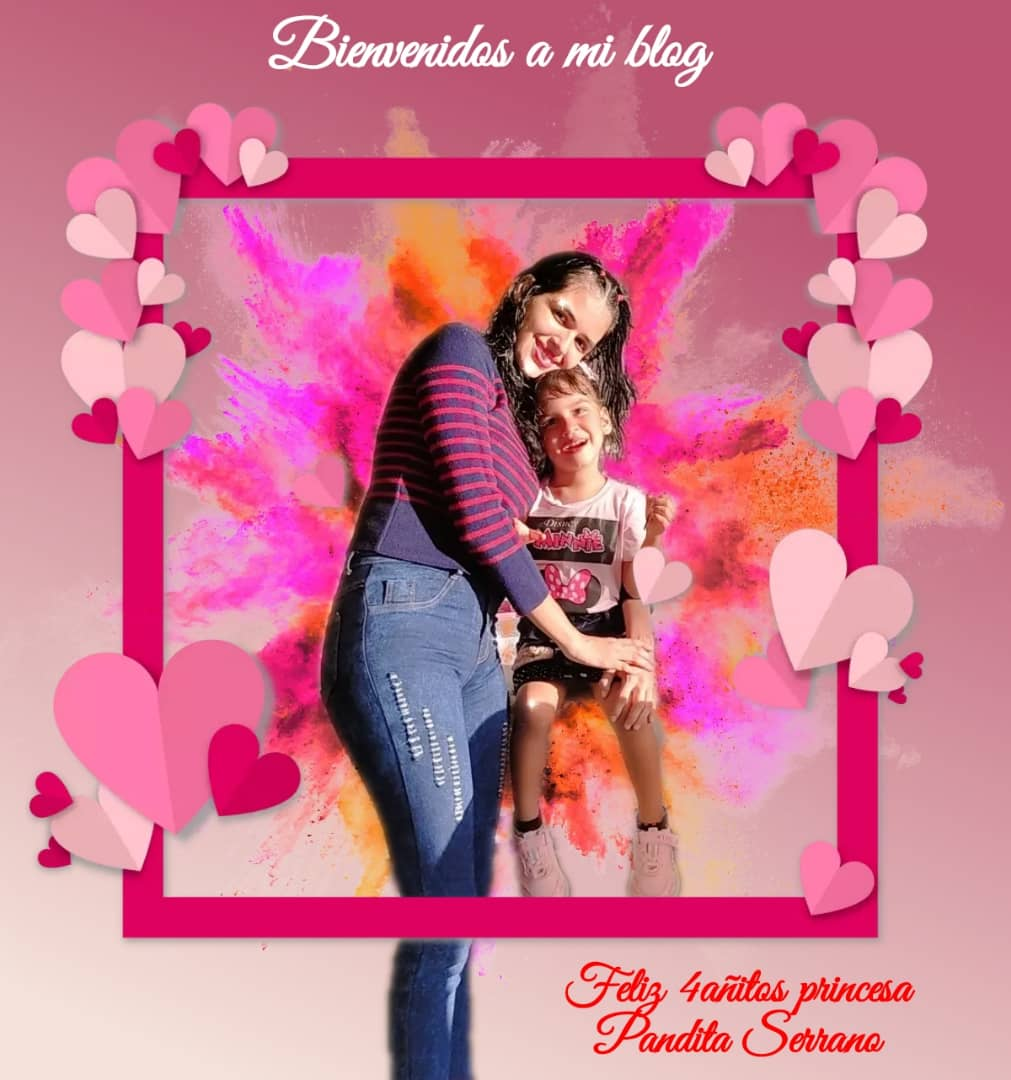 Foto tomada con mi redmi note 10, editada en polish e instaSquare

---
Un cordial saludo a todos mis lectores, espero que estén muy bien, hoy quiero compartir con ustedes un hermoso momento muy mágico que viví con toda mi familia, con el elfo @anthony2019, los amiguitos de mi hermosa y maravillosa hija y es que mi princesita cumplió 4 añitos, de hermosa y feliz existencia, espero que les guste mi nuevo contenido ♥️.
Comienzo
El día 6-02-2022, mi pequeña princesa Aranza cumplió 4 añitos de hermosa y feliz existencia, yo realmente estoy muy agradecida con Dios por darme la dicha de ser la mamá de mi pequeñita, ya que cuando ella estaba en gestación casi la pierdo y fue una experiencia muy mala que pase, pues tenía muchísimo miedo de perderla, algunos quizás dirán: Pero eres tan joven, seguro tu hija fue un error, hoy puedo decir con orgullo y con la frente en alto que mi hija jamás fue un error, no la esperaba pero ha sido mi más maravillosa bendición, me encanta ser la madre de mi bebé, pero a veces quisiera parar el tiempo, retrocederlo un momento y volver a vivir esos momentos tan mágicos cuando ella estaba tan chiquita, más y sin embargo, tocó el cielo cada vez que veo sus pequeños grandes pasos, y es que, celebrarle sus 4 añitos fue tan único, tan mágico, cada vez que cumple un añito más me siento tan satisfecha, porque lo he logrado sola, mi madre me ayuda, claro, a cuidarla pero soy yo quien la saca adelante y eso es algo muy increíble.
Él día 6, que fue Domingo, me levanté temprano y le hice desayuno, pollito, con cremita y pancito tostadito, le puse jugo y también una compota, la despertamos mi mamá y yo, con ese desayuno en la mañana, creo que lo disfruto muchísimo, aunque como cosa de la vida primero se comió la compota y luego el pollito.
A warm greeting to all my readers, I hope you are very well, today I want to share with you a beautiful and magical moment that I lived with all my family, with the elf @anthony2019, the friends of my beautiful and wonderful daughter and is that my little princess turned 4 years old, beautiful and happy existence, I hope you like my new content ♥️.
Start
On 02-6-2022, my little princess Aranza turned 4 years old of beautiful and happy existence, I am really grateful to God for giving me the joy of being the mother of my little one, because when she was in gestation I almost lost her and it was a very bad experience that I had, because I was very afraid of losing her, some may say: *But you are so young, surely your daughter was a mistake, today I can say with pride and with my head held high that my daughter was never a mistake, I did not expect her but she has been my most wonderful blessing, I love being the mother of my baby, but sometimes I would like to stop time, go back a moment and relive those magical moments when she was so small, And yet, she touched the sky every time I see her little big steps, and that, celebrating her 4 years was so unique, so magical, every time she turns one more year I feel so satisfied, because I have made it alone, my mother helps me, of course, to take care of her but I am the one who takes her forward and that is something very incredible.
On the 6th, which was Sunday, I got up early and made her breakfast, chick, with cream and toast, I put juice and also a compote, my mom and I woke her up with that breakfast in the morning, I think she enjoys it very much, although as a thing of life she ate the compote first and then the chick.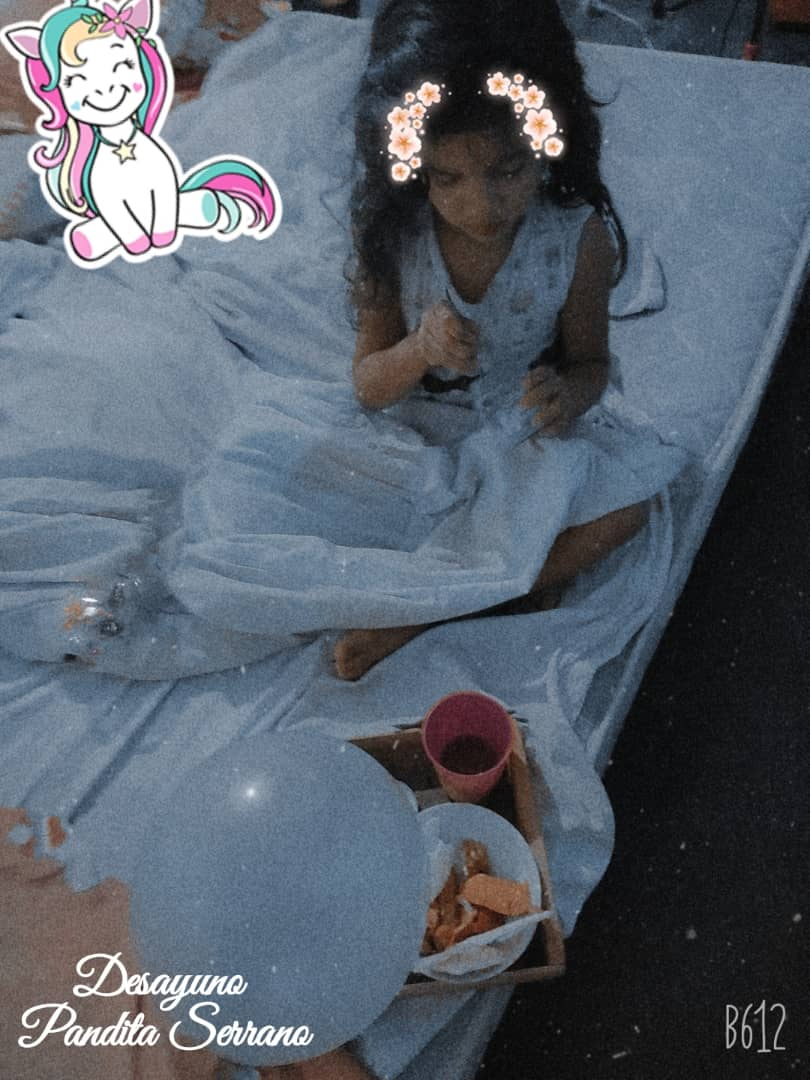 Foto tomada con mi redmi note 10 y editadas por medio de instaSquare

---
Después del desayuno, me puse a vestirla y peinarla porque mis tía y mi primita le iba a dar un regalo de cumpleaños, así que al salir de la habitación la estaban esperando con una caja enorme, y se la dieron; ella comenzó a abrirla y saco un monopatín, que ella jamás en su vida había usado uno y obviamente le tenía mucho miedo, aunque su primita quería enseñarle a usarlo, mi pequeña hija decía que no y le daba mucho miedo, solo quería que la pasearan y no le quería dar con el pie.
After breakfast, I started to dress her and comb her hair because my aunt and my little cousin were going to give her a birthday present, so when I left the room they were waiting for her with a huge box, and they gave it to her; she started to open it and took out a skateboard, she had never used one in her life and was obviously very afraid of it, although her little cousin wanted to teach her how to use it, my little daughter said no and she was very afraid, she only wanted to be walked and did not want to hit it with her foot.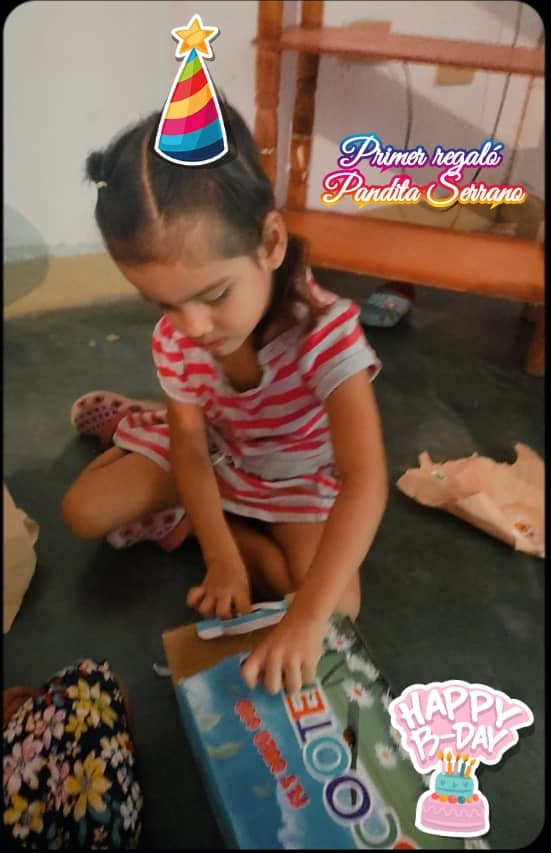 Foto tomada con mi redmi note 10 y editada por medio de instaSquare

---
Luego me puse a limpiar el salón donde iba a ser la reunión que era el porche de mi casa, me puse a pasar mopa, acomodar los muebles, entre una de mis tías y el elfo sacaron la mesa (cosa que es muy pesada) y luego de eso pusimos la temática y aunque no era mucho, nos tomo mucho tiempo a las 3:30 de la tarde, fui a bañar a mi hija y mi primita, mi tía vistió a su hija, mientras yo vestía a la mía y mientras que la peinaba se hicieron las 4:00 de la tarde (la reunión era para las 4:30) pero los invitados comenzaron a llegar mucho antes 😅, así que bueno mientras yo le hacía algo bonito a mi hija ya los invitados estaban llegando y la cumpleañera no estaba lista, creo que en mi se transcurso llegaron algunos invitados. Aranza, salió como a las 4:10 y ya todos los niños estaban, así que les saque una fotos, a los 4 primeros invitados que habían llegado y luego me fui a prepararme yo, ya que no estaba para nada lista para la celebración, mis tías también no estaban listas, mi mamá era la única, comenzaron a llegar el resto de la familia y el elfo se puso a jugar con los niños que habían llegado la papa caliente, cosa que le agradezco mucho, porque los mantuvo distraídos y en un solo lugar.
Then I started to clean the room where the meeting was going to be, which was the porch of my house, I started to mop, arrange the furniture, between one of my aunts and the elf they removed the table (which is very heavy) and after that we set the theme and although it was not much, it took us a long time at 3:30 in the afternoon: 30 in the afternoon, I went to bathe my daughter and my little cousin, my aunt dressed her daughter, while I dressed mine and while I was doing her hair it became 4:00 in the afternoon (the meeting was for 4:30) but the guests started to arrive much earlier 😅, so well while I was doing something nice to my daughter already the guests were arriving and the birthday girl was not ready, I think in my course some guests arrived. Aranza came out at about 4:10 and all the children were already there, so I took some pictures of the first 4 guests that had arrived and then I went to get ready myself, since I wasn't ready for the celebration, my aunts were also not ready, my mom was the only one, the rest of the family started to arrive and the elf started to play with the children that had arrived, which I was very thankful for, because he kept them distracted and in one place.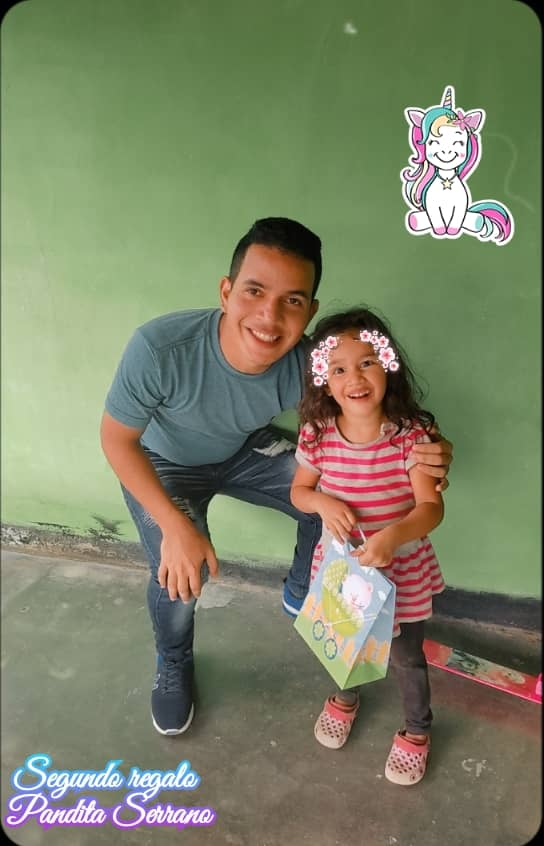 Foto tomada con mi redmi note 10 y editada por medio de instaSquare

---
Después de eso, comenzamos a armar todo para la fiesta, una de mis tía me estuvo ayudando con la decoración de los globos, mientras yo sacaba unas estrellas para la luna central porque el cumpleaños de mi pequeña princesa fue de la luna; ella quería que yo le bajara la luna y como no pude tocó recrearle una temática sobre ella, yo sé que la luna es gris, pero se la coloque rosada porque era una temática de niña, yo quería que la luna se viera de ese color y las estrellas doradas con plateado, realmente siento que la fiesta de mi hija quedó muy bonita, lamentablemente se nos acabó el silicón como a eso de las 9 de la mañana y le pedí al elfo @anthony2019 que me hiciera el favor de traer silicones, él llegó como a eso de las 11:50, así que comenzamos a pegar unas cosas que me faltaban y luego a las 12 almorzamos mi mamá hizo pescado con arroz, así que todos comimos y luego del almuerzo, él elfo le dio su relato de cumpleaños a mi hija, yo sé que ella estaba muy feliz ese día recibió muchos regalos.
After that, we started to put everything together for the party, one of my aunt was helping me with the decoration of the balloons, while I took some stars for the central moon because the birthday of my little princess was about the moon; I know the moon is gray, but I put it pink because it was a girl's theme, I wanted the moon to look that color and the stars gold with silver, I really feel that my daughter's party was very nice, unfortunately we ran out of silicone around 9 in the morning and I asked the elf @anthony2019 to do me the favor of bringing silicone, he arrived around 11:50 am, so we started gluing the balloons, so we started to decorate the balloons, I had to put some stars for the central moon and the stars for the central moon: 50, so we started gluing some things that I was missing and then at 12 we had lunch my mom made fish with rice, so we all ate and after lunch, he elf gave his birthday story to my daughter, I know she was very happy that day she received many gifts.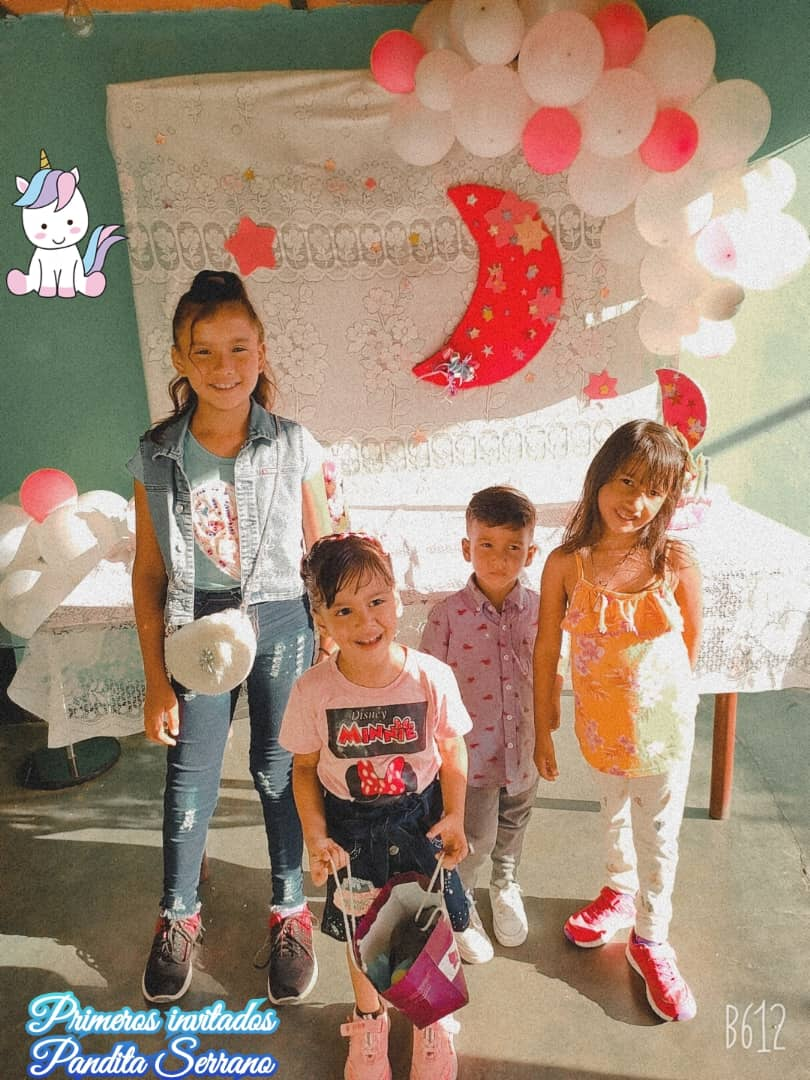 Foto tomada con mi redmi note 10 y editada por medio de instaSquare

---
Yo al rato salí como a las 4:40 y me encargue de todos los niños, seguí con el juego de la papa caliente y al que quedó de último le di un premio, que por cierto fue una niña. Luego los puse a jugar el juego de las sillas, al que ganó también les di un premio, que también fue una niña, les puse adivinanzas, enano, gigante, les di premios a todos los niños que jugaron, fue muy divertido y aunque en oportunidades era algo fastidioso porque veía que nadie perdía, fue muy chistoso ver cómo esos niños realmente se ponían muy felices de estar allí compartiendo con mi hija de su momento único, además que mi pequeña princesa era el centro de atención y todos estaban pendientes de Aranza, ella tiene un amiguito que la quiere muchísimo; vive al lado de nuestra casa y realmente estuvieron justos en toda la fiesta, jugaron mucho, fue una sensación bastante única, aparte que mi familia tenia muchísimo tiempo que no se reunían todos juntos y justamente logré reunirlos a todos para el cumpleaños de mi hija, siento que fue un enorme placer verlos juntos, todos compartiendo y ayudando para que todo saliera bien, estuvo la mujer de mi tío ayudando también. Fue un momento único, le agradezco a Dios por darnos está oportunidad de habernos reunido en familia y disfrutarlo.
Todos comieron mucho, jugaron mucho, luego sacamos la piñata y le sacamos fotos a los niños más pequeños dándole a la piñata, incluyendo a mi bebé y luego pusimos a los niños en rueda al rededor de la piñata, hablamos con los grandes para que no le quitaran los dulces a los más pequeños, y abrimos la piñata, repartimos los dulces al rededor de todos los niños y (esto fue porque yo no mandé ha hacer la piñata, ni pague por ella, yo solita hice la piñata y de las mil veces que me queme con el silicón no iba a permitir jamás que rompieran mi maravillosa obra de arte por esa razón se hizo de esa manera), les repartir bolsas a todos los niños y cada quien metió sus dulces allí, incluyendo mi pequeña Aranza que agarro unas cositas.
I went out at about 4:40 and took care of all the children, I continued with the hot potato game and the one who came last I gave him a prize, which by the way was a girl. Then I put them to play the game of chairs, the one who won I also gave them a prize, which was also a girl, I put riddles, dwarf, giant, I gave prizes to all the children who played, it was fun and although at times it was something annoying because I saw that no one lost, it was very funny to see how those children were really happy to be there sharing with my daughter her unique moment, plus my little princess was the center of attention and everyone was watching Aranza, she has a little friend who loves her very much; She lives next door to our house and they were really right throughout the party, they played a lot, it was a very unique feeling, besides my family had not been together for a long time and I managed to gather them all together for my daughter's birthday, I feel it was a great pleasure to see them together, all sharing and helping to make everything go well, my uncle's wife was there helping too. It was a unique moment, I thank God for giving us this opportunity to get together as a family and enjoy it.
Everyone ate a lot, played a lot, then we took out the piñata and took pictures of the younger children hitting the piñata, including my baby and then we put the children in a wheel around the piñata, we talked to the older children so that they would not take the candy from the younger ones, and we opened the piñata, we distributed the candy around all the children and (this was because I did not order the piñata to be made, I didn't pay for it, I made the piñata by myself and of the thousand times I burned myself with silicone I was never going to let them break my wonderful work of art, that's why it was done that way), we handed out bags to all the kids and everyone put their candy in there, including my little Aranza who grabbed some little things.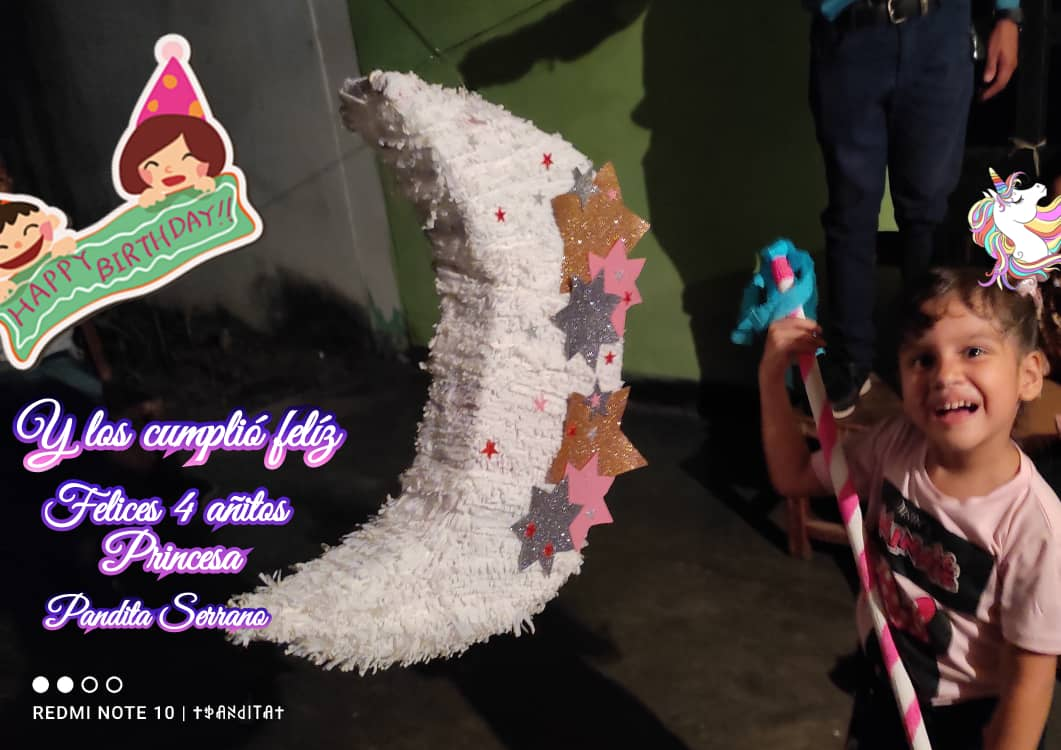 Foto tomada con mi redmi note 10 y editada por medio de instaSquare

---
Y luego al rato cantamos cumpleaños feliz, te deseamos a ti, cumpleaños Aranza, cumpleaños feliz, si por fin mi hija cumplió 4 años de hermosa y feliz existencia, mi hija es muy feliz tiene todo lo que quiere y eso realmente me hace muy feliz, luego de que cantáramos cumpleaños y los niños comieran torta, esperamos uno momento, que se guardara la torta, se apartará para mi tío que se había ido temprano y luego repartí al rato los cotillones que también hice, le di a todos los niños, de hecho me sobraron 4 cotillones y también le había hecho dos cotillones.
Aparte a mi primo que parece un niño cuando se trata de dulces y al elfo @anthony2019 que estaba muy emocionado por el cumpleaños de Aranza, parecía otro niño más, luego se despedí a todos los niños y las mamás, dándole gracias por habernos acompañado en ese maravilloso momento y se fueron, al rato se fue mi primo con mi tía, la mujer de mi tío y su novia, mis otras dos tía y mi primita se quedaron, y también se quedó mi bello elfo que durmió en el mueble (porque cuando la gente está enamorada duerme donde sea), recogimos todo y luego nos preparamos para dormir.
Realmente fue un placer haberle celebrado su fiesta de cumpleaños a mi hija, salió como yo quería, vi a toda mi familia reunida, que le pareció genial, ahora se hablan más porque algunos estaban algo molestos, todo salió súper, le agradezco muchísimo a Dios por ese maravilloso regalo, puedo decir que de todos los cumples de mi hija los que más me gustaron fue el de su primer añito que estuvo mi abuela y esté de los 4 añitos que logré reunirlos a todos, espero que les haya gustado mi nuevo contenido, es parte de mi vida pero quería compartir con ustedes como le celebre la fiesta de cumpleaños a mi hija y lo muy orgullosa que me siento de eso, así que realmente espero que les haya agrado, luego les haré un tutorial de cómo hice la piñata, como hice los cotillones y la chupetera, cuídense mucho.
And then after a while we sang happy birthday, we wished you, birthday Aranza, happy birthday, yes finally my daughter turned 4 years of beautiful and happy existence, my daughter is very happy she has everything she wants and that really makes me very happy, after we sang birthday and the children ate cake, We waited a moment for the cake to be put away, it was set aside for my uncle who had left early and then I handed out the cotillions that I also made, I gave them to all the children, in fact I had 4 cotillions left over and I had also made two cotillions for him.
Apart from my cousin who looks like a child when it comes to candy and the elf @anthony2019 who was very excited about Aranza's birthday, he looked like another child, then I said goodbye to all the children and moms, thanking him for having accompanied us in that wonderful moment and they left, After a while my cousin left with my aunt, my uncle's wife and his girlfriend, my other two aunts and my little cousin stayed, and also my beautiful elf who slept in the furniture (because when people are in love they sleep wherever), we picked up everything and then we got ready to sleep.
It was really a pleasure to have celebrated my daughter's birthday party, it went as I wanted, I saw all my family together, which seemed great, now they talk more because some were a little upset, everything went super, I thank God very much for this wonderful gift, I can say that of all my daughter's birthdays the ones I liked the most was her first birthday when my grandmother was there and her 4th birthday when I was able to gather them all together, I hope you liked my new content, it is part of my life but I wanted to share with you how I celebrated my daughter's birthday party and how proud I feel about it, so I really hope you liked it, later I will make a tutorial on how I made the piñata, how I made the cotillions and the lollipop, take care.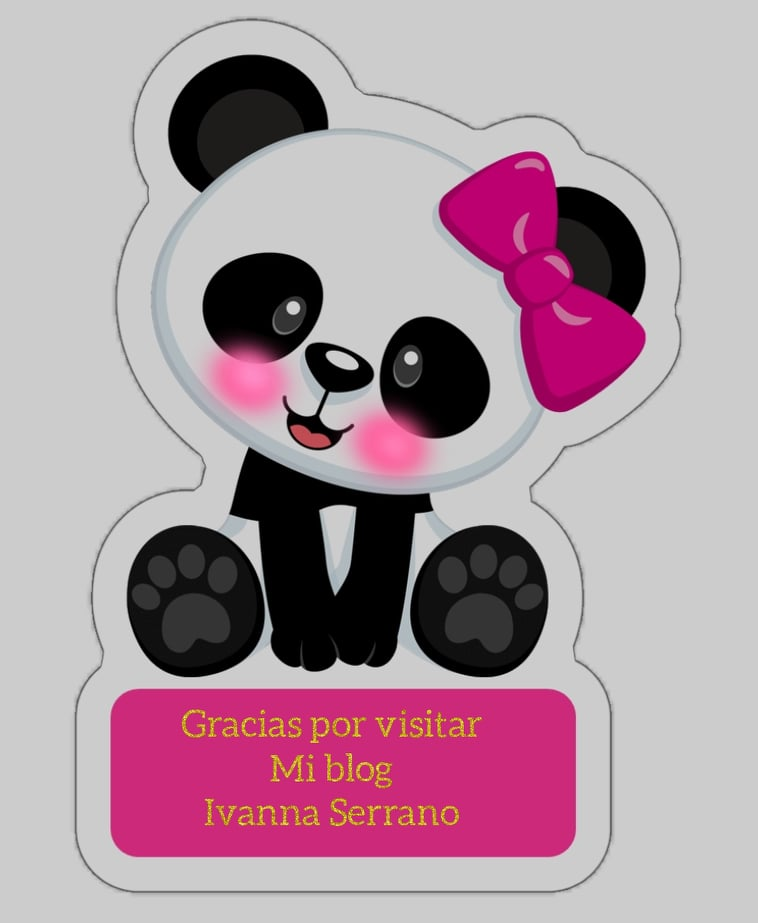 ---
---