Circular IT by Prime Computer - Explained by Head of Research & Development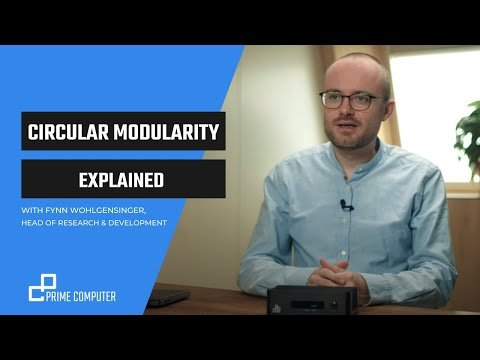 ---
CIRCULARITY IN ELECTRONICS IS THE KEY TO GREEN IT. 🔊Listen in as Head of Research and Development, Fynn Wohlgensinger, explains circularity in IT, then head over here to check out what could be the solution: https://bit.ly/38GzxVC
We recently became part of the Circular Electronics Initiative, and were asked to explain Circularity in IT. Fynn is the brain 🧠 behind our Circular Modularity Concept which we shared with you last month.
♻️ The Circular Electronics Initiative by TCO Development aims to encourage organizations and consumers to take a more responsible approach to the electronic goods they use.
🙏 We're delighted to have joined the initiative, which steadily keeps growing, along with other organizations like Cistor, Towards Zero Waste, Lenovo, Aliter Networks, and many more which are backing this important work, too.
🧐The IT industry must shift to a circular model. Right now technology is designed with functional modularity, which is not sustainable to leads to e-waste.
Thanks to modular components that will be integrated into our new Circular product portfolio, the life cycles of Prime Computer devices will be extended, and less electrical waste and CO2 emissions are being generated.
All of the products from Prime Computer are 100% climate-neutral, making them the sustainable choice for business people that want to make a conscious decision to use Green IT to protect and positively impact the climate as much as possible.
Join us as we take bold steps forward to create a better world – we know it is possible!
---
🔵 About Fynn Wohlgensinger, Head of R&D
Fynn Wohlgensinger is Head of Research & Development at Prime Computer Ltd.. He started his career at Prime Computer in 2019 as a Brand & Sales Communication Manager. He has been Head of Research & Development since 2021 and in this role, he is responsible for the development of new IT products, market and industry analysis and scientific cooperations, among other things.
Disclaimer
This is no financial advice. Everything written is my opinion only and you should do your own research. Investing in Bitcoin and other cryptos, lending, DeFi, liquidity mining are high risk investments. You could lose everything, only invest what you can afford.
Bear in mind that some of the links in this post are affiliate links and if you go through them to make a purchase I will earn a commission. Keep in mind that I link these companies and their products because of their quality and not because of the commission I receive from your purchases. The decision is yours, and whether or not you decide to buy something is completely up to you.
Youtube: https://goo.gl/rQaiFV
Instagram: https://www.instagram.com/isnz.ch/
Facebook: https://www.facebook.com/perfspots
Website: http://isnz.ch/
CRYPTO RECOMMENDATIONS
LENDING SERVICE
Here i get interest on my crypto assets:
http://bit.ly/btc_defi (free 30$ with this ref.link or code "442675")
It is a service i trust now for more than 3 years, it is reliable and the most transparent way to reinvest Cryptos and get interest. The best part: Decentralized and anchored on the native Bitcoin Blockchain! (Let me know if you have any questions.)
Here i buy bitcoin: http://bit.ly/btc_buy
Best cryptobrowser: https://bit.ly/fastest_browser
Travel
Where i book hotels: https://bit.ly/riohotel
Where i book the cheapest flights: https://goo.gl/HRhxoy
Credit card with best commissions for travels: http://bit.ly/travelcreditcard
Editing software: http://bit.ly/editing_software
---
▶️ DTube
---
---