Corporate Social Responsibility Commitments for Prime Computer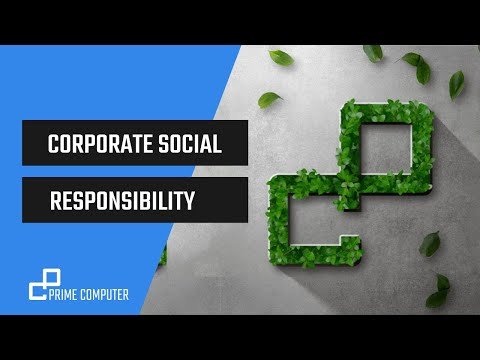 ---
Investments in CSR, a video i've produced recently
♻ We here at Prime Computer believe that the "why we do" strongly influences our "how we do." Find out more about our Corporate Social Responsibility commitment and our 100% climate-neutral IT hardware, here: https://bit.ly/3jiEJRI
⭕ The issue of sustainability is at the heart of our company, and we want to contribute our share to a positive future. Because only if we preserve what we love, tomorrow's generations can experience an intact nature.
🌍 Our world needs a change. Prime Computer does not simply aim to comply with legal requirements but play a leading role in #sustainability. We want to do everything we can in terms of our #CO2 footprint, waste reduction, and social responsibility.
Sustainability is in focus from the very first development step of a new Prime Computer product. For this reason, no mechanical parts are built into our mini-PCs and servers, and they are protected by a milled housing made of recycled aluminum. Thus we achieve numerous environmental advantages over conventional IT hardware.
💙 Go green by going blue. Do your part now as well and make the switch to Green IT hardware in your business. With our smartly designed Mini-PCs and servers, we help companies to achieve their ambitious digitalization and environment goals whilst reducing their lifetime cost of ownership. Follow the link above, to find out more about our products.
🙏 During our journey for a sustainable future and circular economy, we've established some great partnerships and are helping to promote the urgency of sustainability and transparency. Thanks for sharing our mission ExponentialRoadmapInitiative, EUTech-Chamber (EUTECH), We Don't Have Time, Swiss Clean Tech, and asut-Schweizerischerverbanddertelekommunikation! We're glad to have you in our corner and work together for a greener planet.
💚 Only if we preserve what we love, tomorrow's generations can experience an intact nature.
Your #TeamPC
🎬 by Ivan Schnoz
🔵 About Prime Computer Ltd. - Who are we?
Prime Computer is a Swiss company founded in 2013 to develop and produce IT hardware under economic, social and ecological aspects, focusing on energy efficiency, reliability and longevity. Prime Computer helps companies worldwide achieve their digitalisation and environmental goals while reducing operating costs with intelligently designed mini-PCs and servers.
Our roots are also reflected in our values, in our actions and in every creative process of our team. The interplay of technology and nature and the resulting impact on society shape our actions and form our footprint, which we want to leave confidently with every step.
Our smartly designed mini-PCs and servers are designed with reliability, durability and efficiency in focus right from the development stage. Consequently, our clients benefit from an optimal combination of modern design and long-lasting performance.
Prime Computer does not simply aim to comply with legal requirements but to play a leading role in sustainability for IT products. We do everything we can to reduce our CO2 footprint, save resources, and avoid waste. That's why our PrimeMini's use less energy, can be used longer, and will have a second life when returned to Prime Computer.
We are proud to say that we are 100% climate-neutral. This includes our global operations as well as all Prime Computer products. We achieve climate neutrality by avoiding and offsetting our greenhouse gas emissions. Learn more about it, here: https://bit.ly/climate-neutrality-yt
We develop what helps you to change the world.
Your #TeamPC - Smartly Designed for Sustainable IT Solutions
Disclaimer
This is no financial advice. Everything written is my opinion only and you should do your own research. Investing in Bitcoin and other cryptos, lending, DeFi, liquidity mining are high risk investments. You could lose everything, only invest what you can afford.
Bear in mind that some of the links in this post are affiliate links and if you go through them to make a purchase I will earn a commission. Keep in mind that I link these companies and their products because of their quality and not because of the commission I receive from your purchases. The decision is yours, and whether or not you decide to buy something is completely up to you.
Youtube: https://goo.gl/rQaiFV
Instagram: https://www.instagram.com/perfspots/
Facebook: https://www.facebook.com/perfspots
Website: http://perfspots.com/
CRYPTO RECOMMENDATIONS
Here i get interest on my coins: http://bit.ly/btc_defi
Best cryptobrowser: https://bit.ly/fastest_browser
Here i buy bitcoin: http://bit.ly/btc_buy
Travel
Where i book hotels: https://bit.ly/riohotel
Where i book the cheapest flights: https://goo.gl/HRhxoy
Credit card with best commissions for travels: http://bit.ly/travelcreditcard
Editing software: http://bit.ly/editing_software
---
▶️ DTube
---
---